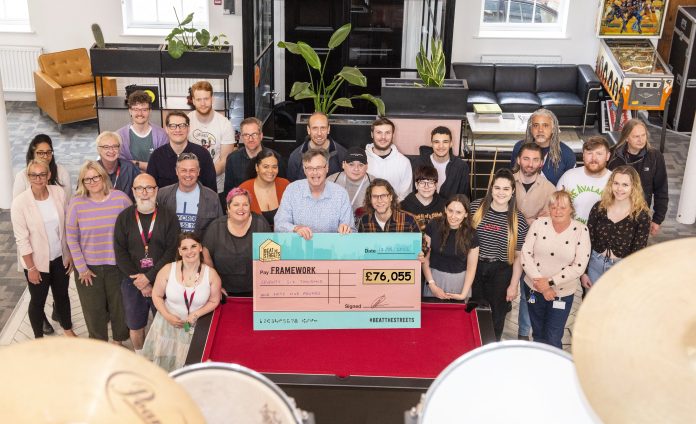 On Thursday, March 30 a legend in the Nottingham live music scene, George Akins Snr, passed away, aged 94. A prominent businessman and property developer, his many achievements included founding Rock City in 1980, from which the thriving independent venue operator, promoter, and festival organiser, DHP Family has grown.
Among its many achievements, in 2022 DHP Family won the inaugural Sarah Nulty Community Impact Award at the UK Festival Awards for its Beat the Streets festival. We caught up with Head of Marketing, Anwyn Williams and Director of Live, Anton Lockwood to discuss how the company is quietly, confidently punching above its weight and delivering support to Nottingham's homeless people.
We head straight to 2002, with George Akins (junior) running Rock City and looking to grow the business into other areas, bringing Lockwood on board.
"Before I came to work for George in 2002, and from a festival point of view, they'd obviously built up Rock City to become the behemoth it is, but they'd always been looking at doing other things, so they got involved with doing something called City in the Park, with some gigs at Wollaton Park. It was quite diverse: Green Day one year and then another year was Ronan Keating, it was just whatever was big that was around, but it was  never a festival in that sense, more just a gig in a park.
"Fast forwarding, the first thing we did apart from that was when we kicked off Dot To Dot in 2005."
And what was the thinking behind Dot To Dot?
That was around the time when that kind of punk funk thing was coming out, that led to people like Klaxons. So, we, thought 'why don't we do our own little South by Southwest but do it in Nottingham?'
We started with just a couple of venues, with Ladytron and the Rakes and people like that; and that became Dot To Dot. A few years later when we'd taken over the Thekla, we started it in Bristol as well and yeah, it still continues.
That was the first sort of festival thing, but obviously very much in the metropolitan festival space.  George always had the ambition to go back to Wollaton Park and try and do something      more festival than just sitting in the park. We started having conversations with the council and you know, that was attractive to them. The council saw the opportunity to develop an event that Nottingham residents would love and would also drive people to the city. And by offering a discount for city residents we were able to deliver a tangible bonus for local people.
"Born out of those discussions was Splendour. After doing 2 days initially we decided to focus the event into one day until we'd built it up some more.
We kind of knew that when you're starting a festival, the first year is generally the hardest because people don't know what it is. We really got rolling into the second year and built up from there. Then we went back to two days last year, because we already had one day virtually done because of the pandemic, and we'd already sold a lot of tickets. We'd always thought we would like to establish Splendour as a two day event and kind of compete with the likes of Tramlines.
So you took advantage of the 'pandemic presale?'
Essentially it was because we already had Richard Ashcroft booked, we already had a strong line up and we had several thousand ticket sales already. We thought people will be bouncing back from the pandemic and may be more up for going for two days because they've not gone to anything for a long time. And so that that was what led into launching into two days."
As Williams adds:
"It just gave us an opportunity to think out of the box and try something different. Like Anton said, we already had pretty much the whole line up on sale for two years. So, why not just give something else to people in Nottingham and have something new to sell."
Of course, whilst developing Dot To Dot and Splendour, there's a venue portfolio developing quietly in the background. Lockwood attempts to chart its growth:
"Well [Bristol's Thekla] was 2006, then we've got venues in London, we've got the Garage in Highbury and the Grace, which is a smaller room upstairs. It used to be called Upstairs at The Garage, but I have an absolute loathing for venues where it's like 'Academy Two' or 'Upstairs', because I just think for bands playing in there, it's like 'look what you could have won'. At Rock City, the small room is called Beta, it was never, ever going to be Rock City two or anything like that.
"The other venues; Rescue Rooms was 2003, which gave us the base to do Dot To Dot. Then we took over the Social in Nottingham which became the Bodega and we turned a disused club into Stealth, the dance club.
"In London, Oslo was the first thing, that was 2014. We saw an opportunity, Hackney was clearly on the up. We found premises that were right. We're always looking at different options and we found something right bang next to the overground station, so easy to get to. We had the Borderline too, there was a load of convoluted stuff going on with different operators and venues that came on the market, So we ended up acquiring the Garage and the Borderline. But then, due to rising rents and redevelopment, the Borderline just wasn't sustainable, so we had to let that go.
Back in Festival Land, how's this year looking for Splendour?
It's looking pretty solid, we're selling a good number of weekend tickets, which is the heartening thing. Unless you're Glastonbury or whatever, I think everyone's a bit squeaky bum about what      the sales profile going to look like this year.
Payment plans seem more prevalent this year.
We've never done it [before] for Splendour and it's had a pretty strong take up because we're going to two days as well. So to have the payment plan…It was definitely the year to introduce that as well.
Looking at venue acquisition and the decision to go back to two days with Splendour, it seems that you're perpetually positioned to grab an opportunity. Is that how the Bearded Theory deal happened?
"With us being independent, we haven't got the coffers of a Live Nation or AEG to just go, "we really want this, and we don't [care] what it costs". But on the other hand, we can be quite nimble. At the end of the day, George and Sean own the company, so if George and Sean go 'yeah, let's go for it', then we go for it. We're not waiting for a big corporate machine to spring into life to make its mind up. We can be quite nimble, and that's what happened with Bearded Theory.
Essentially, George was a fan of the festival. We looked at the line ups and thought it started off as probably a kind of Beautiful Days of the North. But we saw that they've been bringing in broader and more contemporary kind of music and we liked where they were going with it. So, George gave him a call and it went from there really."
And then there's a series on a Bandstand in an Arboretum?
Well, that really came from the pandemic. We were kind of going, well, what things can we do that can just wash its face, we're not looking to make a fortune here, just keep everybody busy, keep momentum, keep the business ticking over. George came up with well, there's a bandstand, bandstands are made for bands to play on, it's in a really nice park that's five minutes' walk from Rescue Rooms so it's easy for us to look after.
We did we did a few shows and the thing that worked the best was when we teamed up with (folk singer) Beans on Toast and came up with the Foolhardy Folk Festival. That was the most successful of all the things that we tried, so post pandemic, we kept doing that and grew that into an annual one day festival over the Bank Holiday August weekend.
And we have to mention the UK Festival Award winning Beat the Streets Festival
"Again it was George [who] walked into the office one day and went, for fuck's sake, there's all these people on the streets, what can we do about it? What can we do to help, doing what we do ?
"We talked about it and came up with the idea. Because we own the venues and because we own the bars, we can give the bar money too and make a really significant contribution. We kicked that around; we thought about dates, and we came up with the end of January because that's the most miserable cold time of year, it's when you would think you'd least want to be on the streets.
"We looked at who we could get involved. We went to the biggest Nottingham artists at that point like Sleaford Mods, Ferocious Dog, and a bunch of others, explained it to them and they were all very up for it and we kicked it off. It's not too expensive but you can pay more if you want, your ticket money's going to charity. If you buy a ticket and only come and watch one band, it doesn't matter because you've still contributed.
"One of the things I really pushed is we don't put the big names on at the end.  I think in the first year, Sleaford Mods played at 2 p.m. in Rock City and Ferocious Dog played at 5 p.m. But then we have stuff going on later that was entertaining and kept people around. We want people to come and check out the day and have a few beers and raise more money. We're not trying to make it feel like a commercial festival where, you know, oh, well, we're playing after them because we've sold more albums or all that, we're not having that. It's everyone equal and spread out through the day, so you'll see something big at 2 p.m. and something big at 6 p.m.
"[There's] also being able to just put on a whole load of different stuff so it's not, 'we can't play with them because we're a metal band and they're an indie band'.  If you bring tickets, you're playing the festival, so hence we could have Lawnmower Deth playing with Divorce. (Saw both sets, can't fault either).
"This is partly what makes it such a great event for the community. It's obviously fundraising as its primary focus but enhancing and building the relationships within the local music scene as well, just bringing that community together is a huge part of Beat the Streets as well as raising the money.
"I think there's a nice camaraderie in Nottingham around the music scene, like a lot of people within the scene are mates in each other's bands.  I think Nottingham is definitely building its own identity and group of people, we've got a really strong community here.
Quite a lot of those people are involved with what we do. So, you know, there's one guy who's a manager at the Bodega and plays with Do Nothing and Divorce.
"One thing I'm just going to add, it probably doesn't even need to be said. But the fact that we have got this portfolio; the venues, the national promoting, all of that plays into being able to put on an event like Beat the Streets because we've got an incredible team here that are really solid and are happy to just factor that in as part of their day to day, while also volunteering time to go and work on the day and do extra bits. But we've built all this knowledge up in promoting, marketing, selling tickets, working in accounts & design, doing production for festivals. Thanks to all of that experience over however many years, we're able to put on a professional & slick event like Beat the Streets that actually has a huge real-life benefit for homeless people, which is amazing and something to be really proud of."
The beneficiary of this team effort is Framework, a charity delivering housing, health, employment, support and care services to people with a diverse range of needs across the East Midlands not only in Nottingham and Nottinghamshire but also in Derbyshire, Lincolnshire and North Lincolnshire, and in Sheffield – around 18,000 people a year in total.
Framework's Chief Executive, Andrew Redfern is in no doubt about the impact of Beat The Streets, saying:
"We were absolutely delighted to hear that DHP Family's brilliant 'Beat the Streets' festival won the Sarah Nulty Community Impact Award at the 2022 UK Festival Awards ceremony.  This is a tribute to everyone at DHP Family who has been involved in creating and developing this event since 2018. 
"Even with stiff competition from five other nominees there was reason to believe that 'Beat the Streets' would be a strong contender.  The award recognises 'excellence in community outreach and support' and 'festivals that work to actively raise funds or provide opportunities' for their communities.  Since its launch 'Beat the Streets' has always fulfilled these criteria in spades – raising hundreds of thousands of pounds towards accommodation, specialist support and resettlement work for rough sleepers in and around Nottingham.  This in turn has motivated other partners, including local businesses, to join the effort – thus further enhancing the scope and effectiveness of responses to homelessness and rough sleeping.  
"More than 300 separate individuals have benefited directly from interventions wholly or partly funded through 'Beat the Streets'. These have taken various forms ranging from emergency shelter, referral for an urgent health assessment, a period in specialist supported housing, or a permanent home with wraparound support.
"This award was well-deserved and we continue to appreciate the commitment and support of our friends at DHP Family along with all the hundreds of bands, solo artists, technicians, stewards and administrators who have so generously given their time and talent over the past five years.  Without them 'Beat the Streets', and the award's wonderful recognition for its achievements, would not have been possible.
"The festival has become a hugely popular focus for those who are raising awareness of homelessness and encouraging the public to contribute towards tackling it. The latest highly successful edition of 'Beat the Streets' at the end of January continued this excellent tradition."