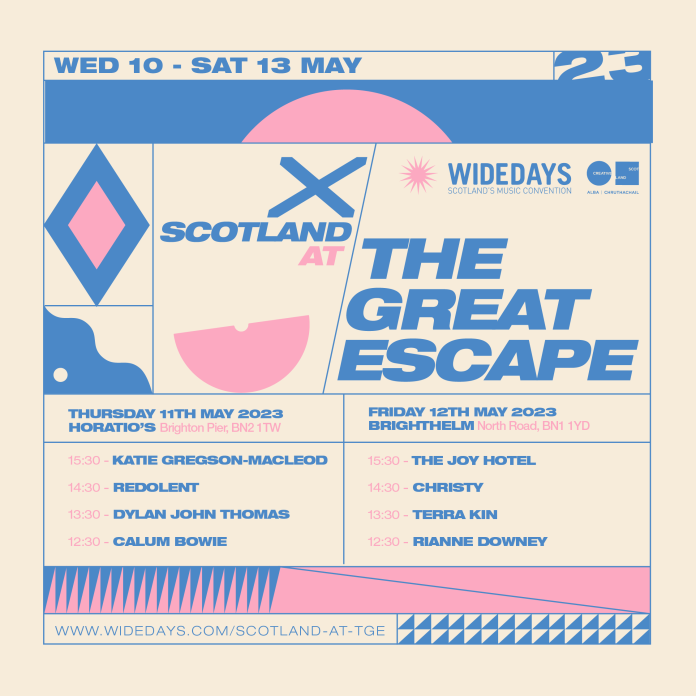 Sixteen Scottish acts are set to perform at The Great Escape,  the UK's biggest festival of new music, which takes place in Brighton, 10th – 13th  May 2023.
The line up offers a strong and diverse range of pop, post punk, alt rock and more. Katie Gregson-MacLeod, Redolent, Dylan John Thomas, Calum Bowie, The Joy Hotel, Christy, Terra Kin, Rianne Downey will play Scotland at The Great Escape sets at Horatio's on Thursday 11th  May and Brighthelm on Friday 12th May. These sets will be additional to the artists' confirmed TGE shows and will offer  further opportunities to see Scottish acts at The Great Escape 2023.
Festival goers will also get to enjoy performances from seven additional new acts: post punks Humour, pop duo Siights, malevolent disco merchants YABBA, Scottish-Thai musician Helen Ganya, alt rockers Spyres, soulful singer-songwriter Becky Sikasa, singer-producer LVRA and the rising stars of techno punk VLURE, who are returning to the Brighton event where they played one of their first shows in May 2019.
The Great Escape has forged a considerable reputation as the place to see the headliners of the future in intimate settings. The Scottish showcases will create an important opportunity to present the nation's best up-and-coming acts to the bookers, agents, managers, labels, programmers and other key figures in the UK and international industry.
Jamie Houston, Music Officer at Creative Scotland said: "Scotland's brilliant homegrown talent is set to impress TGE music fans, programmers, and promoters. The Scottish Showcases provide a crucial platform enabling emerging talent to launch into the UK, Europe and beyond. Featuring a line-up of electronic, pop and indie these eight acts are ready to take the next step in their career journey."
On Thursday, 11th May Wide Days and Creative Scotland will host a networking reception at The Old Ship Hotel in Brighton,17.30 – 19.30, where key international music industry figures will be able to meet Scottish music industry delegates and artists, as well as enjoy a whisky tasting and a selection of Caledonian delicacies, including haggis/vegan haggis and deep-fried Mars bars.
Michael Lambert, Director of Wide Days, explains: "Our reception has become a real TGE highlight, with over 500 international delegates from all over the world coming together to connect with the Scottish music industry – and sample our deep-fried Mars bars! In every corner of the room there are new partnerships being forged, and it provides a brilliant opportunity to shine a spotlight on the showcasing artists from Scotland."