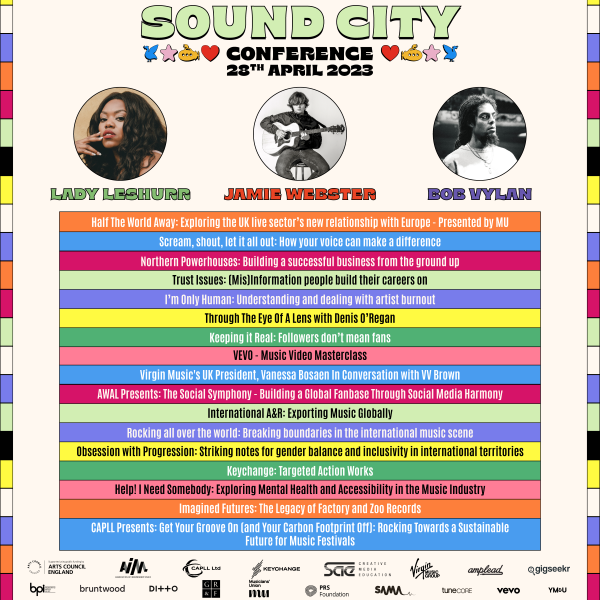 Liverpool Sound City, the  independent music conference and AIM UKs 'Conference in The North', has announced its final lineup of speakers and panels for the 2023 conference taking place this month. This includes a brand new international hub set to host speakers from across the world, discussing global music industry hot topics.
Joining the already announced in-conversation speakers for the Conference, Jamie Webster, Lady Leshurr, Bob Vylan and Denis O'Regan, are Paul Smith (Maximo Park), Sarah Wilson (Head of Tunecore UK), Dave Pichilingi (Head of Modern Sky UK), Peter Hooton (The Farm), Vanessa Bakewell (Global Client Partner of Meta), Mo Ayoub  (BBC Radio 1), Francine Gorman (Keychange) and many more.
Sound City is the lead UK festival and conference for Keychange, meaning commitment to achieving a gender balance across all levels of their lineup and within its own team. For over 15 years Sound City has welcomed leading industry figures, emerging artists and aspiring music business professionals from across the UK, Europe and beyond to the North of England for a full-day programme of educational panels, in-conversations and networking parties. Now, Sound City is championing its region once again through the 2023 conference which will include a focus on showcasing the innovative Northern creative scene to an international audience.
As always, the Sound City conference will be covering a wide range of issues that are at the heart of the current industry discussion. Some of the topics to be featured at this year's conference include protecting artists' mental health, making steps to make music festivals more sustainable, converting online followers into real life fans, using your creative voice to enact positive change and much more. There will also be a selection of drinks parties, and networking sessions available to VIPs hosted by CAPLL, AIM UK, Keychange, M pour Montreal and Vevo and Virgin Music UK.
This year, Phase One will host Sound City's, brand-new international hub in partnership with The British Council that will welcome a wide selection of leading industry experts from Mexico, The Philippines, Turkey, Vietnam, USA, Thailand and more to discuss the most important issues impacting the industry. Francine Gorman from Keychange will be leading two panels featuring Yaw Owusu (Playmaker Group), Sarah Wilson (Tunecore), Paul Jatayna (Elephant), Malfi Dorantes (Malfi Co) and Maria Gironas (Women In Music) that explore the gender balance within the international music scene. Kingsley Swim of Black Market Framework will be joined by Maria Bringsjord (MTG Music), Maya Cullen Petrovic (Jawdropper) and Alex Edwards (Modern Sky UK/Nice Swan) to discuss how to export music globally. A host of leading international festival organisers including Piyapong Muenprasertdee (Fungjai Co), Arin Sharnaz (Tala Records Asia/Juggernotes Music Management), Beril Sarialtun (Beatx by Girls/WOW Fest) and Toan Pham (VIETFEST) will delve into the intricacies of the world's festival scene and how artists can enter into the bustling circuit, hosted by Joel Mills (British Council). Maximo Park's Paul Smith will be part of a panel with Kelly Wood (Musicians Union), Steve Barney (Session Drummer) and Annabella Coldrick (Music Managers Forum) exploring the UK live sector's new relationship with Europe. Aaron Bogucki and Steff Hughes of AWAL will host a panel with Adel Hattem (DMUSICMARKETING), Vanessa Bakewell (Meta) and Malfi Dorantes (MalfiCo) that will look into developing an artist's social media audience in international territories.
The president of Sound City's Major Partner Virgin Music UK, Vanessa Bosåen, will be hosting a special in-conversation with Virgin Music artist VV Brown. VV Brown has sold over a million albums and has been at the forefront of genre experimentation in the UK for nearly 15 years, releasing three critically acclaimed albums during this time.
Running in tandem with the conference programming will be a number of exclusive 1-2-1 Networking Sessions which will provide attendees with the opportunity to connect with leading industry experts, get further insight into music business and learn from fellow industry professionals. These sessions will take place in The Jacaranda in Liverpool city centre. Included in the networking schedule is a unique 'International 1-2-1' session and an exclusive session led by and delivered in partnership with the BPI.