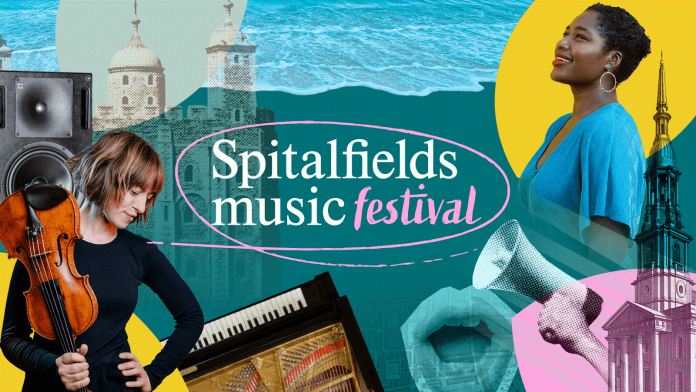 Spitalfields Music has today announced the full programme for its 2023 Festival, which will see world premieres, new music, overlooked historic pieces and classic repertoire performed in iconic East London locations from Village Underground to the Tower of London. Taking place from 30 June – 12 July, tickets go on general sale on 20 April.
Curated by Spitalfields Music Chief Executive, Sarah Gee, the 2023 festival will bring together acclaimed national and international artists for two weeks of concerts that demonstrate the extensive range and resilience of classical music.
The festival will combine different styles, traditions, genres and artforms for unique performances that unite audiences and artists alike in a celebration of music's power to transcend culture, language and borders.
Commenting on this year's programme Sarah Gee said:
"We're passionate about presenting excellent joyful, thought-provoking and exciting music to bring people together in ways that are memorable and reflect our East London roots.  Everyone's welcome, and with the support of Arts Council England and others, we work hard to try to keep tickets as accessible as we can. We know times are tight, but want to spread some musical happiness and give everyone something they can look forward to. From amazing after-hours concerts in the Tower of London to mindfulness sessions with a live band, we have something for everyone.  Join us!"
Programme highlights include:
An evening of protest songs featuring music by Schubert, Strauss, Britten, Boulanger, Wallen and Kit & The Widow performed by Roderick Williams, Nardus Williams, and Allyson Devenish, narrated by poet Rommi Smith.​
International quartet Kabantu weave together folk, classical and world music for a late-night gig in Shoreditch Church. ​
Explore Ensemble makes its festival debut with a unique listening experience, in collaboration with Austrian composer and organist Klaus Lang, presented in one of the oldest churches in the city of London. ​
Ralph Clarkson, Martha Wright and musicians from the award-winning Engines Orchestra will guide audiences through an immersive mindfulness experience featuring music and sound specially written for the event.​
Drawing on the poetry of Hans Christian Andersen, soprano Mimi Doulton and pianist Ben Smith will perform the UK premieres of new pieces by Michael Finnissy and Rasmus Zwicki presented alongside Finnissy's Andersen-Liederkreis. ​
The world premiere of Beside the Sea by acclaimed Irish composer Ian Wilson, a deeply personal and uplifting piece of music theatre which explores his late father's battle with Alzheimer's, and the role memory and music has in making a person.​
Colleen Murphy and special guest Soweto Kinch will tell the stories of the albums that have shaped their lives in a special live edition of Classic Music Sundays.​
The English premiere of We Are Collective a new piano quintet by Sir James MacMillan, presented alongside Eleanor Alberga's String Quartet no 2, Cesar Franck's Piano Quintet in F minor and a special arrangement of Scottish folk music by the Maxwell Quartet.​
In a special concert at the Tower of London, Anna Dennis performs Libby Larsen's Try Me Good King, based on the final letters and gallows speeches of Henry VIII's first five wives – paired with texts by Tudor poet Sir Thomas Wyatt, and a new poem by Rachel Long, Anne Bolyen's Necklace, read by a special guest.​
The English premiere of Élisabeth Jacquet de la Guerre's biblical cantatas over 300 years after they were first composed – three bold unflinching tales about love, marriage, tragedy and adultery written for and about women, performed by the Dunedin Consort and soloists Carolyn Sampson, Anna Dennis and Alys Roberts.​
Six new works by emerging composers will receive their London premieres performed by harpsichordist Mahan Esfahani and violinist Fenella Humphreys as part of the ongoing partnership between Spitalfields Music and Cheltenham Music Festival.​
Three masses written by William Byrd will be performed by The Odyssean Ensemble at the Church of St. Peter ad Vincula, Tower of London, 400 years after Byrd's death. Set against a backdrop of Byrd's struggles during the Reformation when many persecuted Catholics were imprisoned at the Tower of London, the music will be juxtaposed with prose and poetry highlighting more recent examples of persecution of and by religious groups, including Afghan women under the Taliban.