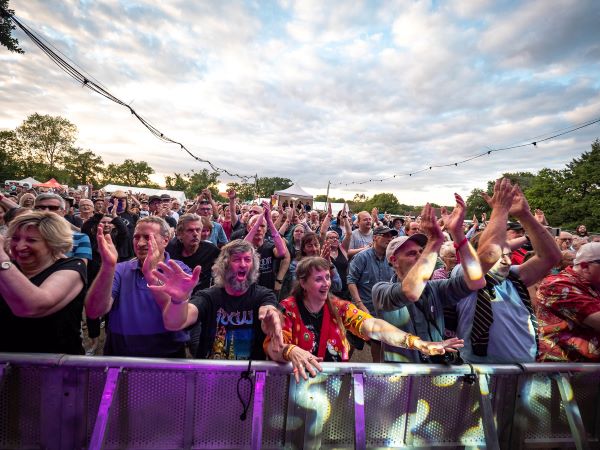 Live music is back in Wokingham again this summer with the event being confirmed to take place over the August bank holiday weekend, starting Saturday 26th. There are over 40 artists appearing this year, from across the borough and much further afield. There are original artists, tribute artists and covers bands performing a wide range of musical gen–
res, some new and some practically legends in their field.

Artists announced include the headliners: prog rock legends Caravan, gonzo rock'n'rollers Tankus the Henge, soul and funk specialists Funkin' Souled Out, plus Leoni Jane Kennedy, The Skangsters, Moonage – The Best of Bowie Tribute band, Vintage Sound Collective, The BJ Bevy, Kyros, and many more on the Festival's main Trademark Windows Stage. CaravanTankus the Henge
As in recent years, the Wokingham Music Club stage will showcase up-and-coming local talent of high quality alongside
artists from outside the area such as Sunday's headliners Spacehopper, who bring their brand of Uplifting Trance to the
second stage. Other artists announced so far include Rila's Edge, Solar Culture, James Hollingsworth, Lilac, Who Ate All the Crayons and One Last Day,
There's more to Wokingham Festival than just the music though. Children are welcome, and as always, we'll have a number of activities available to keep them amused, and of course there will be a range of food and drink stands in addition to the Beer Festival Bar.
Wokingham Festival was set up over 16 years ago by founder Stan Hetherington, who also runs the renowned Wokingham Music Club and it has built a solid and growing reputation over the years as a quality family-friendly festival run by the community for the community. Stan continues to be involved, but this year the reins are being taken by a group of people that Stan has brought on board over the last few years, with the aim of keeping the Festival alive for the future.
Dean Nelson, Festival Director explained
'The festival has been built to where it is now by Stan Hetherington over more than fifteen years, and he's put together a team to take over and keep the Festival spirit alive for Wokingham into the future .'