The award for best line-up of 2022 at the UK Festival Awards went to Bluedot, which fuses music, science, arts and culture to deliver an intriguing blend in a unique environment. We got together with co-founder, Ben Robinson, to dig into the history, the ethos and that Bjork orchestral headline slot.
How did Bluedot and its ethos develop?
"A lot of it comes from the site, the big unique part of this festival has always been the fact that we've been able to work with Jodrell Bank Observatory to put a festival where you would not usually expect a festival. That's as much down to their ambition and their flexibility as it is of our passion to do something there.
"The full story goes all the way back to British Sea Power, they played the first Kendal calling. We did a couple of album launches with them. We did one at Tan Hill, which is the highest pub in England, a Phenomenal night which turned into James Ford from Simian Mobile Disco's Stag Party,that was quite good. After that they said, 'how do we top that?' Their album at the time had some some nods to astronomy in it, they said there's this really cool place, Jodrell Bank, Andy (Smith, co-founder) and Ben, would you go and check it out and see if we can do an album launch there? So we went, 'wow, that sounds cool, we've never heard of this place. We went and had a look and Jodrell Bank said 'Well, we're not really a gig venue, we can't really accommodate a band. 'We thought okay, well it was a nice day out, it was worth having a look.
"Then, about six weeks later, Theresa, who runs the visitor centre and centre for engagement, rang back and said 'You know, we've been having a think, we're just about to launch a new visitor centre; we've had a look at what you've done with Kendal Calling, maybe we can't do a gig, but actually it would be really interesting to work with you guys to do a festival.'
"The idea from their perspective was very much wanting to engage people in the work of Jodrell Bank, wanting to engage audiences in how exciting science is and how science isn't really what you think it is. And actually a great driver to get people to [go there] would be an amazing music program, but with a sense of celebration and creativity. We got really excited by that and that's really where it came from.
"Throughout the whole time we've worked to produce festivals and events at that space. That spirit of creativity, both within music, science, cosmic culture, whatever name we put at the top,  is what drives music creation, what drives scientists, what drives environmentalists and just kind of breaks down some barriers."
Did that immediately put in your minds the kind of acts you'd want there?
"Well, at the time we stood there and went Daft Punk really need to reform for this. If they were going to reform for anything, let's get them here. I think we came away from the first meeting and Daft Punk and Flaming Lips were written all over my notebook.
The first gig we ever did there was Flaming Lips, so fair play to Andy, he went to see the agents, he came back and said, Flaming Lips will do it and, well, I stopped short of squishing him with a hug. I was like, this is incredible. Flaming Lips, at the time, were almost untouchable as a band, just being at one of their gigs was just phenomenal."
Sounds like they were sold on the location
"Yeah, they, they just really loved it. The agent said, 'this works, for a psychedelic outer space band."
And the location continued to inform the line-up?
"I think from the word go…actually Jean-Michel Jarre, in an interview, put it best. He was booked at the first Bluedot and called it retro futuristic. That was like, wow, that's what we've been getting at. It's a common phrase in French, but it wasn't something I'd heard before, it was this idea of really looking forward to the future, but looking at the telescope that was built post-war, having that sense of the vision then.
That for me, personally, from the curation that I bring to it, seeing the music and the arts program that was prevalent. Then from a bands perspective, we very quickly had the top 10 or 15 artists, the majority of which were electronic and live.  It felt like it needed to be that because the idea of the futuristic and technology is in there, but it didn't just want to be DJ led because the type of audience we wanted to draw for the site."
How far through that initial list have you got?
"I think about 60%. But I would say, because of the bands that just don't exist anymore, we're 80 or 90 percent of the way through that list."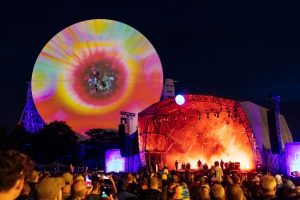 Your winning line-up in 2022 featured Bjork with the Halle Orchestra. Was that difficult to put together?
"Well, actually, it's quite the opposite. It was the only way we were going to get Bjork, she wanted to do something a little bit different. Bjork was on that list of the top ten artists that we thought would be amazing at that show, given the kind of approaches she's taken to creativity and technology within that.
"We'd been talking to [Bjork's representatives]  for a few years, and they actually said that she was wanting to go out with something which is quite the opposite to the show you would usually expect, without the visuals, without electronics and actually something that she's wanting to do for a long time, which is entirely based around the subtle sound of her voice, backed up by strings. So, like a real human nature to it, we thought that was just a really interesting take.
"The Hallé Orchestra had performed the opening concert for us at the two previous editions of the show. So we said we've got an existing working relationship with the Halle Orchestra, they're big fans of the show, and we don't think it would be difficult for us to convince them to do this piece. Because for them, the thing they enjoy about Bluedot is it's a different format from the usual concert programme. Put those two together, there's just excitement about it from the start.
"It's the longest running booking I've ever had, I think it was two and a half years from confirming to actually producing it on the ground. But for those people who were there immersed in that moment, it was otherworldly, it was quite phenomenal and not something you'd see anywhere else."
And are those unique collaborations something you're still looking for?
"I think one thing that we've really enjoyed doing on your show is actually bringing large scale orchestras into an environment that they wouldn't usually be in. So the one thing that we've obviously got this year is the BBC Concert Orchestra performing on the Thursday evening, and that's with Max Richter. We're just working together with Max's team to have a look at what that looks like, some of the unique moments that could be brought to that stage.
"That's the Thursday opening concert, which is really interesting. Then, off the back of that, we've been chatting to a more local kind of 'not your usual orchestra' called the Untold Orchestra. They work here in Manchester and are really committed to breaking apart the format of what you would usually expect an orchestra to be, and also the kind of audience you'd usually expect for an orchestral work.
"That's a really interesting dynamic we've been able to bring into a festival space that began feeling like a festival of electronica. To be able to bring those worlds together and see how they rub up against each other is interesting."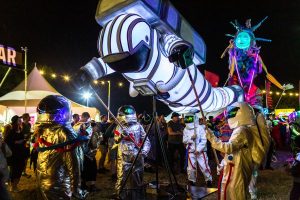 You also have a stellar line-up of scientific presentations, how is that put together?
"Well, that is one of the greatest gifts that the show has and that really comes from Jodrell Bank, specifically from Teresa Anderson, who's the head of the Centre for Engagement there; she's really the leader with a passion to talk to the people who may not feel that a huge cultural event at the site is the right thing because it is a live observatory.
"I think that's amazing; a lot of people think that's amazing. Obviously we've had to work with Teresa so that she can do the work to really present that this is valid, this is advancing the knowledge about Jodrell Bank, this is actually culturally important and scientifically worthy.
"It's actually Teresa's passion as curator that's led to that whole piece. She's gone through her years of experience in science engagement and brought together the people that she really feels have the right tone of voice to stand up on a stage and engage an audience. That was one thing that she had back in the earlier editions;  not just getting an interesting person behind An interesting [subject], they have to be able to perform.
"This has fed back to the mission control stage at Bluedot, which in 2022 was 4000 cap. seating, and there's 2000 people standing up watching speakers. That doesn't really exist anywhere apart from where Brian Cox goes on tour. That isn't unusual science engagement format, to have basically a marquee level capacity audience, and then to find people who can engage with those audiences and have the right kind of voice or performances, as we would call it. But to them, obviously it's not performance."
Is it just a case of creating a live stage for the growing number of media 'science rockstars'?
"There's kind of a few layers of people that do the science engagement at the show. One layer is the broadcasters and they will be, as we call them, rock 'n roll scientists, or people, if you have a passing interest in science, that you may have heard of. And then there's another level of people who are doing science right now that you may have never have heard of, but that's because they have no time to be on TV because they're in the Antarctic, or they're really doing some cutting edge work. Then there's a [final] layer of people who are maybe publishing works or are authors, that kind of level. We welcome them to the show because they've got books or papers that they want to go out and talk about as well. They're there for different reasons, and the interesting thing is giving them an engaged audience that they might not usually see. And also giving them a really fun weekend."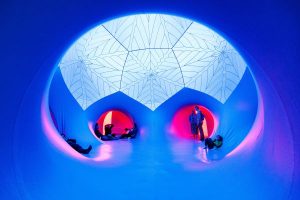 Do you feel that you've now converted the doubters when it comes to a festival at a working observatory?
"Yeah, we've had this with Kendal Calling when people were turning us down for sites because they thought there'd be heroin needles after the show. People have a very strange impression if they've never been to a festival; of what they are and what what they are for.
"I've come to realise that when they see the nature of people actually at a festival; people are better natured than they are in the shopping centre. So think, you know, a lot of people have come around to it and had some very special moments and they kind of see it, you know, for what myself and yourself or what people who work in the festival community, what we actually do it for. Which isn't what people may think if they've just heard passing tales of mud."
From your perspective, who has played your favourite set so far?
"I think it'd probably be KoKoKo, from the Demotratic Republic of Congo. They started out as a street band, where they made all their own instruments out of stuff on the street;  it's varied layers of percussion, and they've all got these lovely bright costumes. They played mid afternoon on the main stage, I think it had been wet the day before and, you know, it was one of those moments where the sun came out a little bit and they just brought the whole energy, the whole site back up to speed. I think that one's really stuck with me; if there's a band that every year I go, shall we have them again? Yeah, usually it's KoKoKo."
And the finally what's your dream headliner and why is it (Robinson's own band) Hello, Cosmos.
"Ha! I haven't played a gig since 2019, quite simply because these shows are quite complicated. The headliner? Well, I mean, it was Chemical Brothers, and we did do it, that was 2018, they closed the show and still have to kind of scratch myself and remind myself that it did actually happen.
Going forwards, it would be LCD Soundsystem. Fingers crossed."