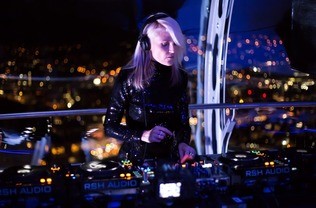 Diaries out, Brighton Music Conference (BMC), has announced the full list of events and pod parties for its 10th Anniversary edition. Taking place from the 24th to 26th of May 2023 at the Brighton i360 beachfront complex, the 2023 edition will welcome some of the biggest names in the electronic music scene from the past, present and future.
Networking is a big part of the BMC ethos and there are plenty of opportunities to meet industry colleagues and connect with like-minded people at the many exclusive networking parties at some of Brighton's best-loved venues, including the Brighton i360 observation pod.  The official BMC Welcome Party will take place on the roof terrace at Rockwater on  Wednesday 24th May. Hosted by AFEM the event will give attendees the opportunity to network and enjoy the sunset and sea views with music courtesy of Richard Earnshaw, Ridney, Ralph Lawson, Simon Field and Sophie Lloyd.
The legendary pod parties at BMC are exclusive events held 450 feet above the city in the i360 Pod observation tower. This year's lineup will feature 6 special events and kicking things off on Thursday 25th May will be  Radio 1's Charlie Tee going back 2 back with Pola & Bryson from the mighty Shogun Audio, followed by Mark Knight – Where Music Matters, celebrating 20 years of Toolroom Records and the closing set from Alan Fitzpatrick.  On Friday 26th May BMC are delighted that the legendary Carl Cox will take to the decks for an exclusive sunset DJ set up on the pod. A special showcase from Steve Mac and Irvine Welsh's new label Jack Said What will follow with Jon Carter, Steve Mac, Serge Santiago and Irvine Welsh all going back to back to back.  The Baron of Techno Dave Clarke will make his debut in the pod for the final session of the 10th edition.
After each day of the conference, there will be a variety of networking events at some of Brighton's best love venues. On Thursday, BMC will present the sunset sessions on the i360 Roof Terrace with Just Her, Kate Patrick and Zoe Vice. The PRS networking event will see Data Transmission celebrate 15 years with DJs AllDis, Danny Marx, Ian G, Loz Seka (Toolroom), Franz-Koltren, Mizaru, Ree2, The Sandman, Trish O (Heldeep / Toolroom), Wilkie (63b) and Enter Art Gallery will showcase the Simon Dunmore collection, celebrating four decades of music inspiration displayed in a photographic artwork by Mark Vessey.  shesaid.so will also return to host a networking breakfast event in collaboration with the NTIA on Thursday morning at the i360 complex and a mixer at the Brighton Beach House with a special Q&A with Nemone (6 Music). This event can be booked via the Soho House App or via the guestlist. Places are limited.
On Friday, Grahame Farmer will kickstart your day with blueprint breakfast a special round table session at the i360 complex for up and coming DJ's and artists to build their careers. Mixmasters will take over the i360 top deck with DJ's Huxley and Ramin Rezaie. The Tempest will host HW Events with DJs Mikee Hollywood, Paul Heron and Scott Diaz and Tru Thoughts will take over the Fortune of War with Anchorsong (Live) and DJs Wheelup, Bruk Rogers, 3x DMC World Champion JFB + Tru Thoughts DJs.  Off Your Box will take place at Break Point Cafe with DJs Evl Tom, Mini Da Minx, Chad Jackson, Luca Lebleu.
Providing the musical backdrop during the day at the i360 complex will be Gaydio and Toolroom with DJ's performing in the iconic disco bug. Line ups to be announced.
In the BMC Networking Hub, BIMM students will have the opportunity to play alongside local DJs and artists. Thursday's line up will include Janika Tenn, Markus Saarländer, Queen B, Rob Made and Serge Santiago. Friday's line up will include; Tru Thoughts Records presents Achorsong (Live), Bruk Rogers, J-Felix, Wheelup and Mick Fuller, plus an exclusive scratch demo performance from DMC World Champion JFB and a special live set from Scott Booth.
Some of Brighton's best love clubs will also host events on Thursday and Friday. Timo Maas will headline Berlin at The Arch on Thursday with Banxi, Chemz and Markus Saarländer. On Friday there will be a Jack Said What party at WaterBear Venue with Ithurtz, Irvine Welsh, Serge Santiago, Sarah Monument, Jon Carter, Steve Mac, Carl Loben and Nolan. Elemental will see Toolroom's Ellis Moss performing on the Oculist roof terrace supported by a host of Brighton's up and coming DJ's including Oliver Knight, Andthen, Eldeanyo, Loz, Seka, Greg Willowe, Joe Williams, Joey Ward, Dan Hayes, Alldis, Kodename47. And last but not least Brighton Love Jungle will take place at the Volks with DJ's Remarc, Bizzy B, Ricky Force, Dub One, Biggsy.
See full list of events here: https://www.brightonmusicconference.co.uk/bmc23_events/