LooseFest should have been a simple tale of brand extension, had it not been for a few curve balls pitched along the way. But, with a dedicated team, loyal fans and support from a forward-thinking city, the curve is on an upward trajectory. We spoke with the ultra-positive Dean Saunders about the partnerships that are developing a landmark festival for the North East.
Where did the LooseFest story begin?
"I guess we go back to 2012, that's when the first weekly event that we started, Loose Days; LooseFest is obviously a product of of Loose Days; we've done the club events for11 years on July 1st. We've run club events in multiple cities; we do Newcastle, Leeds, we've just launched Durham and we hope to do one more soon. We also did a Loose Crawl, the bar crawl and Loose FresherBands.
"We'd always said that the dream was to do LooseFest; I think we first [mentioned it]'and the reason I remember this is I did the word search on WhatsApp chats to see when the name LooseFest was first mentioned, in 2016, at 4 a.m. –  we were obviously doing a late night idea session in the WhatsApp group and LooseFest was mentioned there.  I think it was 2017 when we started to take it a bit more serious and we said, okay, if we are going to expand into festivals, how would we do this? Where do we do this?
"We obviously started doing a bit of research into that, then in 2019 when we started going right, we are now going to pursue this. We were actually going to launch it in 2020, we had a smaller location at the time, it was going to be a 5000-capacity event and it was going to be in September 2020.
"We were all ready. We had Joel Corry as our headliner for that, we had everything locked; video was ready, promo campaign was ready, and just as we were about to go out with that, unfortunately the pandemic came about. So, when Boris came out and said for four weeks everyone needs to stay at home. We were like, well, let's just delay the campaign for four weeks. Then obviously another four weeks came, then what unravelled was horrible. We couldn't even think of launching, so we just kind of held back.
"It got to September later that year when the festival was meant to happen, guess who was number one in the charts at the time? Joel Corry. So it was like, you couldn't write that. That was a not a great start to it because that would have been a really successful sell out."
Were you in deep at that time?
"Not so much year one. The plan was always year one, we would like to do 5000 people, then we were going to spin that into 15,000 the next year. So we, we didn't go as deep year one.  But it got to September 2020 and we weren't able to go ahead. We had a chat and we were like,well, what do we do? Because obviously 2021, by the sounds of it, is going to be a lot better for everyone. Do we move ahead with that and just do a 5000 capacity one in September? But myself and the guys are very, very passionate and we're all about trying not to waste time. Sometimes that's a mistake, in a lot of businesses, but we don't want to waste time.
In our heads, we would have sold out the 2020 version with the 5000 people, so we said, what about we just go for our year one plan as year two? So, we decided to move to a location in Gateshead, that was a 15,000 capacity. That was officially, publicly, our year one because nobody knew about what had gone on behind the scenes, but, internally, in our heads we'd jumped straight to year two. I think it was early in 2021, the government came out and they said that festivals would be able to go ahead; we were like, right, here we go, we're going to go for it. We do it and we launch [seemingly] out of nowhere. We launched this 15,000 capacity festival, had the likes of MK, Sub Focus, Dimension and we sold it out, we were absolutely over the moon with that"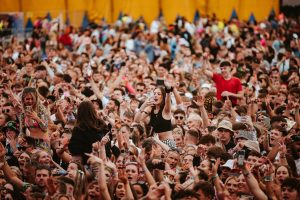 And this was Herrington Park?
"Well, no, it was actually Saltwell Park but it was never able to go ahead. It was the 31st of July at Saltwell Park, we sold out in 72 hours, we were absolutely over the moon with that. Everything was going amazing. It was 31st of July, then Boris Johnson comes out again and he says Freedom Day is going to be pushed back. We were like, whoa, Freedom Day is the 19th of July. Still, we're the 31st, it should all be okay.
"Unfortunately, Gateshead Public Health, after conversations, had come to the conclusion that, because we'd sold 15,000 tickets and a lot of the age demographic would be 18 to 35, a lot of that demographic wouldn't be double jabbed by the time the festival went ahead. They made the decision that we couldn't go ahead on that date. Heartbreaking.
"And that's where Herrington came into it. We looked to see if we could move it to Newcastle on the 31st of July and just move the DJs and the event over. Unfortunately, that wasn't achievable. [One option was], push it back here and do that same date in 2022. But in our heads, we'd already pushed it back from the previous year. So we got our heads together and we were managed to secure a date on October the 9th at Herrington Park.
"The only issue with that is we'd gone from a summer festival in Gateshead to a winter festival in Sunderland. Nothing wrong with Sunderland and nothing wrong with a winter festival, but it's the complete polar opposite of what people had bought a ticket for. The one bit of good luck that we did get was on the 31st of July when it should have gone ahead, it rained all day and unbelievably, On October the 9th, it was sunny all day. So we got a bit of good luck with that.
"I always remember, later on in the day, maybe about 7:00, it started raining, which is what we'd expected to happen originally, and everyone ran outside from the tents because it had been so hot all day and they loved it. Honestly, you couldn't you couldn't write it."
Was it challenging to move dates AND location?
"It was difficult to do because obviously we had a lot of artists that we had to move over. A lot of work went into it and it was a massive success, we were so over the moon with it."
How did the move to Newcastle's Town Moor come about?
"We approached Newcastle City Council after the festival had gone ahead at Herrington Park, and we said obviously we've had a really successful event there, you've seen the feedback, here's the the aftermovie, here's all the photos, here's a lot of the feedback and our dream would be to do a festival on the on the Town Moor. Is that something you would be interested in as a city council to support?  Newcastle City Council were very supportive because it was such a successful event and we got together with the Freemen of Newcastle, who had never had a festival on this bit of the Town Moor. From the second we met the Freemen of Newcastle, they shared the same vision as us for the partnership and they shared the same ambition for the city to put something incredible there."
Who are the Freemen of the city of Newcastle?
"The Freemen of Newcastle look after a lot of the big green spaces; they do so much more than that, they're incredible in what they do for the city. But in particular in this instance they look after a lot of the green spaces and obviously the Town Moor is the biggest one. I think it's one of the biggest inner city green spaces in Europe.
"They're really passionate about the town and the things that, go on there, they make sure that it's always safe and a pleasant environment for people to [be in]. But like I say, from the second we met them, they shared the same vision for us as the partnership and they were incredible."
It seems that you'd already built a local following before the decision to go ahead with a larger first event.
"Yeah, 2021, definitely the 15,000 tickets that were sold for that was locals. Although I don't think a lot of them thanked us that they bought a ticket in Gateshead because it was right on the doorstep. And then they ended up having to get taxis all the way across, which obviously isn't great.
"But that's one of the great things about the location of the Town Moor, where it is on everyone's doorstep. A lot of people can walk there, a lot of people can get the metro there, a lot of people can get the bus there, it's perfect for that.  I think it's amazing that you can have a festival on your doorstep it's so great for people that they can walk to a festival to see world class artists.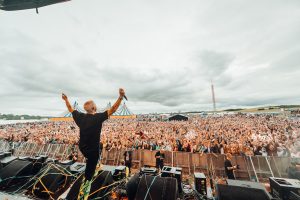 "We didn't have any parking on site, so it was it was a case of encouraging everyone to either use the metro or use the bus buses or walk in. And I think anyone who did come from other cities seemed to stay at hotels the night before and then just walk over."
How many people were there in 2022?
"I don't think we ever got the exact figure, but the plan was towards 30,000 on the Saturday, and the Sunday was was towards 20,000 I think."
You had a festival over two days with 50,000 people and no car parking.
"Correct.
"It was a case of wanting to make sure the festival is as sustainable as possible. So obviously we've tried to work with as many local suppliers as possible. We've obviously tried to encourage everyone again to use the buses, the metros and walking."
In terms of those local suppliers, did you find it easy to service a 30,000 capacity site with what is available in the local area?
"The issue we faced because of COVID pushing back 2021's 1st July date to October, By the time we'd got everything sorted with Newcastle City Council and the Freemen, we were basically into February before we were ready to go live for 2022. A lot of the suppliers that we would like to use and that we will use moving forward were booked out elsewhere or weren't available. Even as far as some of the artists that we booked, the set times were based on where else they were playing because they already had other gigs. For example, Joel Corry, he was playing Tomorrowland last year and by the time we officially got the Town Moor, the only way we could get Joel Corry is if we had him play at 1:00. Patrick Tobin, he was booked somewhere else as well, he played at 2:00.
"This year we've had a full year on it, we can basically use as many local suppliers as possible."
How did the audience react to having headline-quality acts in the afternoon?
"We have such a big following of the Loose brand is probably the right way to say it, and I think everyone's very supportive and appreciative of why we have to do things. I think everyone just appreciated what we had to do to make that happen."
With all its advantages with access by public transport, does the location pose issues with local residents?
"Everyone's being amazing.  Again, I think it goes back to people appreciating and understanding what ourselves, the city council, the Freemen, everyone are trying to achieve and bring something incredible to the city, that brings a lot of people to the city on that weekend. Obviously a lot of local businesses are benefiting and a lot of people are shouting about the city in national press, in local press. I think everyone was really proud of what it did for the city.
"Obviously we work before the festival and in the build up, we make what we feel are the right communications to to all residents, try and look after everyone as much as possible and try and keep everyone in the loop. I think that's appreciated, that we try and work with everyone and  try and do everything for the benefit of the locals, but also the benefit of the event as well. And obviously making sure it's as safe as possible and it does as many positive things for the city as possible."
Has the line-up ethos changed with the move and increased capacity?
"I believe that was a big factor for Newcastle City Council, and The Freemen. Obviously we have our house elements and we have our drum and bass element, but we also try to make the main stage quite commercial with acts that everyone would know, so it's appealing for people of all ages. Obviously we've got Darren Styles Andy Whitby Ultrabeat, but we want residents to feel passionate and proud that, on their doorstep, you can go see, for example, last year Black Eyed Peas, this year Craig David, Jax Jones, Sean Paul, Sigala and Example. We try to curate the lineup so everyone would know people on it and everyone would be excited about it, because 2021 it was mainly just a dance festival."
You talk a lot of a partnership, with the city council and the Freemen, what does that look like from your perspective?
"Just that everyone works with each other. And that we try and do everything that we can to make sure the festival can be as successful as possible in terms of growing year in, year out, with a bigger line-up in more arenas in future, always improving the overall experience.  And I think the City Council and the Freemen are really supportive of that, as long as everything's done the right way and as safely as possible and talked about beforehand that's what they want that as well. So when I say a partnership, it's just wthe appetite to make this the festival of the North East because, when we went into this a long time ago, we didn't know how much support we would get from it.
"I just think [we have] a partnership with not just themselves, but the people we work with on site, the production companies, we try and always have partnerships, just to make sure that we all we all feel a massive part of it. We want it to feel like, in five years' time, when hopefully we're doing ridiculous amounts of new artists, ridiculous amounts of growth from where we are now, everyone looks back and they go, do you know what, we're all a part of this; we want to bring everyone along for the ride. And we couldn't do this without them all, that's why we always word it as partnership."
At what point did you switch from saying we want to do a festival to thinking this could be the festival for the Northeast?
"Probably 2021; it was one of the worst days of my life when we couldn't go ahead with Saltwell Park and we didn't know what would happen at that stage. But when we moved it to Herrington, my famous quote all the time is 'it was Gateshead in the summer and it ended up being Sunderland in the winter'. When we did that, and you saw all the support of people. The line-up had to change as well, some of them had bought tickets for a certain artist who then wasn't there. To see everyone come across after buying a ticket in a different postcode in a different season, essentially with a little bit of a different line up and still supporting the brand, I think it was that for us because it was like, if we can get through this year, we're going to put something on incredible for people next year. Honestly, everyone was just so nice and supportive.
"I think for us that's worth the ridiculously long days. That's worth the stress that you'll go through, like people making comments saying  these lads who we've known for years from the events and like putting it all on the line to do something like that for the city, that's what kind of motivates you and that makes you think, yeah, this has legs in it.
"So, as it grows and grows, more people from around the country and hopefully around the world will come to Loose Fest, the big moment where we we'd like to think we put ourselves out there enough for people to go, Yeah, I know what LooseFest is now."