When Worcester local, John Simons, received a grave cancer diagnosis, his family's worlds were rocked. In the short time they had with him the local hospice, St Richards, provided an oasis where they could spend time together. Listening to music, watching cricket, takeaway curry, nothing seemed too much trouble.
John's son, Luke, adds:
"This may sound strange but I actually enjoyed those few days, I have good memories and things would have been very different without St Richards Hospice. The support once my dad passed away was also great with even the offer of counselling for as long as required. Some of these things may even sound trivial but throughout the darkest time, we had dignity, comfort, fun and laughter."
To tell the story of two-time Best Small Festival winner, Woofest, it's best to understand the gratitude felt by John Simons' family for the help they received and the momentum that led to the growth of the small festival with a big heart.
We caught up with Luke to chart its journey, which started upriver from its current location.
It all began with something called Source to Sauce, that probably needs explaining first.
"That was from the source of the river Severn, which is in Mid to North Wales, to Worcester, home of the sauce. We did a day of walking, which was about 35 miles, then we did a 90-mile bike ride on day two, then we did two days of canoeing to get to Worcester. We finished at a pub on the river where we met family and friends in two dragon boats, about 25 in each boat, we did a race into Worcester city centre.
"As part of the event, a friend of mine's band played some music in the afternoon at a pub in the city and we raised more money at that event, doing a raffle and having some live music, than we did in sponsorship. I mean, it was a great challenge and we really enjoyed it, but we found that holding a small event was the main [fund raiser]. I sat there during that event, talking to a few friends and I think we just said, 'Let's do a festival next year. How hard could it be?' "
Was it easier than walking, cycling and canoeing down the Severn?
"No, definitely not! But we just thought yeah, let's try, let's do it. People thought I was completely crazy.
"But my sister Ria got involved; she left her job working for the Worcester News to work at the hospice as a fundraiser, she took a quite major pay cut because we were that amazed by the care that our dad received.
"The first festival was supposed to be a one-off memorial event. Dad was a popular local guy into his sports and live music, I grew up going around live music venues with him. We thought it was a one off, but it's just carried on from there.
"For the first event, we had one stage and we raised £6,000, which we were really happy with, then we did it again, £8000, then 10, then 12, and then jumped up to 20 and 25 last year. Every year it's just got bigger and bigger. We sold out completely last year, and we're tracking to sell out again. We're at a bit of a crossroads really, on what to do next year. Do you keep it the same small festival, do you get bigger? But the journey's been amazing.
"I don't say this with pride, because I know that musicians need to make to make money, but nobody's ever been paid. Perhaps a better way to put it is that every single act has played for the benefit of the hospice. We've had some really good acts, and also good local acts that have found more work as a result, that's been really good.
"Everybody donates their time; the food stalls[are operated by] two of my friends, one's a builder, one's a mechanic, they run the kitchen; they are proper foodies, they got all the health & hygiene certificates. They wanted to source local ingredients, so we reached out to loads of local producers. There are butchers, there's a local cheese company, even local supermarkets supported. Last year was the first year that all the ingredients were donated too' so that first time that anything that anybody bought at the festival food wise, 100% of it went to the hospice, which was just amazing."
It seems that there's a lot of local good will and support.
"Yeah, musically, we get two stages going and we're lucky because we're supported by friends that run commercial festivals, so we get all the PR, and various local companies that help us out, like db Live Sound and Giglight, providing sound, light and screens for both stages. For security, we all took our badges ourselves, just so we can do our own security."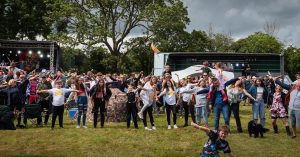 What's the ethos behind programming the line-up?
"The whole ethos is about making as much money for the hospice, putting on good music, but a variety of music. There's no one genre, there's a big mix of originals and covers as well. I love my music and I want to go on a journey throughout the day, of as many different genres as I can, and that has really taken off, I think, with a lot of our festival goers. It's almost like an introduction to a festival."
That's interesting, that a small, local charity event can be the first step into festivals for your audience.
"Definitely, there's loads of examples of that with people because it's a safe, small scale festival. Children are safe and entertained. I know one family that are going to Glastonbury this year, they'd never been to a festival until Woo Fest."
Not just introducing new bands but feeding the festival market with new fans?
"Yeah, it's great. And introducing bands as well. It was touching for me when I went to a over the May Bank holiday, just as a punter, and two of the acts that we'd had on at Woo Fest were playing. They're, emerging, they're quite young, one band and one singer songwriter. She's absolutely brilliant and both of them at one point called out to the Woo Fest crew. It's brilliant that they see us being part of their journey."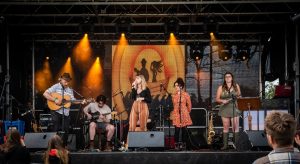 Going back to the beginning, how did you fill the skill and knowledge gaps you needed to launch a festival?
"Very simply, all the skills gaps were filled with talking to people who did have the skills, whether that's people that we already knew and within a network or, or reaching out to people. And when you reach out to people, especially if they or their family have benefited from the care of a hospice, that was an open door.
"I didn't know anything about PR and the technical aspects at all, so I had to rely on people that did. And luckily there's some charitably minded people that were more than happy to complete the journey. But I think the biggest thing we had in the first year was that people had to believe in it and they've never heard of it. The first year was so much work, which I quite enjoyed by the way, convincing bands, begging bands really to be a part of it and but not really knowing myself what the benefits of the festival were, to be able to articulate it. But just going along and giving them support at their gigs, as many gigs as I could, taking as many friends as I could, giving them a really good atmosphere so that you become friends with the bands and then in return they eventually agreed to play the festival. That first year, which I really enjoyed, was getting out there and seeing as much music as I could, and it still is, but less so now because people know it a bit more locally. So yeah, that that bit becomes a bit easier.
"I think some of the big [lessons] were in putting together the lineup and the timings, especially because they're donating their time, with a lot of people double gigging during the day, everyone's got time restrictions. Then, obviously, everyone wants to be the headline act as well. Actually, we probably used to over explain it and  I used to wrap myself up into what time bands should be on, whereas now we tend to be like, okay, we know you can't do late because you need to go somewhere else. It's more that this is your time and people are fine with it."
And sourcing acts is easier now?
"I'm not going say easy, but much easier than it was before because we have got the name. I think the great thing is the acts have supported us before come again, even though they're not getting paid. We get told time and time again that they're treated with a lot of respect, which to me is really obvious, because there's no music festival without musicians, so it just seems obvious that you're going to treat people that are helping you in the right way: the way we speak to them, the way we go and watch their gigs. A friend of mine's got a fisherman's cool box, which is the biggest thing, it fills up with ice and there's loads of beers in there for the bands, people like the fact that they can just go and help themselves, that they can stay the weekend, that they can bring their families."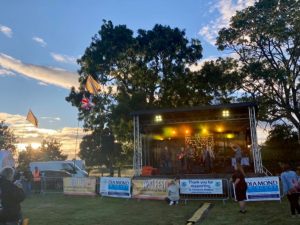 A little respect goes a long way?
"Yeah, the word absolutely spreads, so the bands that have played before will always want to play again if they can. But then we always want to bring in new music as well, so we try and have a formula of 50% new, 50% old. But I guess the trouble now is the other way around, we can't fit everybody in. That was really alien, the first time that happened."
With a local cause, do you only get a local audience?
"Yeah, it's very local audience, but you get the odd customer that just has happened to see it somewhere, usually a Facebook advert perhaps, that will just come down and try it. We've got a couple that come down from Newcastle upon Tyne every year, they had no connection to the hospice. They just love it; they love the sort of small vibe."
And the reason behind the festival, raising funds for the hospice, how much have you raised so far
"I think it's over £110,000   now. I think it's quite a small proportion to be honest, because they have to raise £6 million a year. In terms of events, it's their largest, community event."
That's Woofest, a community event with a love of music at its core. It may have started as a way for one family to give back,  but it's grown into a showcase and proving ground for new acts, an introduction to festivals and most important of all, somewhere for others to channel their gratitude for a local charity that gives essential support at the worst of times.