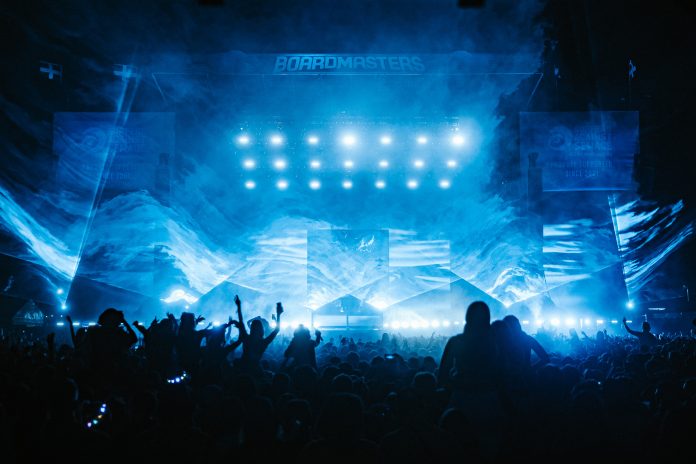 Boardmasters festival has announced a new initiative to provide education and insight to young people and parents before attending their first music festival. In a festival-industry-first, Boardmasters has teamed up with The Schools Consent Project and It Happens Education to provide a series of workshops and webinars to tackle tricky topics such as consent, to equip young people with the information they need before arriving on site.
Boardmasters, Cornwall's own surf and music festival, welcomes 50,000 attendees annually. Today, it takes a major step in the industry, paving the way for more positive conversations. The festival's aim is to change social behaviour, by tackling these issues at the root. Boardmasters is also proudly part of the AIF's Safer Spaces charter, which brings together over 60 UK festivals to raise awareness of sexual harassment, promote 'zero tolerance' and educate festivalgoers.
Andrew Topham, CEO and Founder of Boardmasters Festival said, "We're incredibly pleased to be teaming up with The Schools Consent Project and It Happens Education – two expert organisations doing excellent work in sharing information and having important, honest conversations with young people, as well as their parents. These topics are tricky, whether related to festivals or everyday life. Enabling these initiatives to come to Cornwall and directly to students – and parents of our attendees – is something we are really proud of. As a festival, the safety and welfare of our attendees is paramount. And while we will have many measures, protocols, expert teams and third party providers on site, this year we have taken another proactive step to extend this support even further, into schools and to parents directly." 
This year, The Boardmasters Foundation has donated funds to the The Schools Consent Project. The funds will be used to provide volunteer-led workshops in schools in Cornwall and the South West region, educating secondary school students about the topic of consent. The first of these workshops will take place next month at Truro High School and Treviglas Academy. Led by legally trained volunteers, the workshops are designed to offer vital education to young people. It arms them with the knowledge and understanding of consent (and what that means in the eyes of the law) before they've even set foot on site.
Normalising conversations about consent, the lawyer-led workshops coming to Cornwall will include information on the legal definition of consent, how to identify consent, the ages of consent, bystander intervention, ways to obtain help and more. They will equip young people with tools to understand these complex topics not only at festivals, but in day-to-day society too.
Monica Bhogal, Director of The Schools Consent Project said, "The Schools Consent Project is delighted to be supported by Boardmasters, enabling us to further extend our reach and bring our consent workshops to schools in Cornwall and the Southwest. The Schools Consent Project firmly believes that education is prevention. Learning about sexual consent laws and having accurate and comprehensive knowledge of their rights and responsibilities, will enable the next generation to make safe, respectful, healthy choices around sexual consent and to enjoy fulfilling relationships. We believe we can and should change the narrative. We can flip what we normalise – let's normalise consent and respect; communication and meaningful conversations.  Our fundamental premise is that education is the best way of challenging sexually harmful attitudes in society and there are real benefits in early and ongoing conversations. If we give young people a solid framework we empower them to stay safe whilst developing healthy intimate relationships that allow them to flourish."
Recognising that there are plenty of parents out there with natural concerns as their young people head to music festivals for the very first time, Boardmasters has teamed up with education consultant Zoe Shuttleworth (BA, ILM, NVQ, Director) from It Happens Education. Zoe will host parent webinars, discussing the realities of festival life and delving into the conversations parents could be having with their children before they head to site. As well as exploring the adolescent brain, alcohol, consent and sexual activity, there will also be discussions around Boardmasters-specific topics including safety on the beach and coast. It Happens Education is a team of safeguarding-trained RSHE specialists with extensive experience working with students, parents and teachers in schools. They are qualified teachers, doctors, nurses, authors, inspectors and subject specialists who focus on research, the evidence base and reducing harm in the lives of young people.
Zoe commented: "We are delighted to be teaming up with Boardmasters to explore the specific questions and concerns parents, carers and guardians have in the run up to the event. There is so much information and support available, designed to keep young people safe at the festival, but they have to know it's ok to ask for help. It's fantastic that Boardmasters are engaging and empowering parents, to decide what topics and conversations they would like to explore with the young people in their lives. Being prepared and well-informed is key to assessing risk, thinking about the consequences, making good choices, asking for help and having a great time at Boardmasters."
These webinars will take place via Zoom on 10 and 13 July, and will be available to parents and guardians with young people attending this year's Boardmasters. Parents and guardians will be able to book online soon, and will be asked to submit questions in advance so that the sessions can be tailored around what they really want to know and understand.