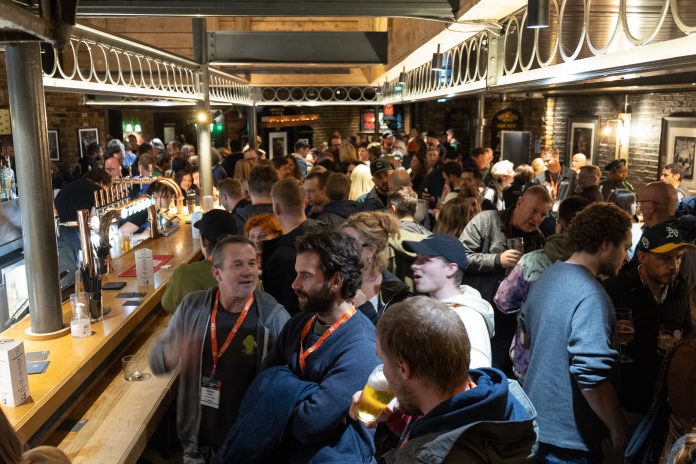 The forthcoming edition of the International Festival Forum (IFF) is welcoming a record level of support from across the live music business, with over 1,000 music festival professionals and booking agents expected to attend the event, which is presented in association with TicketSwap.
In addition to 13 core booking agency partners that include CAA, WME, UTA, Wasserman Music, Primary Talent, ATC Live and X-ray Touring, key supporters for this year's event include Ticketmaster as platinum partner; and FKP Scorpio, DEAG, Tysers and TVG Hospitality as associate partners.
Bringing buyers and sellers together at a critical booking period for the festival market, the invitation-only event will take place at a new campus location this year, at Omeara in South London. Mike Robinson, Country Lead UK for TicketSwap describes the event as "one of the music industry's most unmissable and inspiring gatherings".
"We're thrilled to support IFF at their new location at Omeara. The event has gone from strength to strength, and we're proud to sponsor as it grows," says Ticketmaster UK MD Andrew Parsons.
IFF mixes conference debate, lunches, dinners and private agency pop up offices with a schedule of live showcases that have previously seen early-stage performances from the likes of Lewis Capaldi, Tom Grennan, Yonaka, Bob Vylan, Sam Ryder, Slaves, Raye, Black Midi, Loyle Carner, Dermott Kennedy, Shame and many more.
"This is the most productive festival platform in Europe, where all the relevant players of our festival industry come together for business and maybe also a few beers," adds FKP Scorpio CEO Stephan Thanscheidt.
With over 500 professionals already confirmed to attend, IFF's delegate list includes many of Europe's top festival promoters including Live Nation, Superstruct, AEG Presents, All Things Live, Wacken, Good News, Greenhouse Talent, Di and Gi and many more.
Country partners on this year's edition are Music from Ireland, Music Finland and The Spanish Wave, who will present an evening of music on Weds 27 September, while Music Venue Trust programme a United by Music show the following day.
Other key supporters include the Association of Independent Festivals, De Concert!, YOUROPE, the International Jazz Festivals Organisation, The Jockey Club Venues, Gigseekr, Roadie Medic, Stack Cup, Universe, Megaforce, Showsec, eps, EFM, Aloompa, Nordic Wristbands.
"With IFF's new location, and a summer season that's marked a full recovery for the festival scene, we've never seen such widespread support for IFF before," says ILMC head Greg Parmley. "Our team is humbled that so many major companies are stepping up to help make this our best edition yet."
IFF takes place from 26-28 September. The provisional schedule and details about how to apply to attend are at www.iff.rocks.