Latitude Festival offered an incredible range of entertainment and interactive activities to its 45,000 audience, July 2023, with Serious Stages supporting the promoters, Festival Republic, with bespoke stages and site structures, to create a festival site like no other.
While the main stage Obelisk Arena, a Serious 22m, six-bay Supanova, adorned with Latitude branding and giant screens, hosted the big-name headliners, there was more stunning live music on a range of Serious staging platforms across the three-day festival, including the BBC Sounds Stage, The Alcove, The Sunrise Arena, the Lavish Lounge (BBC Introducing), The Faraway Forest and the Trailer Park Stage. With plenty of laughs to be had on the 26.5m x 6m Comedy tent stage.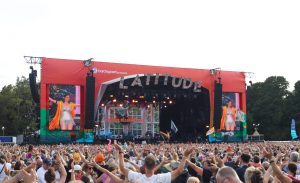 Latitude is a creative wonderland, offering so much more than music, which meant Serious Stages' design and installation professionals turned their hands to some unusual scenarios, as Operations Manager Abbey Thomas explained:
"The décor across the Latitude site creates an aesthetically beautiful festival. It's also a very eclectic mix of entertainment on offer. We can't lay claim to the pink sheep on the shores of the lake, but our team found themselves constructing several platforms in the water, to accommodate swimmers, gondola rides, a performance dance stage and a 26m long temporary pedestrian bridge. We also built platforms in the woodlands for artistic installations and interactive features.
"While creativity takes the fore, our CAD Design team ensure the engineering of every structure is calculated to be safe and then installed attentively, to be suitable for whatever the programmers have dreamt up."
Elsewhere on site, ancillary site structures included the Obelisk Arena three-storey Front-of-House tower, along with numerous assisted viewing platforms and mixing platforms.