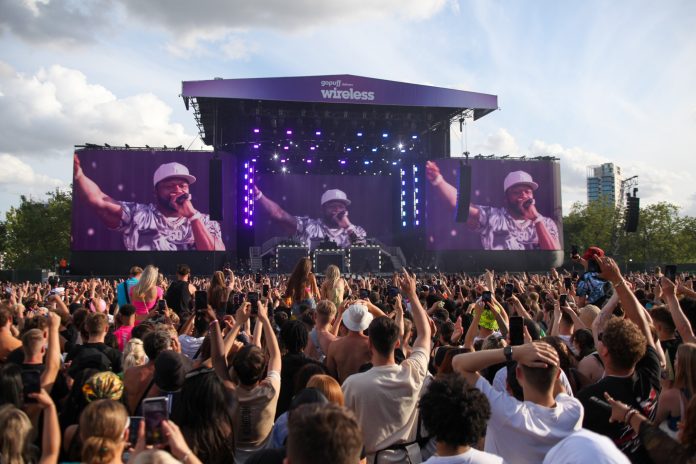 50 Cent, Lil Yatchty, Travis Scott and D_Block Europe were among the stellar urban music lineup appearing under the Serious 25m TZ Roof at Wireless Festival, July 7-9, 2023.
Serious Stages are supplying stages and site structures for Festival Republic across a range of UK festivals throughout the summer and have recently returned to Wireless Festival this weekend. Serious Operations Manager Abbey Thomas says:
"We work closely with Festival Republic's creative and production teams to design and install stages that meet the needs of the headliners, while also creating a unique aesthetic for their events.
"Our TZ Roof was installed as the main stage at Wireless and incorporates bespoke curved screens on the goalposts to create a seamless, immersive visual experience for the audience. With the use of recently designed HD bowstrings, we were able to increase the capacity of the roof loading, enabling the artists to bring in their own production and scenic elements. We also add a 30m thrust at the front of the stage to get the artists up close for crowd interaction."
Helping the sound company to achieve optimum sound levels for the 50,000 music fans in the audience each day, Serious installed eight 12m delay speaker towers in the main arena, with two 12m masts for the main stage PA hangs.
The Serious Front-of-House Tower housed the technical sound and lighting mix positions, with two levels of VIP platforms.
The second Wireless stage was a Serious 16m Supernova, which carried performances by NLE CHOPPA, Clavish and K-Trap.