After growing out of its original site at Portsmouth's naval dockyard, Victorious Festival is firmly anchored on Southsea's seafront. We caught up with founder, James Ralls to chart the journey through growth, acquisition and sales to its place as a key player and supporter of the local music and events scene.
Where did it all start?
I started out building houses, but then bought a pub and got my mates to come and work with me. We used to put a couple of gigs on every week. We had Annie Mac in our pub, which was a highlight for us, because the pub could only fit 200 people in. But then we got asked to put on mobile bars in different places.
One of those was in the dockyard down in Portsmouth, which was something called Victorious Vintage. There were all sorts of things that were supposed to happen that didn't happen. The dockyard actually said to me, Can you sort of sort this out? And I was like, Yeah, okay, then sorted it out. And then they said, Can you come back the next year? And I was like, Yeah, all right, we'll try and make an actual proper festival.
I think about 40 or 50,000 people turned up, so we were a little bit surprised. There was obviously an appetite but it was only a tenner. We had a good relationship with the Navy because the people who worked in the dockyard, one of them now actually works with us and is my wife, had done Navy days and lots of big events in the dockyard.
Was it a challenge, working on a site overseen by The Royal Navy?
The Navy is quite serious when you're going to be using their land and their dockyard. [At one point] they were like look, this can't happen, we're going to cancel this. And I was like no, you can't cancel this, I've already booked all the bands and I've ordered all the stock for the bars. And they were kind of like Oh well, just sign this then. So I took responsibility.
That was quite a small event compared to what happened on the on the next ones, it was basically that signing that was a way for me to avoid having to go back to the bands at the time, the Lightning seeds and Dodgy and people like that and say, look, you haven't got a gig now. Sorry, we didn't actually have a site secured.
And that was 2012?
Yeah, then we did the same again the next year, they gave us some more land, but then it just got too big. I spoke to people that I'd worked with down at the Portsmouth City Council and asked if we could have the land on the sea front. I'd done some work with them previously and they were like yeah, that's fine, we did a deal and we've been there ever since.
We started on a field called Castle Field next to Southsea Castle, which is where Henry the Eighth watched the Mary Rose sink. The year after that we decided to put two main stages in and took the whole main common. I think we've got 13 stages now.
We've extended it this year, into the whole of the seafront common area. We haven't got the big car park on site anymore, we have park and ride bringing people in instead. Portsmouth's got a bad air quality problem so we're keeping cars out out of the city.
Being a city-based festival, do you have problems with accommodation?
We're always looking for more accommodation; the hotels tend to sell out, loads of people stay around friends' houses, everyone, Airbnbs rooms in their houses, we've got a campsite which I think can hold 8000 people this year, we've got the Park and Ride, which we think will probably be about 6000 people this year. Lots of people come in on the trains and walk, we've got a partnership with Big Green Coach who bring people from different areas.
I think about 40% of our people actually come from Portsmouth itself, the island, so they can walk, you know, they can walk, that's great for our green credentials,and I think another 30% come from the PO postcode itself and SO, which is just Southampton. We're gradually transitioning into more weekend camping tickets and more weekend tickets rather than day tickets. But we're still day ticket heavy at the moment.
Reminds us of your daily capacity.
79,999, that's including staff of course.
Thinking back to 2011, what are those things you know now that you wish you'd known then?
There's so many, you could write a book about it, even down to the entrances into the first ones we were doing. We were letting people go out and come back because it's a family festival, so they can take the kids home and come back if they want, but having no way to do that, we were stamping people's hands. Then you've got hundreds of people outside putting the wet stamp mark onto their mate's hand.
Back then it was more cash, so having enough change, you can't sell anything if you haven't got change to give people.
Having enough gas to sell beer, you can't sell beer if you've got no gas. At one point we were going around Portsmouth in vans – luckily we knew all of the pub owners  – and we were getting one bottle of gas off each pub and then bringing it back to the festival because we were running out.
We were also lucky, because when we started the first pub, one of the guys who just walked past was a door supervisor up the road. He said, 'do you need doormen on your pub?' I was like, probably on Saturday. He left the door he was on, started his own door company, came and did our pub and now is he owns Vespasian Security and does the security for our festival, he does the security for lots of festivals, also at football stadiums. We kind of grew together, learned together, we trust each other. My team now is the same team it was in 2006.
And how did you put the team together?
I think it's people just see if their friends want a job. Usually it's a temporary role throughout the summer and it gradually grows into full time. Probably at the start of it, there were 4 or 5 of us doing it full time. Now there's 16 of us and thousands of staff over the weekend.
We do other events too, we did the D-Day 75 celebration public aspect for the council, there were 14 heads of state there. We've got lots of people on our network that want to come in, it's quite interesting.
It seems that you've become that trusted, go to organisation that can manage an audience in your city.
That's the site for all big things really, in Portsmouth. So we're we're kind of like the people that can come to and say, what do you think about this? Do you want to be involved in it? Because we know we know how to manage that site. We know how to manage the traffic into that site, which is a big thing in Portsmouth because it's only got two roads in and out.  We've also got a yard down there with a lot of infrastructure in; fencing, bits of staging, cable ramps, you know, all the boring stuff, but all the events down there need that. We give it to them for nothing and we help the council and help local promoters put on their own events. Well, apart from the end of July and August, because obviously we're fully into Victorious, but we let them use our stuff as part of our community contribution. I think we've helped a couple of hundred events in the time we've been there.
You seem to have a bit of a local community focus, isn't there a Victorious Foundation?
That's kind of transformed into something called Portsmouth Create. We put a lot of money into that every year, as does the council, the Arts Council and the local university. We founded it and brought together the three other major sort of cultural public sector organizations that could put money into it. They work out of a side office in our office and deliver, you know, cultural things. They delivered a We Shine Light festival last year, which I think 100,000 people came to, but they do it all not for profit. They bring local schoolchildren, local artists, local, which we're trying to grow the ecosystem around ourselves. That's why we're trying to help other promoters, we try and help anything that we feel is in our sort of sphere in Portsmouth.
You start with a local festival and you've remained and retained that local vibe despite acquisition by Global and the subsequent purchase by Superstruct. How did that come about and how has it helped?
They  just approached us and said, do you want to be part of a larger organisation? And they were willing to invest. It was sold to us as we'll have backup, we've got all of this framework, the sort of stuff we're rubbish at like contracts and the paperwork side of things. Actually, some people in my office would be insulted. I'm rubbish, they're not rubbish at it.
But some of the things at that point we weren't good at, and we thought about access to artists as well.
Nice people though, the radio company from London who then sold their bit on to Superstruct, which is a new experience because they are a festival company. They've got festivals all over Europe. It's a lot bigger, but it's a lot more focused on festivals. Rather than being a radio company which does a few festivals, it's a festival company which does loads of festivals.
And they're great you know, they've got experts in lots of things, so if you encounter a situation that you've never encountered before, they can invariably give you a steer.
Do you find any disadvantages under outside ownership?
Not really, because it's different for us to work in such a close environment with everyone. I spend a lot more time up in London with my other director, Sian, and a lot a lot more time giving insights into this business to them. But then you do get insights back from the group, it might just be around pricing of things, it might be around, you know, if you move this a little bit there, then that gives a better customer experience or things like that. But but they're gathering up that information from a wide set of [data]. They don't try and push that on you because everyone could become generically the same festival, but they do give you a menu of things you can choose from, things you didn't think of, especially in our situation because we've we've grown from pub. We're not necessarily event professionals, we haven't got event management degrees, we don't do things the same way everyone else does. We've kind of got our own ecosystem of suppliers that we've built up around us, whereas everyone else is using the big suppliers and they've done the same paperwork, the same everything. It is useful to us, probably more so than others.
All the advantages of the paperwork and none of the disadvantages of people pulling you away from your identity?
I think they are all about that. I think all of us in the group have still got our identities. If they were to lose that, they would think they've failed.
Can you recall any 'pinch me, I'm dreaming' moments?
I think the one moment that stands out for me is seeing it built on the site on the seafront. One year it was built, they were testing the sound and lights on the main stage, it was the first year that on the first day I actually got to have a look around, to stop and not be buried in the detail. I went up on one of the big cherry pickers in the middle of the site, as high as it went, and then just looked, I was looking around the site and was like, 'F*****g hell, we've just built this.' I don't really get to see any of the bands, or very rarely, you're always running around trying to make the experience better for everyone. But that, that was amazing.
Band wise, I went on the stage when we had Noel Gallagher down there. I was a really big Oasis fan, so I was standing on the back of the stage looking out over the crowd, which was a big crowd for us at the time, that was great.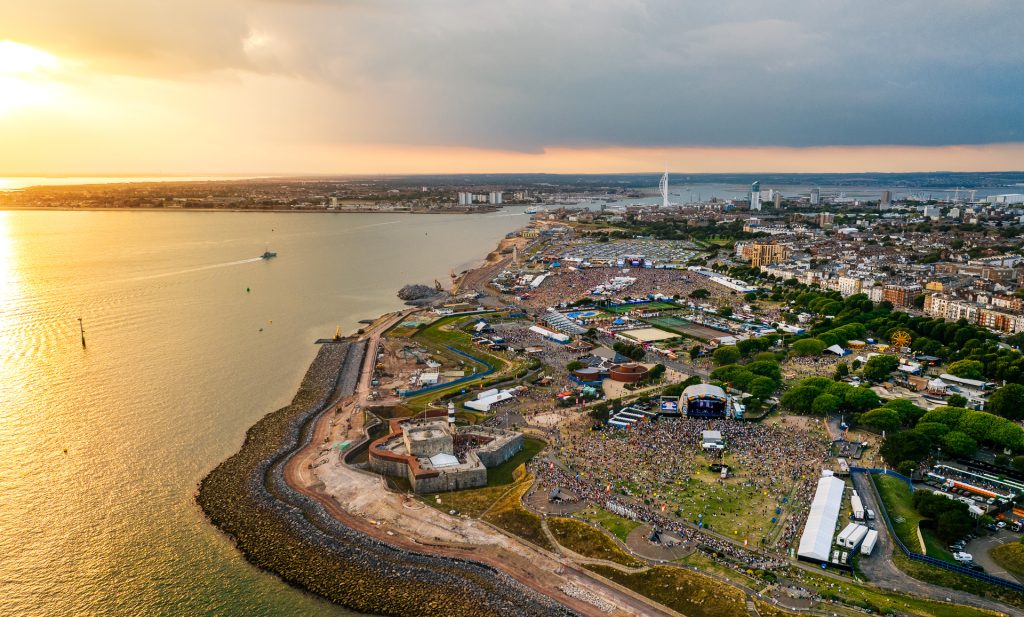 On the flip side, what about those 'earth swallow me up' moments?
Well, there's quite a few of them, but yeah, the worst one was coming out of the pandemic. We just about got a festival together in that year, in 2021 and then toilets didn't up supply chains were really creaky that year. Lots of people missing, lots of things didn't even exist. Deliveries telling you they're not turning up.
Specifically, that year we had problems around toilets. Also the toilets we could get, a lot of them were drop toilets that we'd never used before. Customers were not happy, they didn't know what they were, so we had a lot of problems with our toilets that year. We're never doing that again, never having toilets that dirty again. They're always going to be clean.
Did you iron out the supply chain problems for the 2022 season?
It wasn't so bad for us because a lot of our supply chain we've worked with so many years, they're local companies, we know them..
While 2021 was going on, we were looking into buying our own toilets for 2022. We were like, this is never happening again. So yeah, it's not been as bad but the cost of everything's obviously gone up massively. Costs must have gone up 30 or 40%, over the last year or two, across the board.
I feel sorry for events which haven't got the luxury of the amount of site we've got so we can sell the amount of tickets we can. It must be really difficult if you can't adjust this here, adjust that there and then and make those prices work, because I think some of the suppliers can't deliver any cheaper than they are delivering, and and it is really expensive.
Covid, supply chain issues, price increases and now cost of living pressures. Dare we ask how 2023 is looking.
We're lucky in the fact that we're still selling tickets. I put that down to us being quite an affordable ticket; we want to be accessible to as many people as possible. I think, if you're going to go to a festival, then we're one that you can access still. And obviously we sell day tickets so people can choose what day they come. I think our cheapest ticket was 45 or £50 this year, which for the bands and for what we've got on for the day, it's affordable, it's good value.
We're still selling a lot of tickets at the moment, we've sold more tickets than we've ever sold before at this point. We're probably going to have a record year but that depends on the next 2 months because we traditionally sell 25% of our tickets in August.
Outside of Victorious, what else do you have on the seafront this year?
"The one thing we always like to talk about is our community stuff. And there's loads of that. But one thing we are supporting this year is Portsmouth being home to the England Women's beach soccer team. They're going to the Olympics next year, we're their main sponsor so shout out to them."
And that seems to be Victorious, a festival that actively goes beyond the economic impact felt over one weekend and lends knowledge and kit in support of its home city's events, sport and creative scene. Unsurprising really, given that the core team live in the city, and all but one were born there. We wonder how many of those local ticket buyers realise just how much value the city gets for their ticket.