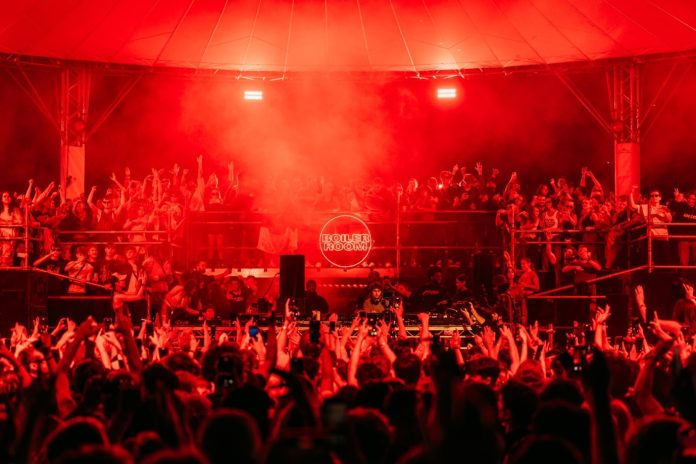 The Fair and We Are OPS enabled 20,000 festival goers to dance at Boiler Room's Burgess Park show over the weekend, increasing capacity and scale following the success of the one-day event in May.
The London-based event production and operations agencies worked meticulously to enable this unique experience for ticketholders, who flocked for Boiler Room's much-anticipated return to Burgess Park for the second time this year.
Boiler Room, the globally-recognised music broadcaster, is celebrated for enabling guests to completely immerse themselves in the club experience, and dance in the immediate vicinity of the artist. Following the success of The Fair and We Are OPS's services at Boiler Room's Bank Holiday show in May, promoter Columbo Star asked the two agencies to bring last weekend's event to life. This included an additional day of music, a new stage, and an increase in capacity from 8,000 to 10,000 each day – all while maintaining the same level of intimacy for festival-goers on stage.
Clive Chipper, Health & Safety Advisor at We Are OPS, said: "We worked closely with The Fair, the client and the stage contractor throughout the planning and design stages of the event to ensure safety remained at the forefront of the conversation throughout. This required careful consideration of weight loading, crowd density and capacity, as well as size and structural aspects.
"We constantly monitoring crowd capacity and crowd behaviour throughout the Boiler Room live event to ensure nobody was at risk – using our experience and knowledge of crowd science to make dynamic decisions that would ensure crowd safety.
"Our hard work paid off and 10,000 guests were given the freedom to safely enjoy Boiler Room's incredible round stage."
Community engagement is another aspect of the event that We Are OPS championed. The team worked with two local charities, Mentivity and Southwark Pensioners, to raise funds through the event. A local café was also used to cater for crew, and job opportunities at the festival were offered to people living within surrounding areas.
Jan Rankou, Senior Operations Manager at We Are OPS, said: "As Burgess Park was a new location for our team, we had to begin Stakeholder Mapping from scratch. We worked with some incredible charities, and it was great to have many residents on board with the event too.
"Setting up a community hotline and having a dedicated Community Manager during the build and live stages of the event meant residents could reach out to the festival directly, something which many said they found really helpful. It was also great to be able to assist our accessible customers, who got in touch with Boiler Room to share their positive experiences at the festival."
Launched in 2021, We Are OPS has provided Event Operation and Health & Safety services to support some of the UK's most exciting music festivals, including GALA, El Dorado, Eastern Electrics and Houghton Festival to name a few. It is powered by over 20 years of festival and event experience from members of The Fair.
We Are OPS also works alongside sister agency We Are Placemaking to safely deliver events for some of the UK and Europe's leading property developers – whether it be Christmas activations in Milan, or some of the country's biggest Coronation garden parties. The placemaking agency is firing up for the final quarter of the year, with a range of upcoming events across the country.
Nick Morgan, CEO of The Fair and We Are OPS, said: "We've been working with Boiler Room for several years now, and it's been amazing to see the BR team's unique vision grow into a concept that is recognised and celebrated across the world.
"We look forward to continuing to work on a wide range of festivals and events across the industry and have a very strong pipeline for 24 and beyond, including launching new territories.