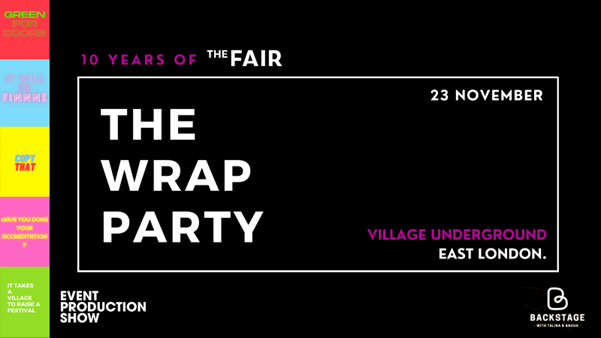 Event industry professionals are invited to celebrate the successes of the season at The Fair's annual party – the most significant to date.
Every year, the London-based event production company hosts The Wrap Party: a night of music, dancing and conversation with colleagues and friends from across the industry.
This November, The Fair will begin celebrating its 10th year of producing large-scale festivals and events. The company's portfolio includes some of the UK's most-talked-about music festivals, such as Boiler Room, NTS, GALA, Eastern Electrics and El Dorado. In recent years, The Fair has also expanded to new territories, including the world's largest Talent Acquisition festival, RecFest, and London's fastest growing food festival, Savour.
The Wrap Party, sponsored by The Event Production Show and Backstage Chats, will take place at Village Underground, East London on November 23. The line-up includes Rami Ali, DJ Chris Tofu, Bangus, G&T, Young Bebe, Remi the Dragon, and a special guest, who will be revealed in the coming weeks.
Nick Morgan, CEO of The Fair, said: "This year, The Fair will celebrate 10 years of producing large scale festivals and events for millions of people across the UK and beyond.
"During that time, we have worked alongside promoters to scale their shows from their infancy to becoming some of the most established shows in the festival calendar.
"Over the last decade, we have seen the industry grow in ways we never quite imagined, often as a result of challenges we never expected to face.
"We have continued to fight on behalf of the independent sector – lobbying government to gain the support needed for the industry to thrive.
"The collective resilience we continue to show is exceptional. So, as well as celebrating our own success, we want to celebrate that of the entire industry. We look forward to welcoming guests to our 10th anniversary Wrap Party."
Yasmin Galletti, Director of The Fair, said: "The festival industry has worked tirelessly over the last six months to put on parties for people. Now, we're throwing our annual Wrap Party to celebrate each other and what we've accomplished, giving our backstage industry heroes a chance to let their hair down.
"This event is just the start of The Fair's 10-year anniversary celebrations. We can't wait to show you what else we have in store."
To secure your ticket to the Wrap Party, head to Resident Advisor.