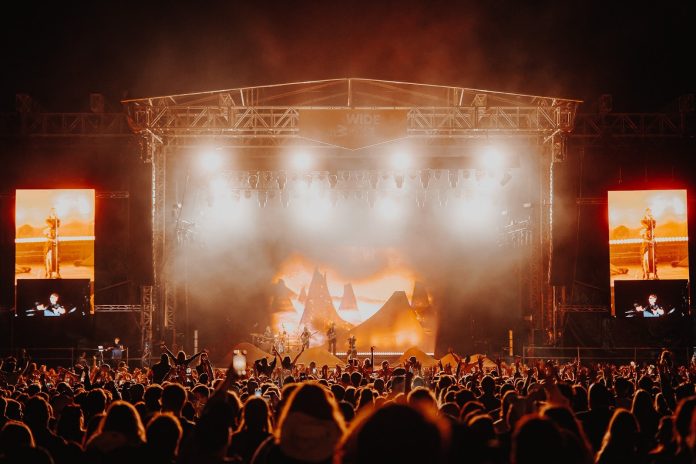 Wide Awake Festival, one of London's most distinctive and well-curated festivals in recent years. Today they add a host of new high-profile acts to their 2024 lineup, welcoming some of the best up-and-coming leftfield talent around.
Gracing Brockwell Park on Saturday 25th May, the new lineup announcements include Mercury Prize winners Young Fathers, UK post-punk favourites Squid, beloved DJs Ben UFO and Helena Hauff, electronic pop legend Alice Glass, and Australian rockers C.O.F.F.I.N. Also new to the bill are The Babe Rainbow, The Dare, Decius, Etran De L'air, Crumb, Eartheater, Upchuck, and YHWH Nailgun to name a few, with yet more cutting-edge electronica and experimental pop artists still to be announced.
As always with this uniquely curated festival, Wide Awake 2024 features an eclectic array of artists hitting their prime. Young Fathers are hot off the back of their recent album Heavy Heavy on Ninja Tune, which was shortlisted for the 2023 Mercury Prize and won the Scottish Album of the Year Award. Pennsylvanian multi-instrumentalist Eartheater has just released her fifth album Powders, with part two Aftermath coming in 2024, while former Crystal Castles frontwoman Alice Glass has been riding high since releasing her debut solo album Prey//IV last year.
Acclaimed experimental DJ and composer David Holmes is also set to make a welcome appearance, bringing his round-about selection of cinematic, library music, rock 'n' roll, psych, experimental, unclassifiable and independent music to Brockwell Park, in support of his new album Blind On A Galloping Horse.