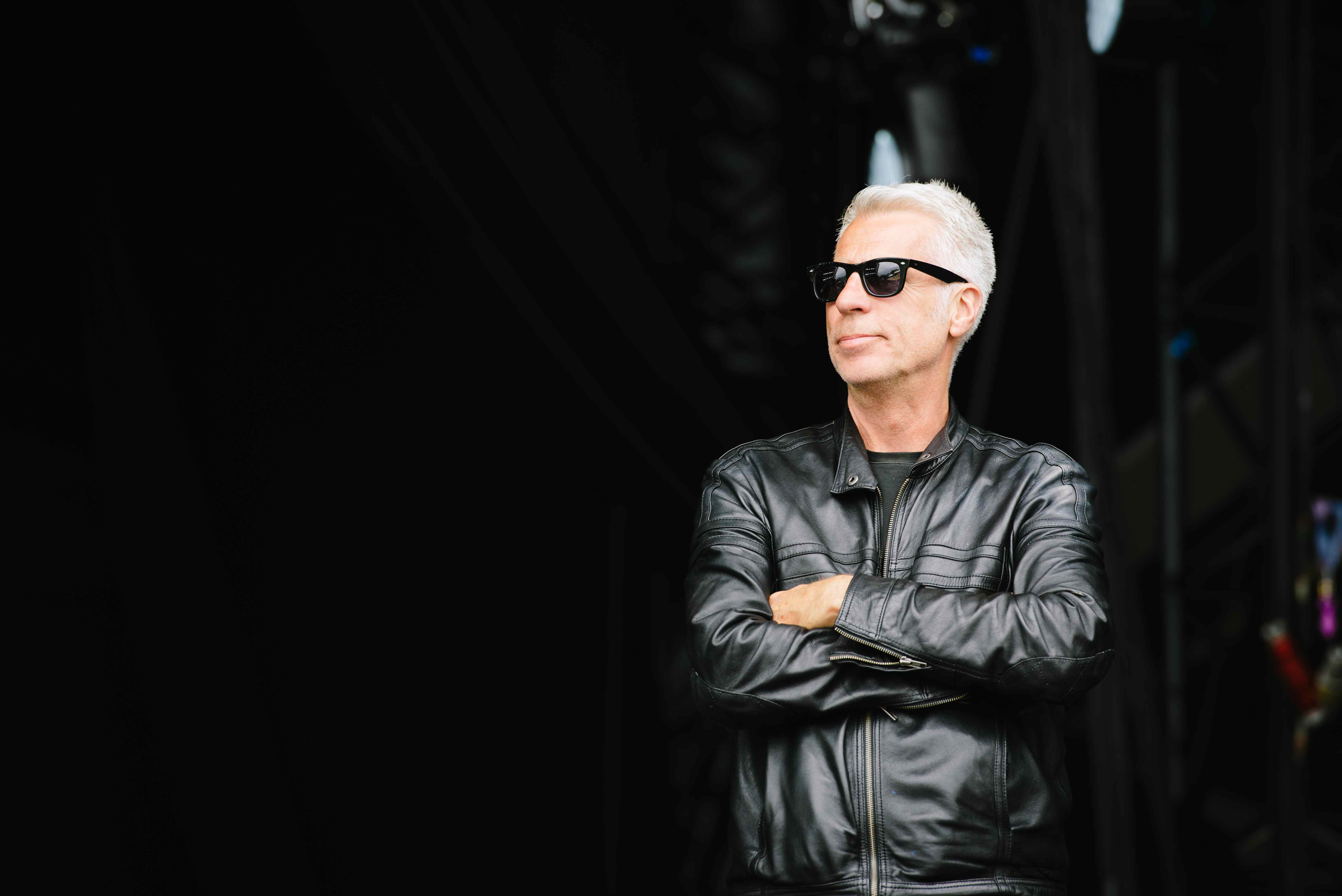 On August 30 1970 – the Isle of Wight Festival's second ever Sunday – a teenage John Giddings witnessed the untimely demise of an event that mirrored the hippie movement, not only in timing and spirit, but with the unfettered intensity of its rise and fall.
During scenes of unrest in which French Maoists began tearing down the site's temporary borders, the festival's promoter Rikki Farr came onstage to tell its attendees in no uncertain terms to 'go to Hell'. You might have heard the polemic – delivered amidst a sleep-deprived, intoxicant-fuelled delirium – sampled in that Oasis song about foliage-based intercourse.
The instigators of said chaos supposedly did so as an objection to the artists and promoters making a profit, which, according to Giddings, was a fortune either greatly over or underestimated, "depending on whom you speak to."
"I don't think the organisers were con artists only interested in making money though," he elaborated. "That came later in the music industry."
"That was one thing the Murray Lerner documentary 'Message to Love' got wrong actually. It portrayed all that anarchy as happening on the first day, when it was the last. Still, an incredible film in the way it captured the performances."
Some of the now legendary performances implied in that statement were those of Jimi Hendrix, The Doors, Miles Davis and The Who, amongst others, and it was seeing these that triggered the sad but very useful epiphany that he "wasn't good enough to be a real musician".
Still, despite the momentary setback of this realisation, the effect that the atmosphere had on the then eighteen-year-old was profound.
"Before then we just used to listen to records in our bedrooms, reading the liner notes. Musicians were something remote and exotic, but now there was a place where not only could we see them, but we were surrounded by hundreds of thousands of people who were into exactly the same things.
"People would give you food and drink; you felt like you could talk to anyone. There was no meanness to it. I knew then that I wanted to be involved with music in whatever capacity".
Luckily he had a friend who'd secured a position with the Sherry / Copeland agency, following a stint as the University of Exeter's Social Secretary. The path seemed clear enough, so on Giddings' first day at the university he approached then Social Secretary David Wellbeloved and said "I'd like your job next year". He may or may not have prefaced it with 'Hello'.
Wellbeloved replied, "Who the hell are you?"
Despite the incumbent's initial incredulity, Giddings managed to get the post – the noteworthy moment of which occurred when he voted 'Yes' on the matter of whether the committee should welcome David Bowie to perform there on the Ziggy Stardust tour. Unfortunately the majority decided against it, so Bowie had to play Torquay Town Hall instead.
Giddings' acclaimed Solo Agency now represents Bowie, as well U2, Madonna, Justin Timberlake, Pharrell Williams and a litany of other luminaries, and aside from a reservoir of easy bookings this day job has provided Giddings with a good enough living that he can afford to put on the Isle of Wight Festival as an independent promoter. "This is my hobby. I don't like gardening. I don't like golf.
"Putting on entertainment for the masses is just about the most satisfying thing you can do. It's nearly as good as having sex, or winning a motor race. It's hard to describe the level of satisfaction you get when you see 55,000 people going wild in a field to something you dreamed up in a cold, windy February in Fulham."
With the 20 / 20 clarity of hindsight, it seems serendipitous that a man who saw first-hand the death of a festival would be the one to resuscitate it. In 2002 – following the repeal of the 1971 Isle of Wight Act that prevented gatherings of over 5,000 – Giddings did just that. The line-up included The Charlatans, Robert Plant, Ash and Starsailor – revelatory for Isle of Wight residents who had "only seen tribute acts up until that point."
Since then the festival has grown considerably in stature, and Giddings believes it has successfully reclaimed the ethos that made its original incarnation such a worldwide phenomenon. "The Woodstock of Europe" is how he summarised the essence of its formative years. Nowadays the infrastructure and security may be much better, but the fundamental, intangible qualities have ostensibly remained the same.
"We book music from past, present and future and we care about the audience more than the groups.
"And just to be clear: I never ever would have taken this on if it weren't called the Isle of Wight Festival. The name has an incredible heritage and I'm proud to be a part of it. It's on the bucket list for many major acts, and the ones that have played have expressed that they feel very calm and safe on site. I think it's something to do with the water on the way in; it's theraputic."
There's more stuff to do onsite these days too. In keeping with the paradigm shift towards non-musical programming, luxury camping options and the advent of the 'boutique festival', the Isle of Wight Festival has seen its sale of tipis and Podpads double in the last few years, and continues to evolve its auxiliary entertainment offerings. The Intoxicated Tea Rooms, for example, will blast intermittent air raid sirens and hustle its visitors into a hidden bunker – in which they'll take shots, listen to Vera Lynn and wait out the fabricated storm.
"That's my idea of heaven," Giddings said, as I paused for a second to reflect on how horrifying his vision of Hell must be. Probably full of French Maoists, if he's anything like his predecessor.
The Isle of Wight Festival is also set to usher in some new areas on the 250-acre site this year, including the Strongbow Tree, the Bulmers Colourena, the Jack Rocks Stage, the Electro Love area and Cabaret Noir. Between them they offer DJ booths, team challenges, videogames, BMX bikes, bubble parties, burlesque, and emerging talent. These join the already established, idiosyncratic locales of the Bohemian Woods, the Kashmir Café, the Zebra champagne bar & casino, and the Kids' Zone.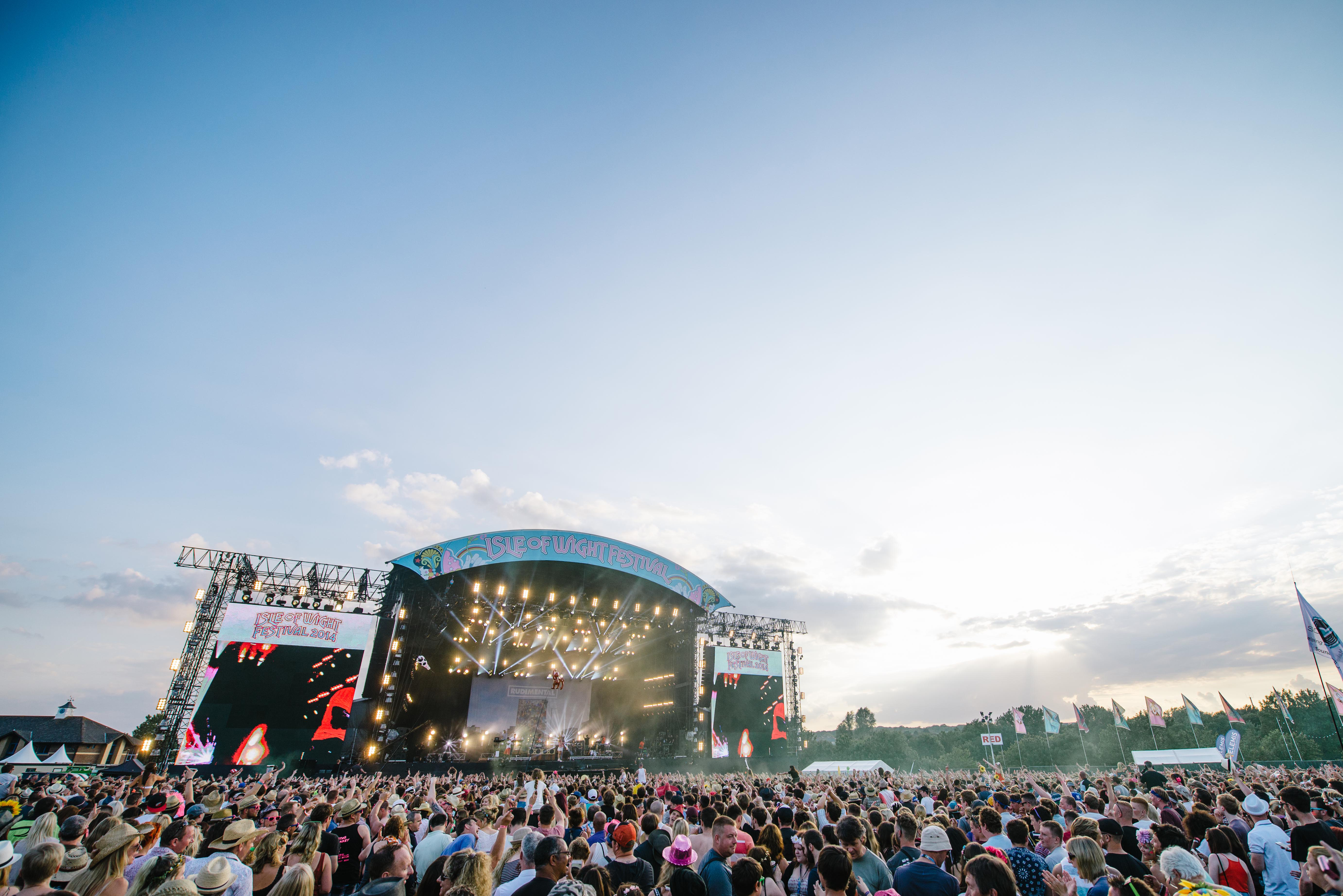 Although the Isle of Wight Festival holds a special place in his heart, Giddings had actually attended the Bath Festival previous to his 1970 excursion to the former. "Pink Floyd debuted Atom Heart Mother there and called it The Amazing Pudding. Led Zeppelin and Frank Zappa were playing as well. We bought a Ford Consort for £15, and eight of us got in it, drove it into the arena and watched the groups from the car. I remember it went on until six in the morning. It rained so The Byrds had to do an acoustic set. It was an incredible time because there was so much great live music coming through."
"And I suppose by then it hadn't been co-opted by commercial interests," I offered – channelling the Maoist ruffians who cast their hippie hex on Giddings' well-beloved festival a few decades prior.
"No, absolutely no commerciality. The loos were just scaffolding and a ditch there. I saw someone fall backwards into it; one of the most disgusting things I've ever seen."
Ensuring that its commercial benefactors work harmoniously with the modern-day Isle of Wight Festival is something that Giddings has an active hand in. "We're only interested in sponsorship if it makes sense with the aesthetic and feel of the event," he said. "Lots of sponsors are too corporate and just want to put their stamp on it.
"An example of activation done right was BT, who last year brought David James along. Artists coming out of the Artists' Village had to try and score a goal against him, and later in the day he served pizza to our attendees."
The combination of the festival's independent promotion and Giddings' own non-monetary priorities have led to his unofficial classification as somewhat of a maverick within the industry. I asked him if this was a fair assessment, and he seemed to agree.
"I'm stupid," he said. "I'm insane.
"All of the other UK festivals are owned either by Live Nation or AEG or they have shareholders. Each year I risk £10 million of my own money on this. I once told someone that they were stupid for gambling on horses, and they said 'But John, you gamble on people with two legs every day of your life.' You know what, they were right."
The majority of the money the festival does make goes straight back into the organisation, so that its audience's experience improves year upon year. "Everyone gets at least one year of bad weather. Ours happened in 2007 and made the roads to the car parks collapse. The following year I invested £250,000 into building roads so that never happens again. As an organiser you rarely enjoy the present, your mind is always on the future and how to make the event better. You're forever striving for that perfect lap."
Giddings' primary concern is to make sure everyone has a good time. Perhaps most exemplary of this intention is when in 2007 he booked The Rolling Stones to close the festival, after it had already sold out. "I paid £100,000 for them to have their own B stage. They were actually worried that no one would stay to watch them. They said 'Can you put Keane on afterwards?' I said 'You're joking aren't you? I haven't paid all of this money for you to play in daylight!'"
It goes without saying that people did stay, and by all accounts it was one of the festival's defining moments. "Bringing The Rolling Stones to the Isle of Wight will be on my gravestone," he said, further highlighting how money is of little concern. "If I got run over on the Monday morning, at least I did that."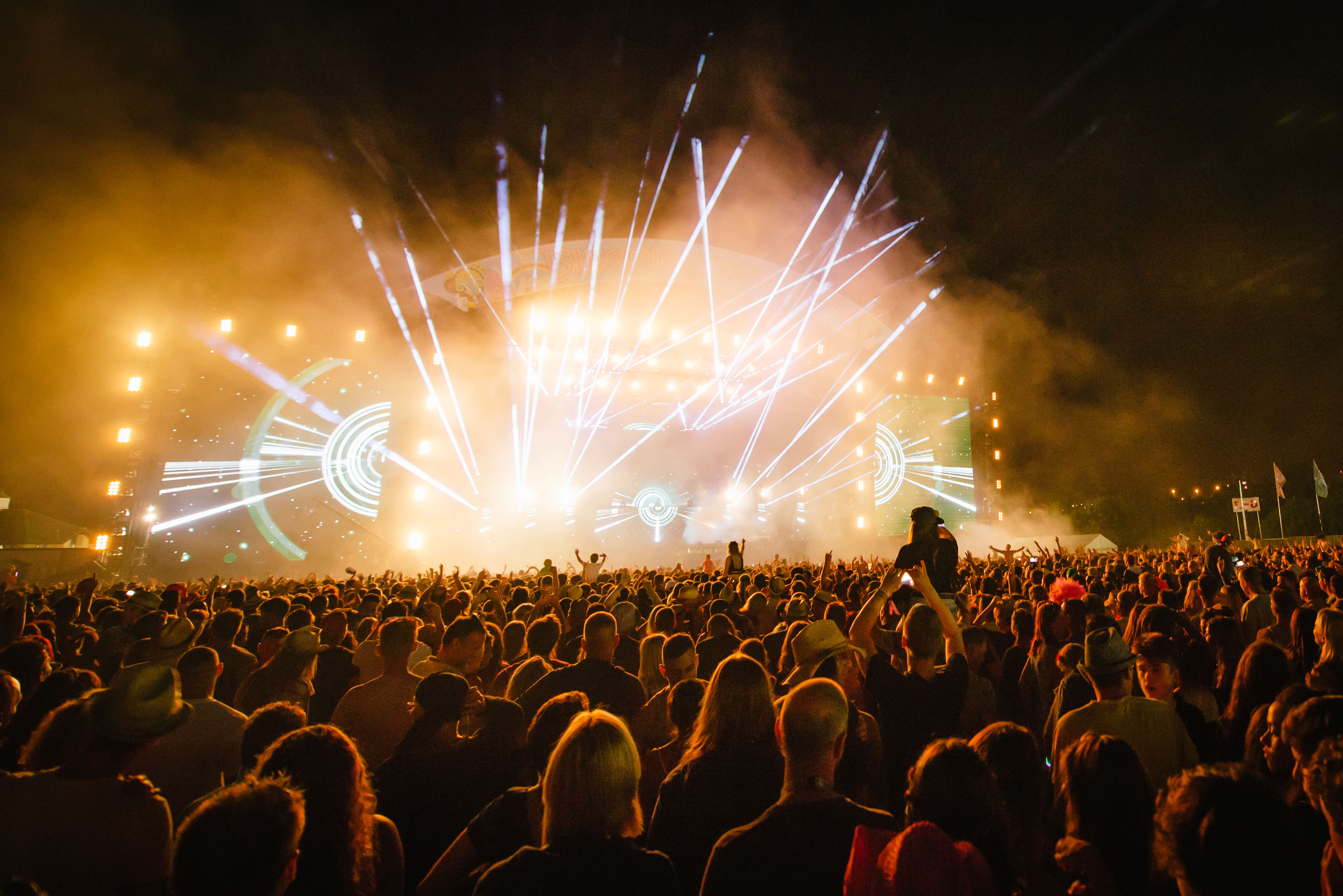 Other pivotal performances in the revived Isle of Wight Festival's history include Jay-Z bringing out Kanye West in 2010, and The Sex Pistols performing country renditions of their classics, to name a couple. But it's the small, spontaneous moments that its organiser seems most proud of. "There are just countless amazing moments that happen. People are forever emailing me saying 'I met my bride-to-be at the festival, can you come to my wedding? Personally I love walking about and discovering new, quirky bands on some of the smaller stages.'"
Curating the smaller stages is a task delineated to others, with Giddings booking the entire Main Stage, Big Top and Hard Rock Stage. This year's characteristically eclectic roster comprises a title card of The Prodigy, The Black Keys, Blur and a UK exclusive performance from Fleetwood Mac. Aside from these more obvious names, Giddings is also excited to see Coasts, The Pretty Vicious and Larkin Poe. "I love it when someone from my team approaches me with a new act they've discovered. We've booked acts in the past like The Struts, Deep Valley, Swim Deep, The Strypes, Kodaline and even Lana Del Rey before the general public were really aware of them. Inevitably you get a bunch of people on social media asking 'Who the hell are they?' and my answer to them is 'Come find out'.
I asked if he feels the festival industry has a responsibility to facilitate the upward mobility of undiscovered acts. The short answer is "No."
The slightly longer answer is: "Festivals are commercial enterprises first and foremost. We don't owe bands a living. I definitely believe in promoting local talent however. My ambition would be to help a band from the Isle of Wight become internationally successful. Platform One, a music college on the Isle of Wight, run a competition every year in which the winner gets to open up the Main Stage every year."
Despite its deep roots in the past, the festival's focus is firmly on the future. Aside from its new areas, it will also welcome exclusive performances from YouTube stars DanielJ, Alice Olivia, Myth City, Only1Noah, Toby Randall and Hannah Trigwell, and the organisational team is also carrying on with its intent to make the festival as ecologically sound as possible.
"I think we owe it to the environment, the general public and future generations to do as much as we can in that way. We're lucky in that being on an island means most people come across on the foot ferry, but we still promote liftshares and cycling where appropriate. There are always people coming up with ideas on how to make festivals more environmentally friendly, and I'm willing to try any of them that don't cost me £10 million."
"Is there anything you'd like to see happen more or happen less in the industry?" I asked as a question potentially too open to bring things to a neat close.
"Overall I do think it's a very well-run industry. I do think there are too many events, but that's the natural flow of things I suppose.
"Putting entertainment on for the masses is a brilliant thing to do, but you can never rival what nurses and doctors are doing for the greater good. I do think the festival industry could do more to give back in that way, as opposed to just being based on greed."
Fortunately Giddings' house isn't a glass one in this case. The Isle of Wight Festival recently partnered with WellChild – the national charity for sick children – to host a dragon boat race on the island's River Medina. In doing so they raise £60,000 for the charity, which will pay a nurse's annual salary to look after a child.
"We got 20 companies to raise £2,500 each and a bunch of pop stars came down to row. Strangely enough we won it – surprising, since most of us had been in the pub since 11.30 in the morning. I have to thank everyone that contributed and participated; we had 300 people rowing on the river. Again, we have a responsibility towards charitable causes. We are all in positions of privilege and you should give back to other people."
"Bringing it back to what else I'd like to see more of, I suppose you can always make it more efficient, but then again you don't want to over-sanitise the festival experience. No one wants it to be like Marks & Spencer's. Festivals should be funky and unkempt."
For more information on the Isle of Wight Festival, visit its official website.