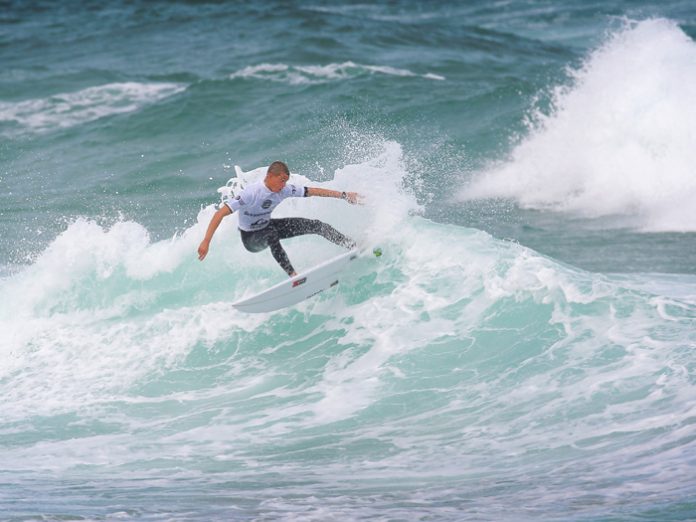 In its grand return to two of Newquay's most idyllic locations from August 9 – 13, Boardmasters' 12th edition continued to establish the festival as the UK's preeminent celebration of surf lifestyle and music. Organised by Vision Nine Group, the five-day event this year welcomed a record 50,000 daily visitors to Watergate Bay for an array of international musical talent, while its site at Fistral Bay once again played host to the best in competitive skating, BMX, and surfing.
Insights was onsite at Boardmasters to speaks with Vision Nine's Head of Marketing and Comms, Levi Jackson; Group Account Director, Paul Campbell; and Rights and Partnerships Director, Yan Li; about the company's approach to brand activations, the festival's special relationship with Cornwall, and more.
Festival Insights: So broadly speaking, what has Vision Nine worked on improving and expanding at Boardmasters this year?
Levi Jackson: This time we have more stages than ever before with 11 performance areas, plus a revised capacity from 40,000 to 50,000. Increasing our capacity across all those content areas is the biggest change from my perspective.
Paul Campbell: Our department activates a lot of brands year-round, with Relentless being the main one, but I think we've stepped things up this year at Boardmasters by working alongside our internal rights & partnership team where brands are concerned.
Yan Li: To expand on what Paul is saying, when our agency team presents a pitch to a brand it's a joint pitch for rights, the content, and the build. We've worked with several of the brands here for many years now. Because we know our own festival and the wider festival market so well we're able to impart out knowledge, expertise, experience and contacts onto those brands and guide them through the festival experience.
I think the biggest change this year has been the partnership with Visa and their introduction of contactless payments across both sites. It's a UK festival exclusive partnership and they're bringing to us the ability for card payments to be accepted across both Watergate Bay and Fistral Beach at 350 transactional points – from bars to catering, merchandise, shuttle buses, and even showers.
There are so many benefits to this partnership, not just limited to efficiency but also in the increased convenience and financial safety provided to the audience. What's exciting for us a business is that all the data we'll receive from those transactions will hopefully support everything we observe year-to-year on an anecdotal basis and provide us with more concrete insights into customers' spending habits and movements.
Festival Insights: So let's keep things on brand activation for a minute. Vision Nine seems to be positioned especially well in the festival scene to be able to work with brands in ensuring they effectively cohere with the respective festival's identity. Could you run us through the process of how you liaise with brands on doing this?
YL: Speaking in terms of Boardmasters, it all starts with how clearly defined of a brand it has become, particularly in the last five years or so. We have great acts and headliners but I think a lot of our audience comes here because they know they'll have an amazing time regardless.
We're able to take that clearly defined identity to market and do so in a very selective way – choosing brands that we want to work with whose ethos closely reflects our own. As the event keeps growing in reputation we also receive a lot of incoming requests to partner up, and on those we engage with the clients and agencies to ensure that we meet in the middle.
FI: Boardmasters and Vision Nine seem averse to the traditional brand slap, and it seems that you put a lot of effort into guaranteeing that brand activity enriches the festival experience for the consumer. Is that an accurate assessment?
PC: Yeah that's right. What we try and use as our unique selling point is that we've built Boardmasters and NASS from the ground up. Because of that we know what brands will be trying to achieve in the festival space, and we differentiate ourselves from other agencies in that we live and breathe festivals; we know how they operate and what makes an activation succeed or fail.
YL: We're all very passionate about this festival space as well; as a small core team we're always out there at various events and noting down what we like and don't like.
FI: When festivals divide their programme between disparate venues and locations I always imagine it presents a challenge in branding as well as logistics. How do you ensure that Boardmasters' two sites feel like one united event?
LJ: Well the approach to communication and content between the surf and music aspects is the same. We make sure that we have the best international, new and breaking talent on the music front, and that we mirror that at Fistral with the highest level skate, BMX and surfing talent.
The look and feel of both sites is replicated too, so it's quite easy in that respect to offset the distance between the two locations by giving them the same quality of presentation.
YL: Even though there's a slight difference between the two audiences – with more families, locals, and surf enthusiasts at Fistral – it's the same lifestyle that they're part of. The brands present are still targeting that lifestyle audience despite the demographic nuances.
Rather than an added challenge the two sites actually provide us with some added flexibility regarding activations. House of Marley retail at Fistral and have a stage at Watergate, for example, and Quicksilver are very involved in the surfing at Fistral but tap into the wellness programme at Watergate.
PC: Just to add to that: Relentless has been here since the inaugural edition 12 years ago, but this time we've brought Monster in too, which owns Relentless. Relentless is moving away from sports so their involvement at Fistral didn't really make sense. Our solution was to split the brands between the two sites and it's worked really well.
YL: Aside from that, Coca Cola have a pouring deal so it's effectively a family deal split between three brands. The old festival model is that you're locked into category exclusivity, especially when dealing with drinks & alcohol. We're in a position now however where we're able to call the shots more and we're eager to give our festival-goers as much choice as we can.
FI: The festival's Cornish roots are clearly instantiated across many different elements at both sites. Would it be fair to say that Boardmasters and Newquay are inseparable at this point?
LJ: I'd say so, but it is more about Cornwall as a county than Newquay alone.
Cornwall is, of course, the home of UK surf – with the European surf mecca at Fistral Beach. We feel that everything that's cool in Cornwall right now in food, surfing, arts and culture is represented here at Boardmasters.
For instance: the signage, main stage screens, and website all come equipped with Cornish language translations because we're intent on promoting the history and culture of the region. Furthermore we have a team onsite called Cornwall 365 which is doing a project with the BFI, showing historical Cornish films in our Keg & Pasty pub and hosting Cornish language lessons. We extended invitations to all of our artists to partake in those lessons, and as a result we've had Frank Turner performing one of his songs in Cornish on the main stage.
FI: Aside from the festival itself, could you provide a wider sense of what Vision Nine has been up to over the past 12 months?
LJ: With Boardmasters specifically we're attempting to extend the brand's lifespan so that it's a year-round entity. The first part of that has been to collaborate on a Cornish craft beer with Harbour Brewing, an IPA called Soul Arch.
We've also launched Boardmasters Radio onsite for this edition and if we feel that there's an appetite for that then the ambition is to extend it beyond the confines of the event. The app is another new venture for this year, which was created alongside Second Screen and sponsored by Samsung.
Perhaps most significantly, we'll be launching Boardmasters surf camps across different surfing locations so that we can continue to take the brand out there into the rest of the world across all seasons.