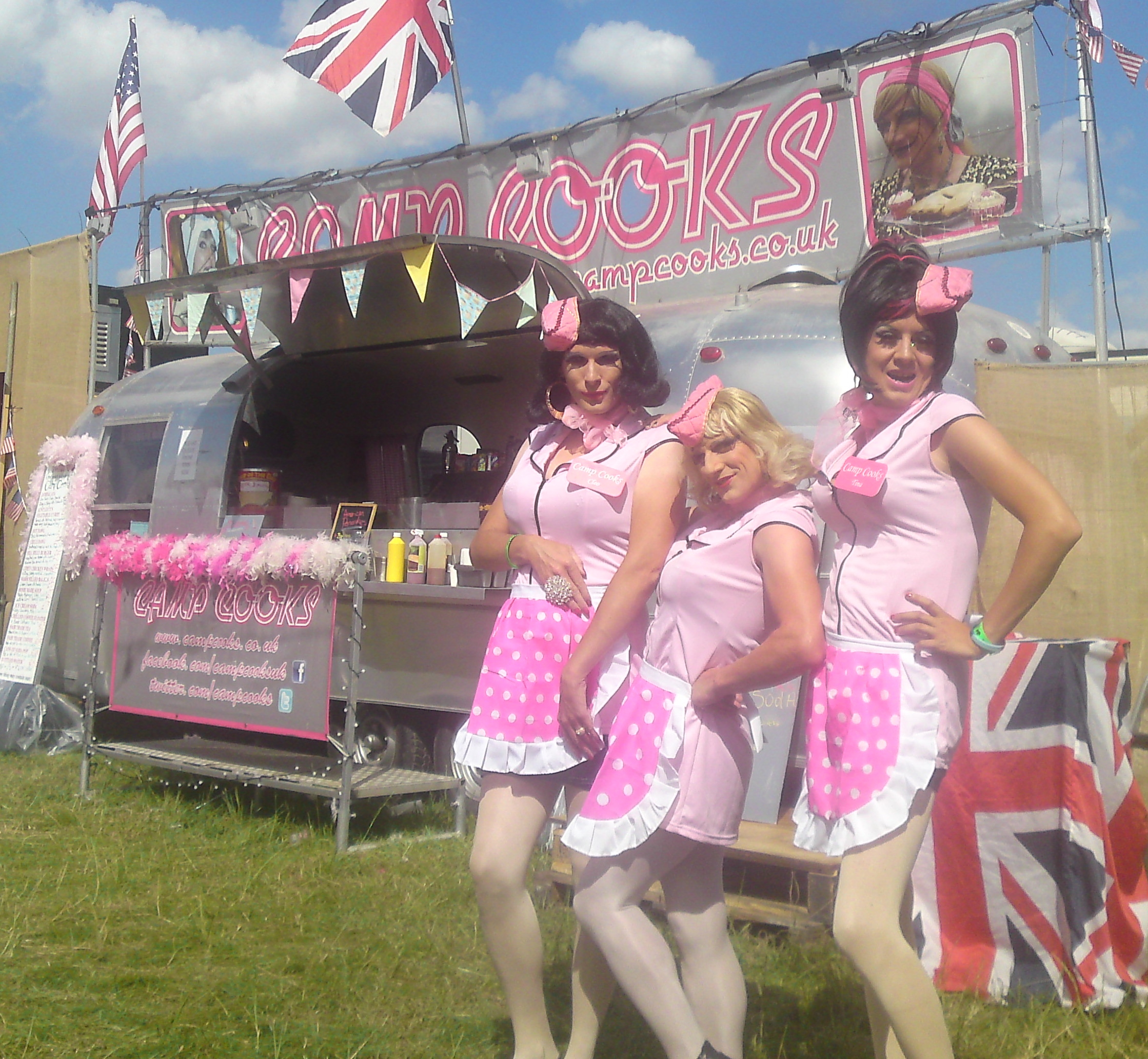 UK: In a stark contrast to the standard burger vans of yore, festival catering has become an astonishingly heterogeneous affair. Epitomising this heterogeneity – and challenging the 'hetero' part in the process – are Camp Cooks, a team of cuisine-slinging drag queens whose eclectic menus are complemented by cabaret, retro soundtracks, audience participation, and a colossal side-serving of innuendo.
Festival Insights interviewed Wynnie la Freak – founder of Camp Cooks – to discuss their multi-faceted extravagant offerings, as well as their desire to fill your mouth with as much meat as possible. They do veggie options and desserts too by the way, but that euphemism wouldn't have worked if I'd have acknowledged that fact in the prior sentence.
Festival Insights: I'm interested as to how the Camp Cooks collective came together, with it being such a unique concept. Could you tell us about the origins of the group, and how you decided on the combination of drag, food and retro music?
Wynnie la Freak: After leaving school and catering college I trotted off to London with a pound in my pocket to work in some of the capital's best hotels and restaurants, until opening my own catering company. The clientele often included royalty and celebrities, but my heart belongs in the North and soon I returned to open a deli in Sheffield until another one popped up next door with big budgets and closed me down.
I had often attended fancy dress parties wearing women's clothes, and one day a dance club promoter approached me asking if I was interested in becoming a door host – meeting, greeting and keeping the riff raff out as a fully fledged drag queen.
Sadly the noise from that environment gave me severe tinnitus so I started doing cabaret shows instead, hosting karaoke nights and DJ'ing, travelling all over Europe until again my health got the better of me.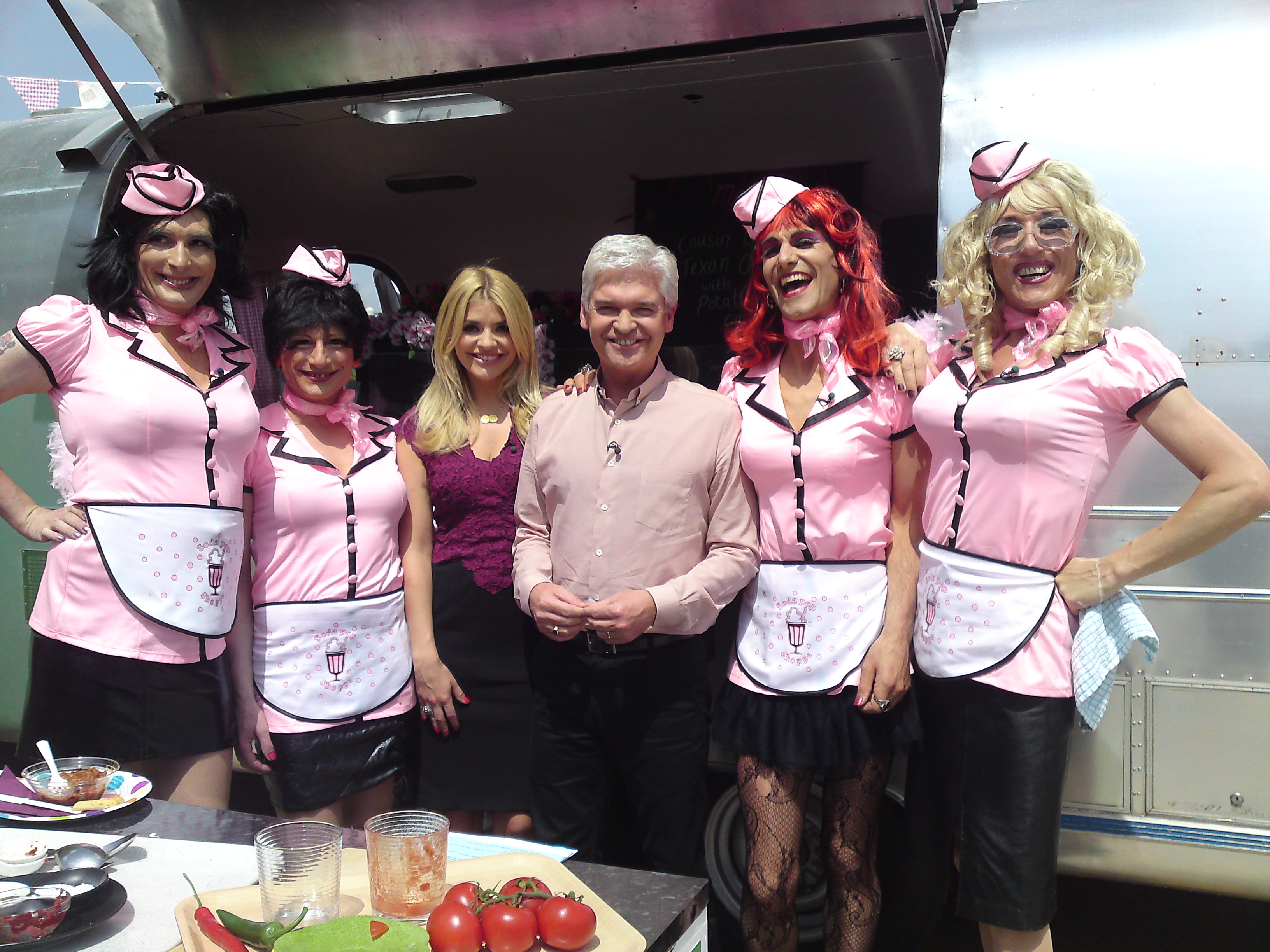 I wanted to do something exciting, something to put a smile on this b***h's miserable old face, and something that would allow me to meet people who I could hear well enough to have a conversation. So I put the two jobs together and settled on the idea of Camp Cooks – a mobile catering business that did more than boring markets and corporate events.
I saved, begged and borrowed to be able to buy the ultimate trailer – an American Vintage Airstream caravan that I named Priscilla, and with lots of help from friends and strangers bribed with food we fitted her out with used equipment.
The core of the team consists of myself, my old friend Lucy, Cleo the sensible one, and Tina – whose foul mouth means we have to gag her when kids are about. With our backstage team we cook up a selection of homemade food. There's something for everyone, from vegans to giant greedy carnivores.
If a camera crew had been following us in the early days it would have made great TV. There were arguments, a fire, fights, romances, and numerous breakdowns of our old Winnebago. We eventually replaced that with an old Mercedes converted into a dressing room that we call The Tranny Van.
FI: So did you have festivals in mind when forming Camp Cooks? It seems that they're the perfect venues for the flamboyant vibe you've got going on.
WlF: Festivals were always the goal event, especially music festivals. We like a good vibe where the punters are up for some fun and games. In the first couple of years we experimented with gigs like country fairs, but they tend to be full of snotty pensioners in oilskins.
We also did a few festivals aimed at the very young ravey crowd and all they wanted was water for their Pot Noodle, so we are very picky now and don't take as many risks.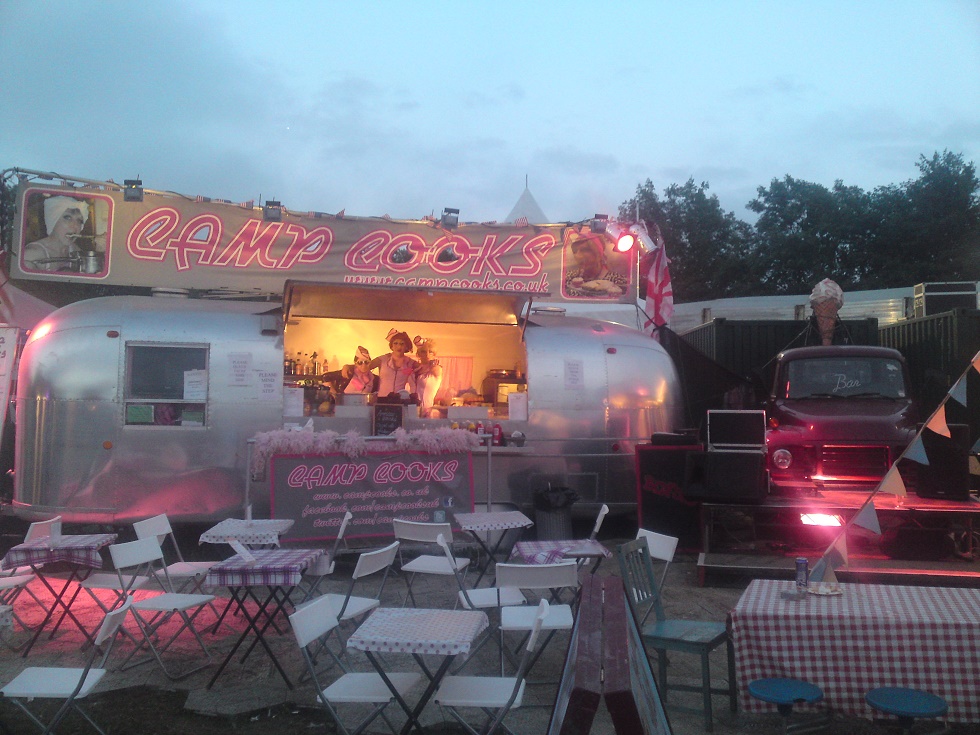 FI: There's a huge variety of meals listed on your website. Are your festival offerings pared down at all? And if so, how do you decide on your menus?
WlF: We have a catering menu suitable for private parties or weddings. Our basic festival menu consists of gourmet burgers, our world famous hot dawgs and chili dawgs, as well as other tasty delights such as wraps, bagels, American pancakes, New York cheesecake, Aunt Lucy's vegan coconut curry and of course our signature jambalaya.
We also do specials daily. Our meatballs and mac are a favourite and we're always pulling pork…ahem.
FI: Your site lists 'audience participation' as a key element of the Camp Cooks festival experience? What exactly does this involve?
WlF: We used to do a choreographed all singing all dancing demonstration show but keeping everyone rehearsed and the food perfect 100% of the time wasn't easy in a field environment. So now we keep it a bit more stripped down.
We usually start the day's entertainment with a tacky prize bingo, in which you could win an edible thong or something, and then a few games of hide the sausage, cinnamon challenge and egg roulette. Once everyone has warmed up its sing-a-long-a-karaoke time, where all the retro tracks come out followed by cabaret, whether it be Lucy's stand-up comedy, Tina's songs of dogging, or Cleo's big finish.
The night is always topped off with audience participation which they love, be it YMCA, Time Warp, Around the Old Camp Fire, Hokey Kokey, or a conga line round the tables. And we always have New York, New York as our finale.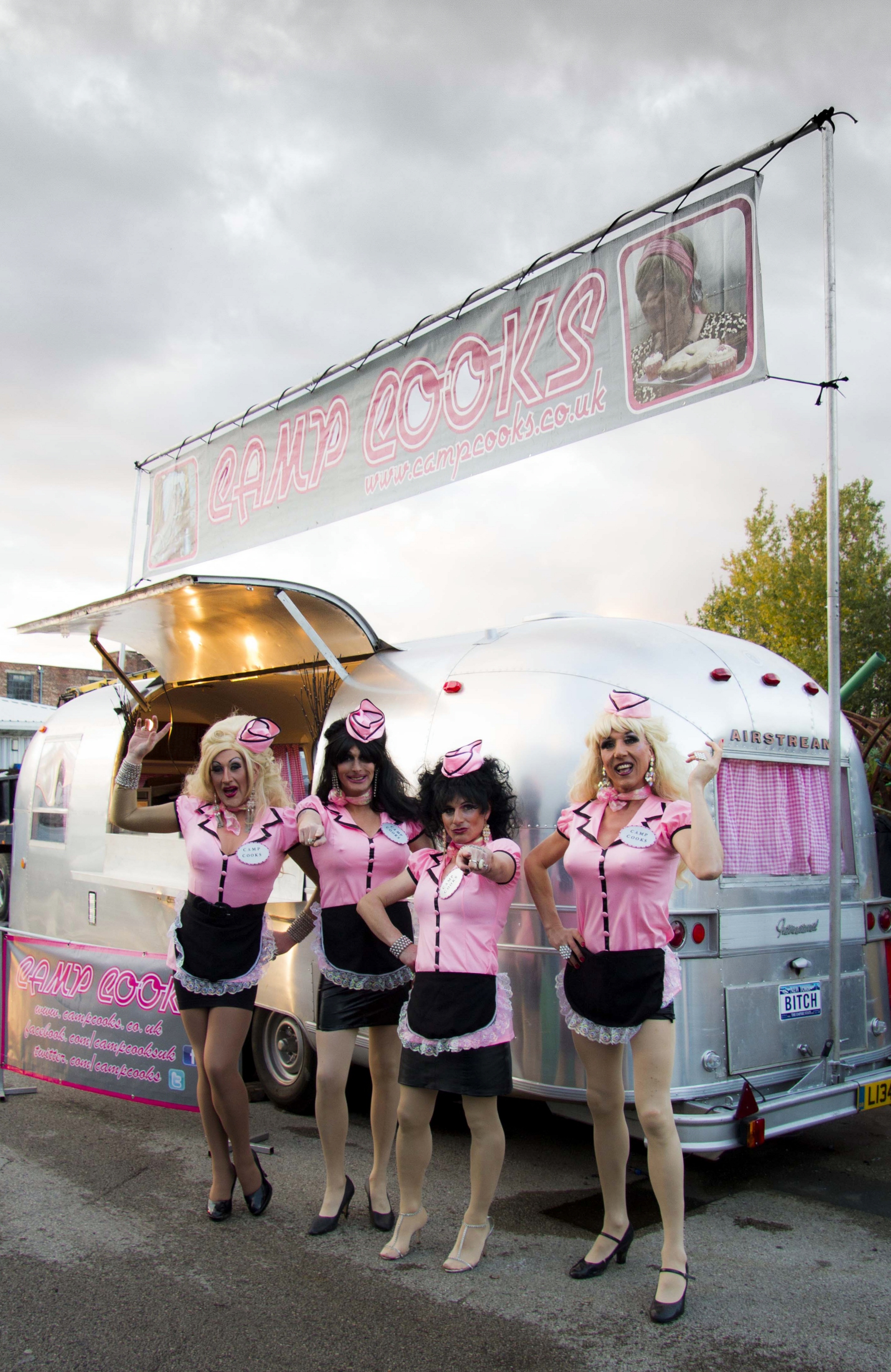 FI: Has this combination of different offerings made it difficult to pitch Camp Cooks to festival organisers?
WlF: It's been difficult for event organisers to figure us out sometimes – like are we traders or artists? We've been told in the past that we have to be one or the other, but luckily now we are approached enough to be able to pick and choose where we go. And more importantly: where we know we'll have a laugh. Money is only a means to pay the bills; all profits are reinvested into new costumes and equipment. Therefore we don't really go for the high volume three-grand-a-pitch offers.
FI: Which festivals have Camp Cooks worked with in the past year? And will you be working with any new ones in 2015?
WlF: We have appeared at loads of festivals – from Bestival to WOMAD, Glastonbury to Parklife and Isle of Wight to Victorious.
As well as our favourites we are doing quite a few new festivals this year, though some are still unconfirmed.
Confirmed so far for this year are L'Eroica Britannia (the vintage cycling festival in Yorkshire), SherstonFest, Dublin Tall Ships, Merchant City in Glasgow, Lytham Proms, and I'm sure we will be at Common People in Southampton as it's from the curators of Bestival and they adore us there.
We're now in a fortunate enough position to turn down loads of offers. For example we no longer do one-day events because it takes us so long to set up and pack down; we are a big unit, with a stage, DJ equipment and the like. We no longer do mornings; drag queens and day times do not mix well. Also we only operate in summer from May to September. Then we hibernate.
For more information, check out Camp Cook's official website.