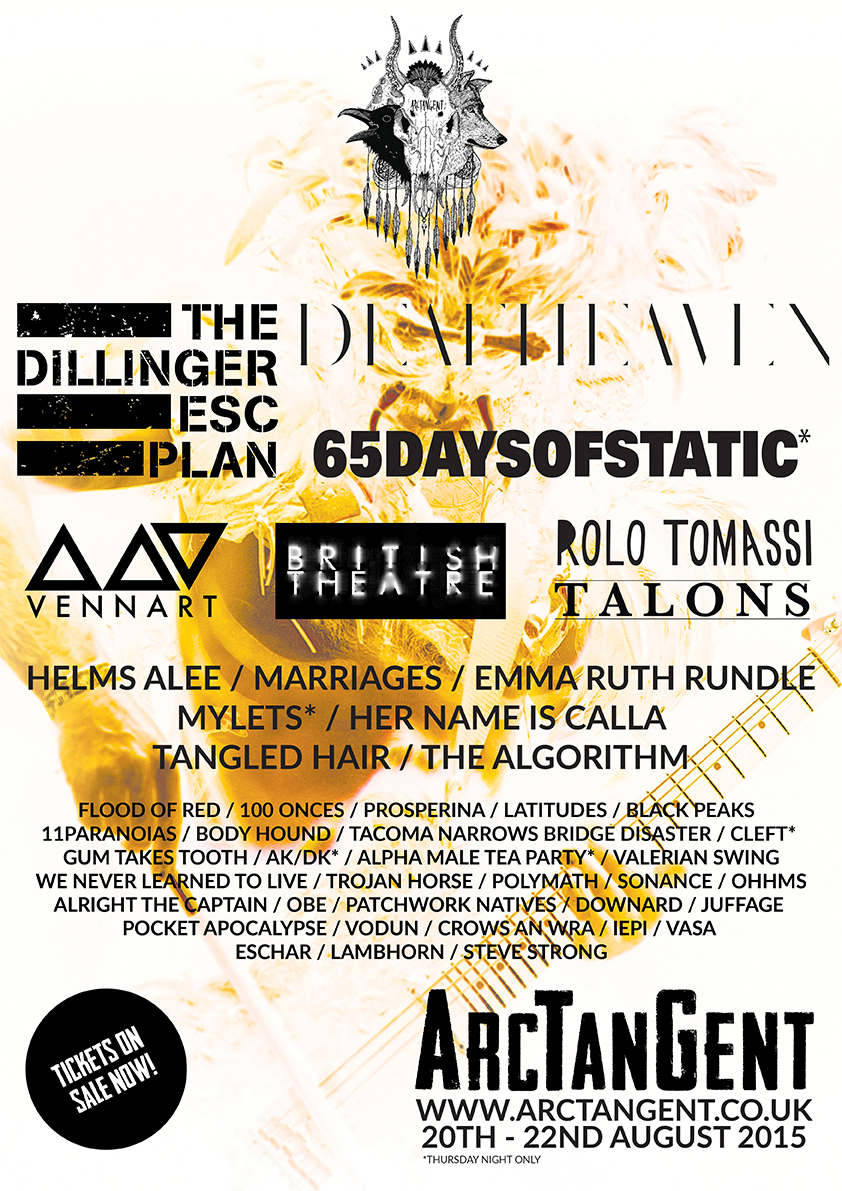 UK: ArcTanGent's latest line-up announcement has been handpicked from the very best of the Sargent House roster, including Deafheaven, Mylets, Helms Alee, Marriages and Emma Ruth Rundle.
Deafheaven join The Dillinger Escape Plan and 65daysofstatic as headliners of Bristol's ArcTanGent Festival.
Organiser James Scarlett said: "After last year's partnership with Sargent House (which featured Russian Circles, Tera Melos, And So I Watch You From Afar, Mylets, No Spill Blood and TTNG) we just had to do something again this year. Two of my favourite albums of last year were Deafheaven and Helms Alee so they were absolute no brainers! The one thing you can always guarantee about Sargent House is that the quality of their acts is amazing and I think the last two years at ATG is proof of that!"
Cathy Pellow from Sargent House said: "We had a really great time at ArcTanGent Festival last year and this year we'll be coming over from America en masse. It's really great to have a festival that brings together all these different types of alternative, leftfield music fan in one place – we all just feel so at home with that crowd. So wherever you live in the world we'll see you for a big old party in the UK in August!"
Acts already announced for ArcTanGent include Talons, Her Name Is Calla, Vennart, British Theatre, The Algorithm, Rolo Tomassi, Tangled Hair, Flood of Red, 100 Onces, Prosperina, Latitudes, Black Peaks, 11Paranoias, Body Hound, Tacoma Narrows Bridge Disaster, Gum Takes Tooth, Cleft, AK/DK, Alpha Male Tea Party, Valerian Swing, We Never Learned To Live, Trojan Horse, Polymath, Sonance, OHHMS, Alright The Captain, Obe, Patchwork Natives, Downard, Pocket Apocalypse, Juffage, Vodun, Crows An Wra, IEPI, Vasa, Eschar, Lambhorn and Steve Strong.
With tickets launching on the 31st January, organiser Si Maltas said: "In just over a week we've massively smashed our previous records for ticket sales so it's looking really good for a sell-out. A lot of this is obviously down to the huge response to Dillinger, 65days and all the other amazing bands we announced last week." Si also mentioned that "although there are still around 20 acts to be announced the smart ArcTanGent faithful should grab their tickets sooner rather than later if they want to come back this August!"
To attend the "super-fans" Thursday night of ArcTanGent a three-day festival ticket is required. The Thursday line-up includes sets from 65daysofstatic, Mylets, Cleft, Alpha Male Tea Party and AK/DK plus a very special guest still to be announced. These bands will not be appearing elsewhere during the weekend.
Tickets are on-sale now and can be purchased here.