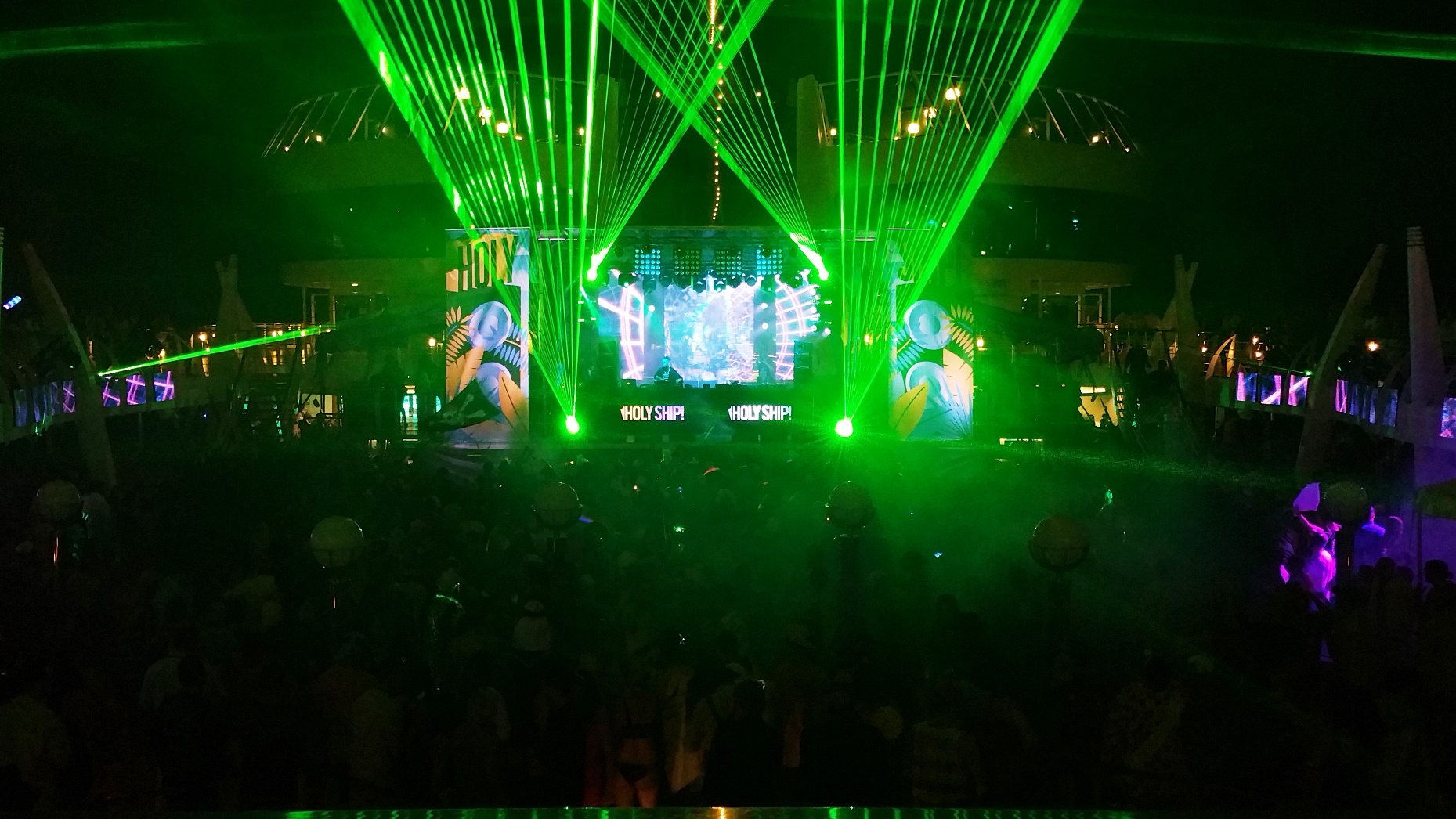 USA: Every music festival offers fans a chance to get away from it all, but few do this quite so dramatically – or literally – as Jam Cruise and Holy Ship! Produced by Cloud 9 Adventures, these floating festivals serve up hours of live music on the decks of cruise ships plying their way through the warm Caribbean waters to exotic ports of call like Half Moon Bay, Bahamas and Roatán, Honduras. The Design Oasis (Davie, FL) created an engaging environment at both nautical music fests with a lightshow designed by Cris Kuroda that's anchored by 72 MVP 12 LED Video Panels from CHAUVET Professional.
"Jam Cruise and Holy Ship! both feature big-name artists, and both draw large crowds expecting to have the time of their lives," said Abbas Ritscher of The Design Oasis, the cross rental house that supplied the lighting and video gear for both cruises. "Cris and video engineer Jason Takahashi did standout work that lived up to the high expectations that people had when they went on this cruise. They created a big production look on the main stage as well as at different points on the deck where fans gather."
Jam Cruise, which drew 3,500 fans for five days at sea, featured an all-star line-up of live music bands like Umphrey's McGee, The Word, Galactic and Karl Denson's Tiny Universe. The four-day Holy Ship! cruise gave fans a chance to set sail with top DJ acts like Knife Party, Boys Noize, Maya Jane Coles, Flume and A-Trak. The same video images on MVP panels were used for both cruises, but IMAG was added for the Jam Cruise.
The main wall behind the stage was 20 feet by 10 feet and was broken into three video sections. Graphic video images were run across all three sections to create a sense of movement and depth. "Of course there are a lot of super bright aerial effects on either side of the stage as well as along the top truss, not to mention blinders, so the output was intense," said Ritscher. "The MVP panels more than held their own in this environment."
A high definition modular video panel with a pixel pitch of 12.5mm, the MVP 12 has a transparency of 13%, making it well suited for temporary use in the outdoor environment of a cruise ship, since atmospheric elements can pass through it without impacting clarity. The panel's ultra-bright SMD LEDs also served them well, helping them stand up to the bright lights on the stage rig. "Not only were the panels bright enough to hold their own, Cris used them as blinders too," said Richter.
The designer also scattered 32 of the MVP panels around the pool deck. Positioned on the railings of the second level, these panels were tied into an existing video wall on the pool deck to create an effect in which people were surrounded by the video images. "Cris and Jason did an amazing job with the Chauvet panels," said Ritscher. "The whole thing had the effect of bringing everybody closer to the action on stage and made it that much more special."