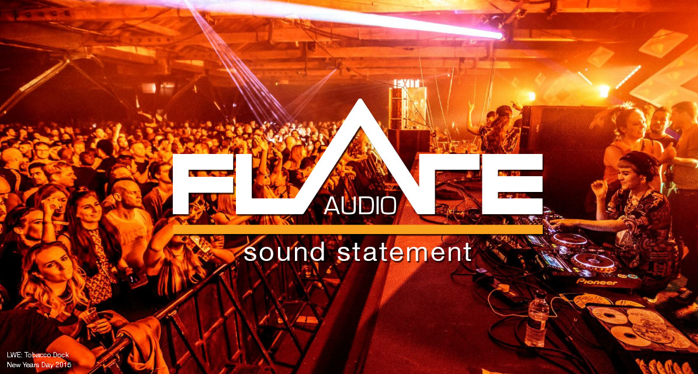 UK: Flare Audio has been selected as the only audio supplier for this year's LEAF (London Electronic Arts Festival), set to take place at Tobacco Dock from March 6 – 7.
The event, created by Bestival founder and DJ Rob da Bank, is a two-day cultural celebration of electronic music, art, technology and digital futurism that will attract around 20,000 electronic music fans into the heart of London.
The LEAF conference is aimed at electronic music fans and the 'pro-sumer' market, with day one focussing on talks, demonstrations and discussion groups aimed at fans, enthusiasts, apprentices and connoisseurs, as well as interactive panels from high profile artists from the many corners of music, tech and art. Among panellists will be the legendary Nile Rodgers, leading a discussion entitled 'Unmoderated, Uncensored and Unlimited'.
A diverse programme of music follows the conference, including a special live performance by Modeselektor, with support from British house music pioneers 808 State, who will be performing their classic album 'Ninety'. Kate Simko and her London Electronic Orchestra will add a contemporary twist to classical music, by fusing an orchestra with an electronically-led soundscape.
Flare Audio will be providing the audio requirements for both the conference and live performances. Flare's V8C and V12C high SPL point source loudspeakers and flat panel SB18 bass will deliver focused, distortion free audio with minimal footprint for the LEAF conference.
The evening performances will be powered by a total of 8 x X5A mid high and 12 x Q18 sub bass Flare speakers. The X5A epitomises Flare's approach to sound, combining 'optimal clarity, power and natural sound', while remaining highly controllable. The X5A produces distortion free sound through linear driver movement in an enclosure that measures just 420mm x 910mm x 278mm. The 3-way enclosure features one 15", two 6.5" and two 1" drivers, and combines point source and line source theory to create clear, complete coverage and throw. The benefits include no electronic correction, no dampening and no fixed crossovers.
The Q18 employs Nanoflow driver alignment and Vortex technologies to produce deep and directional bass. Optimised driver alignment allows for efficient coupling, with the minimum amount of low-frequency wave damage.
"We like to be a little different at LWE and rather than go for the 'industry standard' we take a little time, do some research and go with whatever feels like the best fit for our events," said Alice Favre, Operations Director for LEAF. "Flare has consistently stood out over other brands for us. We have always felt like we have achieved something outstanding with them. People usually use social media to complain about sound at events, and that is something we have never had when using Flare. Tobacco Dock, our most popular venue, has tight sound restrictions and neighbours a mere 50m away from the speakers and we have achieved high definition, high-octane sound whilst working with the neighbours to ensure they are happy."
Waq from Flare Audio commented: "LEAF encompasses all that is unique in electronic music and highlights the pioneering spirit of this modern art form, with discussions, exchanging ideas, learning and the live sessions at the end of each day. With this in mind we are proud that LWE have cemented their relationship with Flare and to be the exclusive audio supplier for LEAF 2015."
For more information check out the festival's official website.