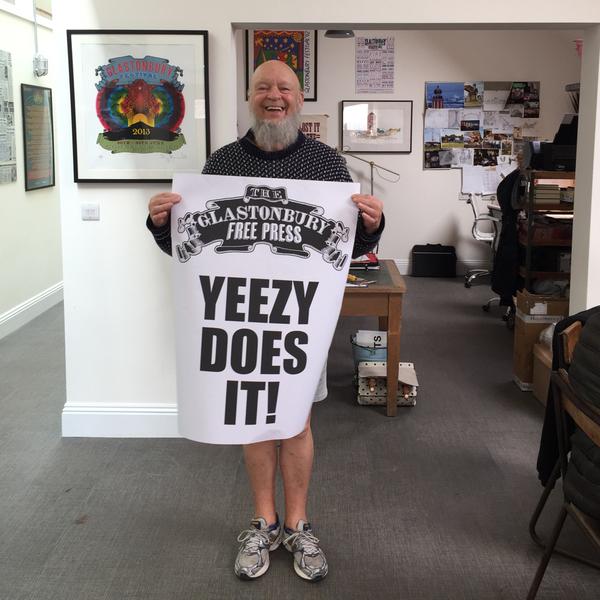 Glastonbury has upset thousands of middle-aged, middle-class Britons with the announcement that Kanye West will headline its Pyramid Stage on Saturday June 27.
Desperate to make their displeasure and ignorance known, many 'fans' of the historical festival have begun slinging comments into the Great Void that is Facebook. The blog 'white people angry about kanye' has posted a nice cross-section of them, for those interested.
The source of this backlash stems largely from the fact that the somewhat controversial West – whose eclectic, massively influential and critically acclaimed discography has amassed 21 Grammys – is not considered a 'real artist' by people who have never composed a piece of music in their entire lives. A petition has even been spearheaded by some loser to replace West with 'a rock band', making it abundantly clear that:
A.) Any rock band will do, as long as they play something familiar.
B.) The presumably UKIP-voting hivemind supporting the petition would not welcome anyone younger than them to headline, unless maybe they're white, British and/or bone-shatteringly lame (Read: Ed Sheeran, Mumford & Sons, Muse).
C.) They are unaware that Glastonbury will have other acts to see and things to do.
Supporting this petition is like trying to get a TV show banned rather than changing the channel.
Additional protestations reiterated – or rather regurgitated – across social media are that: Kanye has a large ego, he doesn't play 'real' instruments, he briefly upset Taylor Swift in 2009, and that he has been known to go on confusing, self-aggrandising polemics every once in a while. I can understand his meandering rants and award show interruptions drawing ire, but it's ironic that this vocal minority are so opposed to minorities being vocal. Ye apologised for these incidents, Taylor Swift and Beck forgave him, and I'm sure if all of our lowest moments were broadcast worldwide then we'd attract criticism too. As Socrates once said: 'People in glass houses shouldn't be so bloody sanctimonious.'
Also ironic is that the multitudinous accusations of West's narcissism – the only claims even remotely substantiated, if still inconsequential – have been frequently juxtaposed with praise for Noel Gallagher of all people. Specifically they like to get Gallagher involved in the conversation because of his vitriol directed towards hip-hop in the lead up to Jay-Z's 2008 Glasto headline performance. Regarding that occasion – Jay-Z's lauded set achieved what many perceived to have been impossible beforehand: making Noel Gallagher look like even more of a spiteful tosser.
If large egos were banned from music festivals then you wouldn't have many acts to choose from. For example: check out the following cringeworthy speech from Alex Turner of The Arctic Monkeys, who I'm sure doesn't receive the same amount of blind contempt from this mob.
Or how about this one of 2009 Pyramid Stage headliners Blur bullying an erudite and beloved music journalist?
Of course if indie darlings act in this way it's considered not only forgivable but 'rock n' roll'. Admirable rather than contrived and pathetic, whereas if a rapper acts in a similar fashion then it's obnoxious. Seems like perhaps these armchair activists should drop the flimsy 'we hate Kanye's narcissism' pretence and just admit that they hate hip-hop and feel entitled to exclusively have their tastes catered for.
As for Kanye's commerciality – how could one expect a non-commercially successful act to headline a major festival? I have yet to see similar complaints about the Foo Fighters, despite the fact that their music is extremely middle of the road and hasn't altered significantly since their inception. The 'real' instrument cliche barely deserves rebuttal as open-minded music listeners already know the following, but rock music exists in a different paradigm to hip-hop and electronic music and each genre requires different but equally valid skill-sets to create. Dismissing the value of others' talents because you don't understand them is just silly.
Those who hate Kanye's output are perfectly entitled to their opinion of course, and by no means do I think he's the greatest of all time, but arguably there are only four rappers alive with the legacies and popular appeal to headline the Pyramid Stage in 2015: Kanye, Jay-Z, Drake and Eminem. If you believe that hip-hop and its listeners deserve representation at every level of the line-up then you haven't got much choice at this point in time.
Perhaps the most puzzling aspect of this collective virtual tantrum is that Glastonbury has never been a rock festival. In a time before the graphic designer had been invented, the festival's inaugural 1970 edition had 'Pop, Folk & Blues' emblazoned on the poster, and ever since then it has strived to represent as many genres, eras and cultures as possible in its increasingly expansive line-ups. Included more and more in this all-encompassing remit, unsurprising considering the genre's current renaissance, is a large hip-hop contingent. For instance, here are some select acts from the last few years that fall under the banner:
2014: De la Soul, Jurassic 5, Deltron 3030, Danny Brown, Young Fathers, M.I.A., Chance the Rapper, Scroobius Pip.
2013: Nas, Public Enemy, Tyler the Creator & Earl Sweatshirt, Azealia Banks, Dizzee Rascal.
2011: Wu-Tang Clan, Big Boi, Kool & The Gang, Aloe Blacc, The Streets, DJ Shadow, Neneh Cherry.
Another nonsensical criticism levelled at organiser Emily Eavis is that West is not British and should be replaced by someone who is. I wonder if they were similarly seething about the past booking of Malian kora musicians Toumani and Sidiki Diabaté, or of Mexican virtuoso guitarists Rodrigo y Gabriela. I'm guessing not, but these are people who still think it's funny to call Kanye a 'gay fish' so I doubt logic really factors into what can generously be called their 'arguments'.
What's tragic about specifically criticising Kanye for his lack of relevancy to the UK is that he is currently championing grime – Britain's long-unheralded but aesthetically distinct answer to rap – and drastically increasing its potential for overseas exposure. Bringing out Skepta, Stormzy, Krept, Konan, Novelist and a plethora of other grime artists at the Brit Awards may have been interpreted as tokenistic or condescending by the cynical, but doing the same during a Glastonbury headline performance would be symbolically massive for a British genre of music that has been wholly ignored by 98%* of its own population. Since Skepta and Kanye have reportedly hit the studio together recently in the run-up to Ye's forthcoming album So Help Me God, the pair taking to the Pyramid Stage together is a very real possibility.
Thank the Based God that Eavis hasn't capitulated to the demands of these personality-defunct fashionistas, Fifa-obsessed freakbeasts and 57 year old men with ponytails. Otherwise the headline performances would consist of Sam Smith singing lines from Hallmark cards, Avicii pressing play, and Steve Vai literally masturbating onstage for 90 minutes.
Booking Kanye West is a solid move and should not be this controversial in 2015.
*statistic sourced from the ether, the same place the Tories get their employment figures from.
Image photo credit: Jerritt Clark/Getty Images