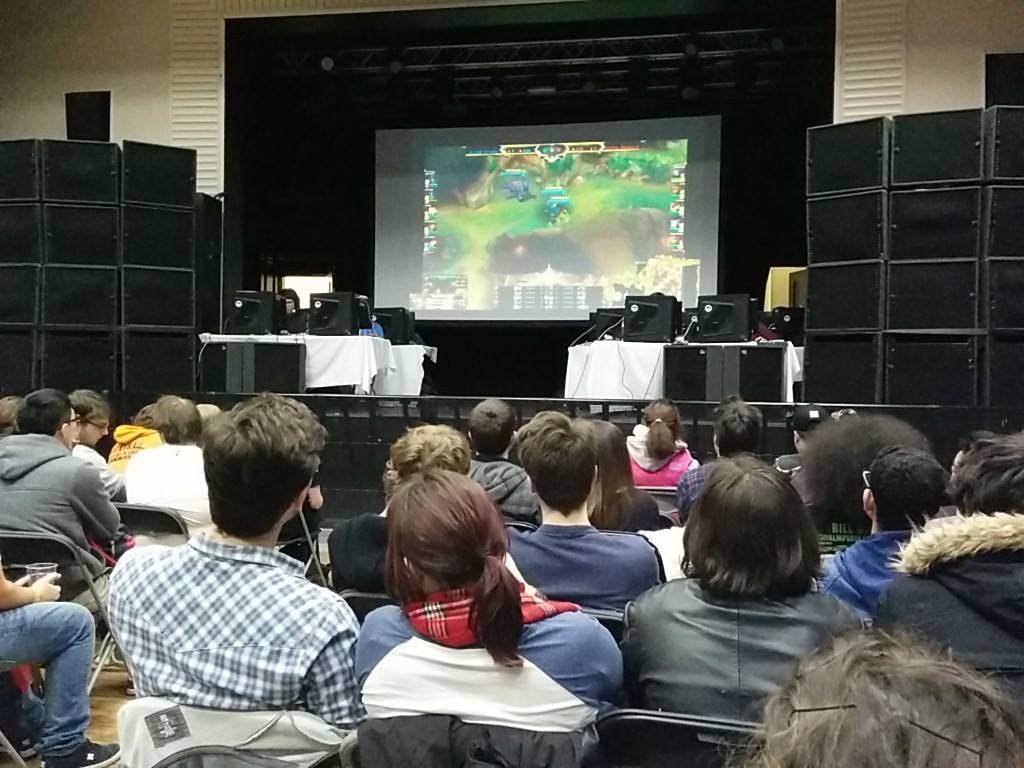 Music festivals in their purest form have pretty much hit a glass ceiling. The multitude of personality-defunct commercial weekenders with nothing to offer but ubiquitous, terminally mediocre guitar bands demonstrates that the industry lacks growth in both ideas and ticket sales. The only way for them to innovate is to assimilate other mediums, which in turn calls into question their own strict designation. If interactive art exhibits, panel talks, film showings and gourmet cuisine are actively touted as a part of the proceedings then isn't the term 'music festival' both reductive and obsolete?

Still in its infancy however, and enjoying the rapid development of a child injected with a near-fatal dose of bull shark testosterone, are eSports festivals. That's shorthand for 'electronic sports', for the uninitiated. That means 'competitive gaming' for those still not following.
The massively popular global phenomenon – with its borderline-possessed fanatics and rapidly proliferating, multi-day, multi-stage events – is challenging traditional notions of what defines a festival. It's all just semantics anyway, right? I mean there's a certain desert-based festival that pretentiously refers to itself as a 'temporary city' rather than just admitting it's a festival, and a deceptively elitist one at that. Oh, did I just give away who I was referring to with that link? Darn it.
Anyway, with the addition of live streaming services such as Twitch, eSports events are less limited to the capacities of their physical spaces – one of the many reasons that sponsors are flocking to them like moths to a clichéd simile. Millions of viewers tune into live-streams of their competitive main events, and millions of dollar dollar bills are awarded to the winners. The prize pool for The International – the world's largest Dota 2 tournament thus far – was $10,931,103. Dota 2 developer Valve claims that over 20 million viewers watched the digital showdown.
King of the North is one of such eSports festivals, albeit a relatively small and grassroots-led one. Founded in association with the University of Manchester's Gaming and eSports societies and located in Manchester's Academy 2, it caters to a close-knit but eclectic group of [mostly] students, with this year featuring tournaments in Starcraft II, Dota 2, and League of Legends as its main spectacle. Supplementing this was a Snowspire-sponsored Super Smash Bros tournament, areas to play Rock Band and various Xbox One games, a variety of tabletop games, and booths from sponsors MSI and Cooler Master. Oh, and there was a neat little signing board at the back, which had such gems on it as the following:
Insights spoke with Chris Gough, Channel Marketing Executive at Cooler Master, about the importance they attribute to their involvement with community-run events, and the rising significance of eSports festivals. "We do a really broad range of shows," said Gough. We're regular attendees of the UK's Insomnia, which take place three times a year, with each iteration attracting 35,000 people. European-wise we've got DreamHack – the world's largest computer festival – and Paris Games Week, amongst others."
Gough revealed something interesting about Insomnia – that its summer festival takes place over the August Bank Holiday Weekend, y'know, the same one as Reading & Leeds. The simultaneity of the two facilitated a direct comparison, not only between their nature but their demographics. Anecdotal or not, Gough's assertion that he knows "many people who are torn between seeing their favourite bands at Reading & Leeds and attending Insomnia" holds weight.
In terms of their essence, the two festivals (or three, if we're being pedants about it) each have onsite camping, food stalls, a palpable atmosphere and a predominantly young, loyalist audience. But I suppose the determining factor in what defines a festival is choice. And both Insomnia and King of the North have that in spades. "Although the medium on display is different, the feel is the same at the two types of festival," continued Gough. "And people are equally smelly by the end.
"This is our second time at King of the North," continued Gough. "And we absolutely love it. Each of these mini-communities tends to have its own unique culture and inside jokes. What we want to do is to communicate not just with gamers but with PC builders, and show them that we're just like them; we're not some faceless corporate entity but a bunch of regular people, all playing League of Legends on our lunch breaks. The University of Manchester in particular has a huge Computer Science focus and gaming society. It's a no-brainer for us to come here and nerd out with our fans."
Cooler Master's method of brand activation at King of the North involved a 'Keyboard Olympics', which offered fairly substantial prizes to whoever could type a certain phrase the fastest. I saw a dude with ostensibly piston-powered fingers manage it in what seemed like a nanosecond, and afterwards the screen read 'You were the 27th fastest typist today', or something to that effect. I left shortly after but I imagine he committed a bunch of harakiri all over the shop. Another highlight was seeing a guy playing Super Smash Bros under the alias 'Swagasaurus Rex', decidedly unashamed. That might not mean much to you – aside from maybe signalling the demise of the human race – but it means something to me.
MSI were also in attendance, displaying a range of their pro gaming machines, including the GS60 Ghost Pro laptop, the HS30 Shadow laptop x desktop hybrid, the GE62 Apache, and the GT80 Titan SLI, purported to be the most powerful laptop in the world. Attendees had a chance to sit down with these machines and play a range of games including Counterstrike: Global Offensive and Team Fortress 2.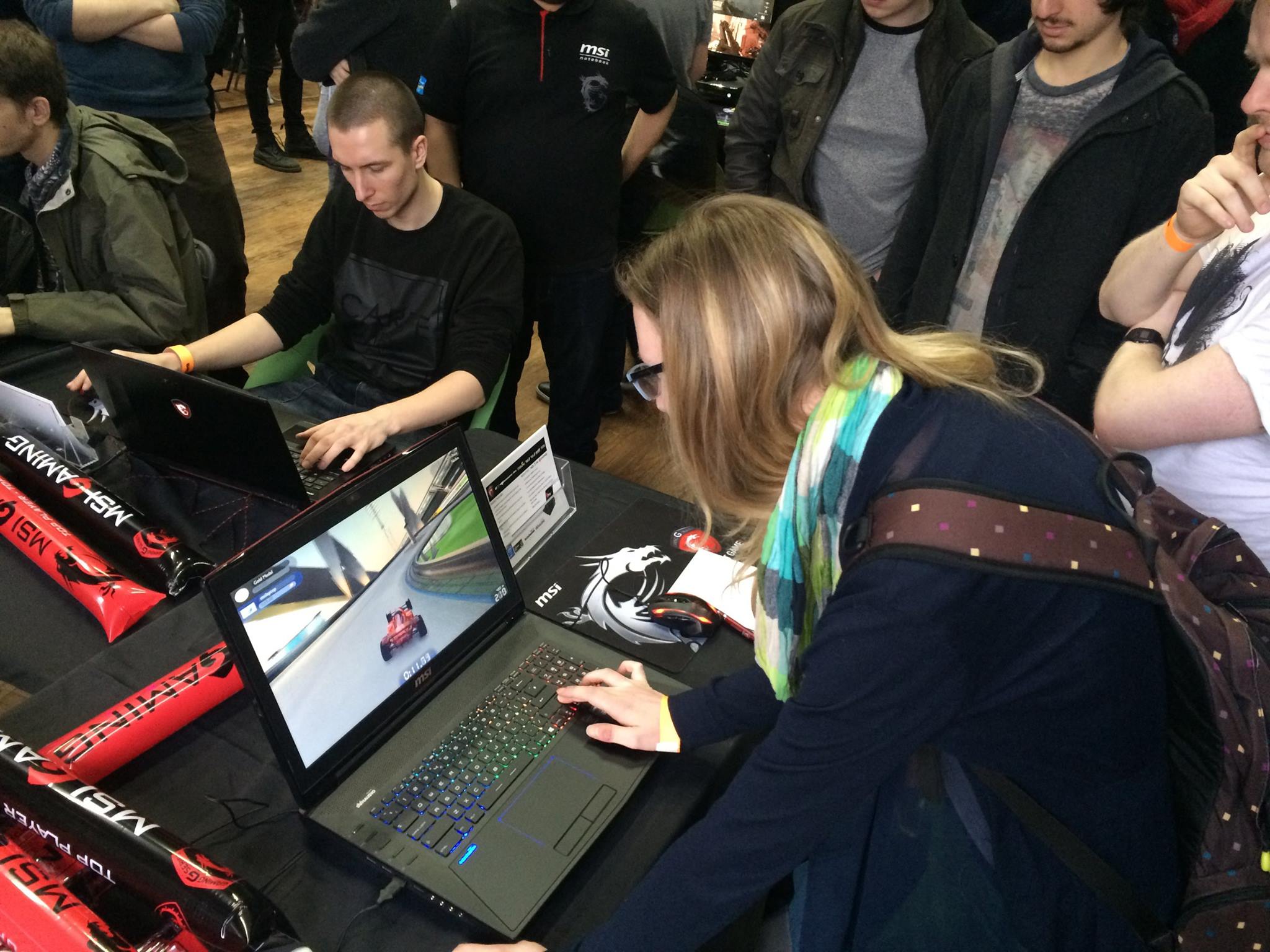 Insights also spoke with Jacob Harrison, Organiser and Founder of King of the North and Chairman of UoM eSports. "None of us are getting paid for this," said Harrison. "But we're fine with that. It's purely a labour of love. Plus, it's amazing experience and a hell of a lot of fun to do.
"Although our core audience was limited purely to the eSports crowd last year, this year we've tried to appeal to a wider crowd by including games like Yu-Gi-Oh, Mahjong, Hearthstone and poker. And we're very happy with the turnout."
Jacob happened to confirm my suspicions about the sponsors' desire to get on-board with community-led festivals, the companies' massive scope notwithstanding: "As our profile has grown over the last 12 months it's become easier to attract sponsors. Chris and AJ from Cooler Master and MSI (respectively) are two guys we met at a social whilst looking for event staff. They're both very outreaching guys. And the great thing is a lot of sponsors are now very interested in getting into the university scene because it's a high-concentration of people who will almost certainly will be interested in their products. For example Twitch TV (a sponsor of KotN) now have a programme in which they'll award any university event £250 and put you on their home page."
And does Harrison think there's a crossover between music and gaming festival demographics?
"Absolutely. 100%. We all go to music festivals. And I don't see any reason why there has to be a distinction. eSports could be easily integrated into music festivals. From what I understand, it's already starting to happen."