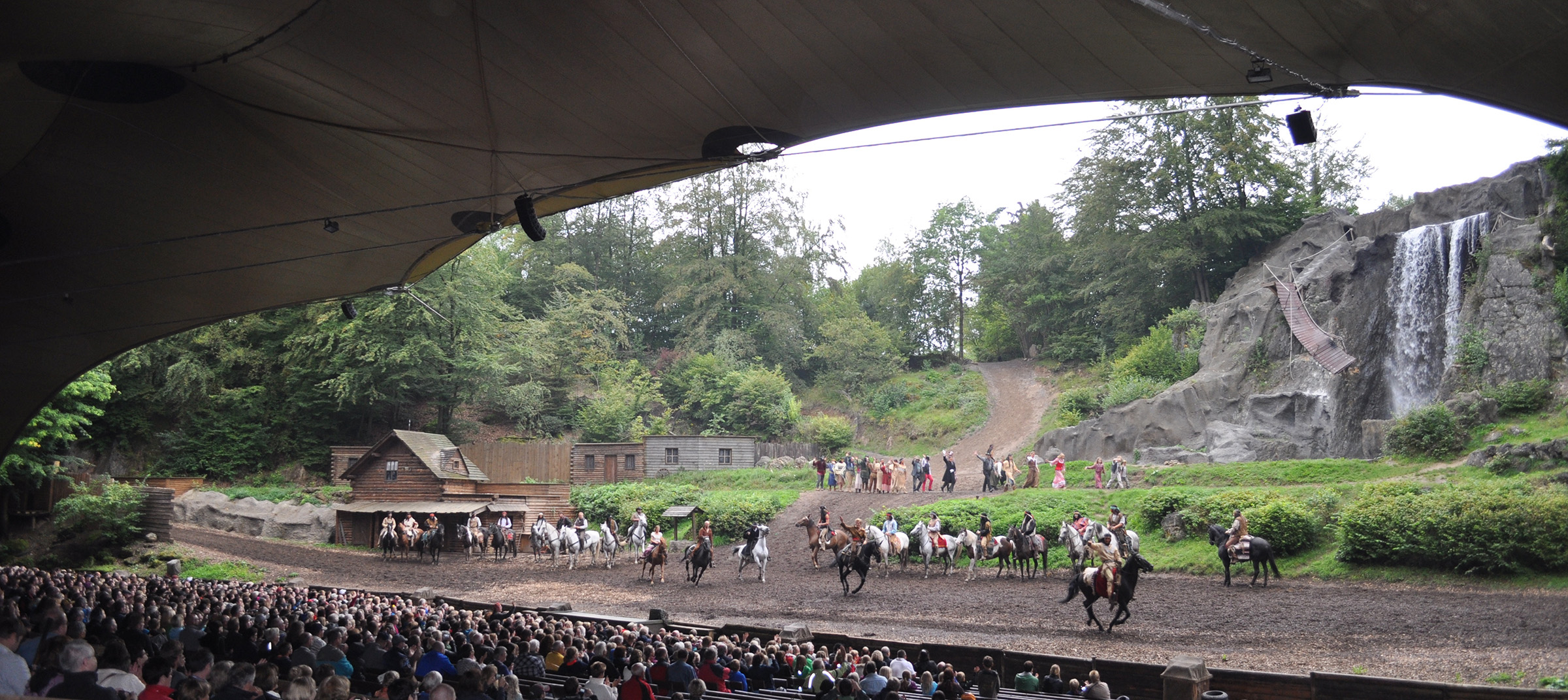 GERMANY: A Martin Audio MLA Mini, featuring the company's award-winning Multi-cellular Loudspeaker Array technology, is playing a central role in the technical upgrade of the Elspe Festival in Germany. One of the largest and most visited show and festival parks in Europe, the 120,000 square metre site is located in the Sauerland Elspe, in Olpe, South Westphalia.
Each year Elspe Festival invests heavily in conservation and upgrading of the infrastructure to preserve its Wild West theme, and welcome the Karl May Festival. This is when Winnetou and Old Shatterhand, fictional characters in the Western novels by the German writer, take their place in Germany's largest outdoor theatre.
Last year, renewal of the audio system was high on the agenda and sound consultant Ulrich Schmitz knew it had to cast its spell on the 200,000 people who congregate each year.
In addition to being responsible for the audio systems in Elspe, Schmitz works at the company EP:Nöker, who are entrusted with the planning and installation. Explaining how he arrived at a Martin Audio solution, he explained, "Elspe Festival's claim is to invest in stable, long-lasting and future-proofed products. We searched for a solution, which was technologically state of the art and which fit our requirement 100%."
Some of the criteria had to do with speech intelligibility as well as provide smooth coverage of the whole auditorium and a better monitor situation on stage. In addition it had to be able to withstand the hard weather conditions.
Several leading suppliers were considered for the work but the choice went in favour of United Brands: "We knew United Brands could deliver the complete audio hardware package required in view of their extensive portfolio," said Schmitz.
For the outdoor Nature area 16 MLA Mini elements were used (four each for the left and right hangs, with a cluster of eight in the centre) as well as six S15+ subwoofers and six DD6 speakers as nearfills. Monitoring was realised by eight weatherproof AM10 and two AM12, which were non-visible.
But not only the 4,000-seater Nature stage had to be modernised but also the all-season Festivalhalle stage.
This was equipped with a front PA comprising three stacks each of W8LM Mini Line Array elements (with a single W8LM and two W8LMD in L/C/R configuration) and three S218+ subs. Stage monitoring is formed from a centre stack with a single W8LM and two W8LMD Downfills (plus a W8VDQ on each flank for side monitors).
Both installations were controlled by XTA devices, and powered by amplifiers from MC2 Audio, while the mixing console in the Festivalhalle was upgraded to a DiGiCo SD9 system.
Of the installation, Jochen Bludau (managing director of Elspe Festival) has delivered a resounding thumbs-up: "From the first day of planning, the staff from EP:Nöker and United Brands worked hand in hand to create an excellent result. The response by visitors and actors has been consistently positive."
Thus when Elspe's Wild West festival opens again on 20 June 2015, it will do so with a consolidated sound reinforcement system — supplied by United Brands.