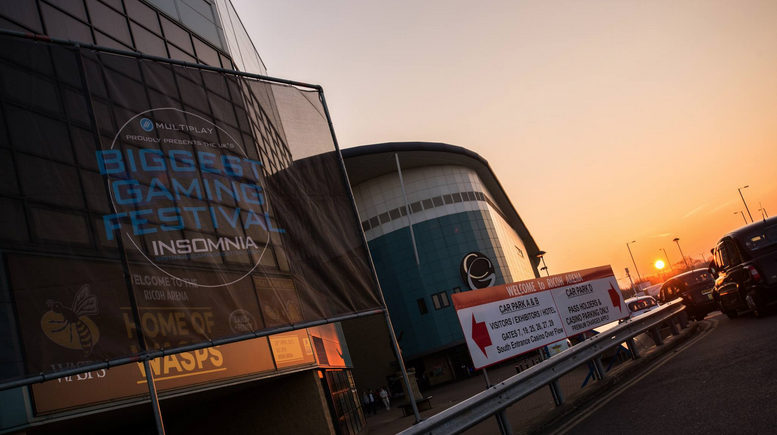 UK: Multiplay, organiser of the Insomnia Gaming Festival, has announced that its first event of 2015, Insomnia54, was also its biggest ever with a footfall of over 30,000 across the weekend. Continuing its growth, Insomnia54 saw the introduction of new areas including a dedicated eSports Stage, and Broadcast Studio, complimenting the huge Main Stage which saw packed live shows featuring globally popular special guests from the worlds of YouTube and Twitch.
Insomnia54 welcomed brand new exhibitors into its thriving Exhibition Hall such as Sony XDev plus returning exhibitors featuring brand new games such as Jagex's Chronicle: RuneScape Legends, WB Games' Mortal Kombat X and Stainless Games' Carmageddon: Reincarnation.
With more special guests than ever before, Insomnia once again featured a broad range of activities from across the realms of modern gaming culture providing a unique live gaming experience for fans of all ages and backgrounds. This was all made possible thanks to the support of Event Sponsors GAME, SCAN & Logitech G.
The post-event coverage of Insomnia also experienced an unprecedented amount of growth, with over 11m combined YouTube views for videos relating to the event and over 2m views of photographs uploaded to the official Flickr account. The event is also set to feature in a segment on BBC's The One Show, a digital segment for BT Sport, and a series of short online films produced by Channel 4.
Multiplay MD Craig Fletcher said: "Insomnia continues to go from strength-to-strength, with Insomnia54 breaking our previous records for our long-running festival. " He continued, "We are delighted to have curated such an incredible community unlike anything else in the country, and the plans have already started for Insomnia55 this Summer, set to be a truly unmissable show."