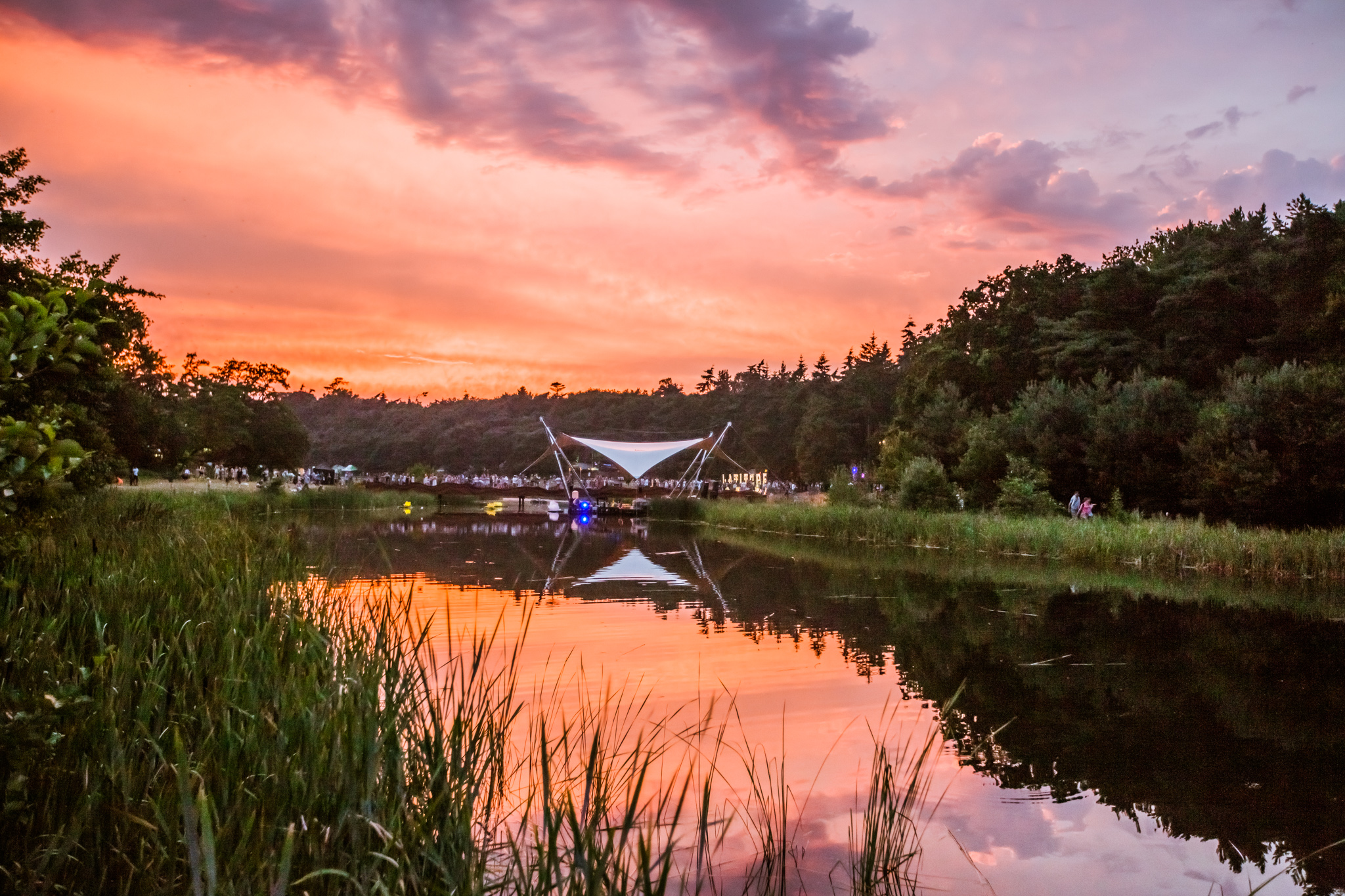 Since 2006, Latitude has been an exemplar of the boutique festival movement. Whereas a myriad of other festivals have hosted all manner of non-musical mediums on their rosters, none have shared the spotlight between them in the way Latitude has, giving literary iconoclasts the same reverence as rockstars.
Its focus on quieter, more cerebral offerings engenders mellower vibes than those of your average adolescent blowout. Complemented by a serene woodland backdrop, numerous pop-up performances and an exploratory, at-your-own-pace atmosphere, the laidback ethos appeals to a very loyal following that have carried the festival into its 10th year.
Festival Insights spoke with Luke Wright – the host and co-programmer of Latitude's Poetry Arena – about his involvement with the festival, its vanguard status in the industry, and the increasing redundancy of the term 'music festival'.
Festival Insights: So you've worked with Latitude on its Poetry Arena since its inception in 2006. How did you come to be involved? Did they approach you based on the success of your poetry career?
Luke Wright: Yeah, Tania Harrison, the Arts Curator across the whole festival, approached me. I thought it sounded like a cool prospect. We ended up programming around 60 poets for the first year. It's a privileged position, and a rare thing to be inside the curation process as a poet myself. But I love it.
Tania's the real hero of Latitude; she's responsible for turning this thing from just a music festival into a real music and arts one. That's taken for granted nowadays I think – it's almost a given to have your comedy, spoken word and so on but it wasn't ten years ago when we started this.
FI: So would you consider Latitude a trailblazer in the boutique festival movement?
LW: Well I feel we were one of the first ones to really make a big deal out of it. I mean Glastonbury has always billed itself as a performing arts festival – so let's give credit where credit is due – but we gave those other mediums equal credence to the music and sought out the best names in poetry, comedy, theatre, spoken word and literature.
Some people come to Latitude and don't even bother watching any bands over the weekend; they spend all their time in the Poetry Arena. When I think about what I've got in my tent alone, you have names like Simon Armitage, Dr John Cooper Clarke, and Michael Rosen – a real diverse range of legendary poets, and that's just one aspect of the festival. You've got similarly prestigious acts across six other tents.
We make a feature out of the different mediums we represent, and we're proud of it. Increasingly I think you're going to see these other forms of art catch up with music in terms of popularity. We see people coming along to Latitude who've never experienced live poetry before; they come to the Poetry Arena just wanting to sit down and eat their falafel, and next thing they know they're experiencing something new. Some of them stay for six or seven hours after stumbling in by accident.
FI: Since the inauguration of Latitude ten years ago, there has been a proliferation of similar events that include gourmet food, 'glamping', and art-forms other than music. Do you think this increasing focus on non-musical elements will eventually make the term 'music festival' redundant and reductive?
Well again, using Glastonbury as an example because it's served as the template that most festivals have based themselves off of – it has always billed itself as a 'performing arts festival', rather than a 'music festival'.
I think when most people hear 'music festival' they think 'field plus tent plus music'. But yeah, I think you're right – that perception is changing and Latitude is a part of that because we've invested so much into becoming bigger and better every year. For now – just for practical reasons – I think people will still keep using the term 'music festival' just because it's more convenient and everyone knows what it means.
FI: Are there any unique approaches or extra efforts you've employed this year when it comes to the line-up?
LW: Well we realised very early on that there's no extra 10% effort we can give year-on-year because we've been putting everything into it since the beginning. I am very excited about many of the acts we've got on this year though, and there are loads more brilliant names to be added shortly. We've got loads of one-person shows, and both new and old faces. It's shaping up to be another cracker.
For more information, check out Latitude's official website.
Header photo credit: Jen O Neill