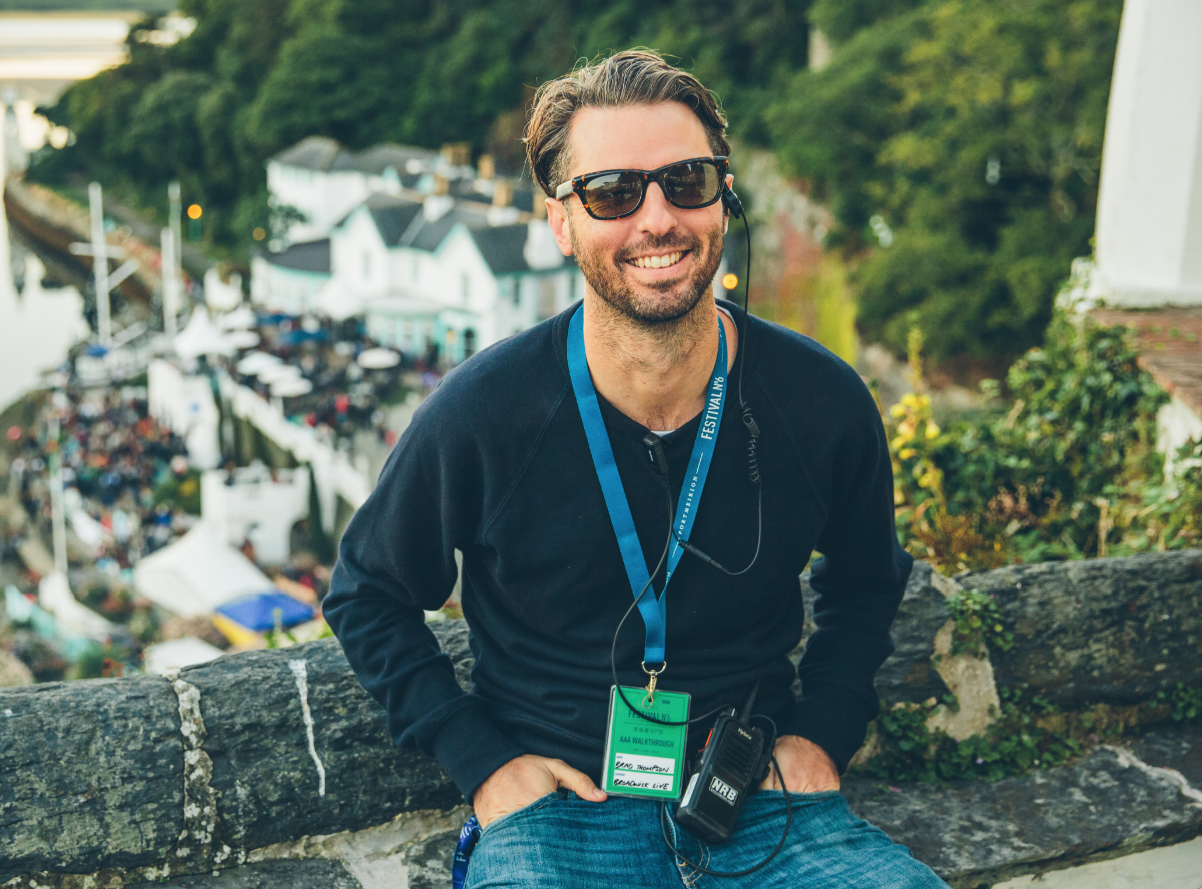 Having the ability to look beyond the ordinary to deliver exceptional results, co-director of Broadwick Live – Bradley Thompson has spent the last 10 years devising and executing a number of high-profile festivals including Europe¹s biggest music, ski and snowboard festival: Snowbombing, the UK¹s largest children¹s festival: LolliBop, and award winning Festival No.6 -­ a luxury, bespoke banquet of music, arts and culture, taking place in the stunning village of Portmeirion, Wales. Bradley has also worked with some of the world¹s best know brand's including 3 Mobile, Estrella Damm, Veuve Clicquot and most recently Bacardi Global, creating the spectacular Bacardi Triangle – a three-day event in Puerto Rico which saw Calvin Harris, Ellie Goulding and Kendrick Lamar perform to over 1,862 guests on a deserted island in the heart of the Bermuda Triangle.
Any form of brand integration needs to make total sense on all sides for it to work. This might seem like the most obvious statement, but it is amazing how often you see brand partnership activity that is just a bit forced and uncomfortable.
There needs to be an authentic creative or strategic alignment across the board with the brand – the message, the activation and the audience, or the job in hand will be twice as hard. This is particularly true if the activation is tied into any form of passion point marketing or alignment as all of a sudden a brand is starting to tread on the toes of things that people really care about. That is of course why they are doing it and where they can get real value when they do it right however it needs to add value.
Audiences are very good at editing out what doesn't interest them. You need to put the audience first, wrap the message into a format that they will engage with and embrace while being sensitive to their reasons for being there in the first place (as the brand campaign is not it). And that can be a very expensive lesson for a brand to learn and a mistake they wont make a second time.
Originality and Authenticity
A frequent criticism of poorly executed brand integrations is that they lack authenticity from the outset. Gone are the days – thankfully – of "brandslap", where consumers would more willingly accept a brand logo levered roughly onto an event, with no thought as to the synergy of the partnership or longterm positioning. Any partnership must be authentic; it must go beyond a basic sponsorship or logo placement and demonstrably make their presence seen as improving whatever they are aligning themselves with. From the point of view of a festival partnership, no one will remember the brand that had its logo everywhere however they will remember the brand that created the amazing additional experiences that would never have been there if the brand had not been there.
In any creative endeavour, originality is crucial if you are seeking real success, as one of your main objectives has to be amplification and social reach. No one is going to talk about or share something that they have seen a million times before. Seeking out a unique selling point in a crowded market is vital. That's not to say that your idea has to be something that has never been done before, but it has to be a new angle on a pre-existing concept and be a driver for content and conversation.
Simplicity
Keep it simple – there is so much happening at events and online that overly complicated messages can easily to get lost in the noise and a simple clear coherent message will deliver a lot more. That is not to say that a more complex conversation is not possible, you just have to engage with the audience first. Once you have their attention you can then focus on cultivating a deeper relationship and a more in-depth conversation, but you have to have fostered that relationship first.
Long Term Buy In
A flash in the pan, one-off activation will only ever have limited success. If the client is committed to nurturing the activation and the partnership over an extended period of time, it's possible to cultivate a much more in-depth campaign. Brand integration is all about relationship building and a brand will get out as much as they put in. Start with a simple and clear strategy, travel along that same original strategic path however evolve and grow the activations and the creative over time. Stay true to original drivers and your chances of long-term impact are massively improved.
Co-operation and collaborative working is key – it is a two way process and if you are clear about what is expected, what is achievable and you manage everyone's expectations, you stand a better chance of success for the benefit of the audience, the client and of course yourselves by repeat business and ongoing successful activity.
Asking yourself the tough question: Why are we really doing this?
When approaching a brand integration or activation for a festival or event, the very first element you must master is simply "why are we doing this? What is the point? Will anyone care? And is the investment worth it?
While the audience who can experience your live activity is of course vital, it's relatively small in comparison to the amplified audience potential should you do it right. Live events are never going to be cheap to deliver if they are done well so making them drivers for content, conversation and delivering reach has to be at the heart of the strategy as that is how they can deliver real value and ROI to the brand.
A Recent Example:
Broadwick Live recently developed and delivered a brand engagement campaign for Bacardi Global which sums all of this thinking up and puts it into practice in the best possible way. Bacardi briefed us to develop an idea that would force massive reappraisal of the brand globally and in a very short timeframe.
To do this and do it well, we needed to do something big, something brave and something that people could really believe in and buy into. Something that tapped into the audiences shared passion for music, but in a way that was authentic and believably Bacardi.
Throughout the 1920s prohibition era, Bacardi hosted some of the most legendary weekend-long music parties in history, with guests travelling from all over the US to Cuba. Almost a century on, we wanted to use this heritage to reignite that passion in the brand by rooting the activity firmly within Bacardi's 'Untameable' positioning and heritage. We knew we couldn't just use the word untameable as a banner and be convincing. We needed to behave and actually be untameable by doing something big, memorable and disruptive.
Our idea was The Bacardi Triangle, a three-day music festival around which we spun TV, radio, digital and PR to reach over 6.7 billion people worldwide. We chose a remote and stunning desert island located seven miles out to sea from mainland Puerto Rico, right in the heart of the infamous Bermuda Triangle, tapping into one of nature's most untameable forces, on the most untameable weekend of the year – Halloween.
Long associated with music and entertainment, the campaign which is now Bacardi's most successful earned media campaign to date featured Ellie Goulding, Calvin Harris and Kendrick Lamar who not only performed at the event but they engaged their fan networks reaching over 79 million of their highly engaged fans with our brand message. We also worked with a global media partner network to seed content and our broadcast partnership saw our TV show broadcast to over 195 million homes worldwide. Creating such a unique experience and content offered a great value back to those who engaged with the activity. We reached over 6.7 billion people with only 10% of the reach coming from paid for media, the rest was delivered through organic engagement – people watching, viewing and content sharing. This is what makes a successful brand engagement campaign – ensuring the audience is placed at the heart of the activation at all times.
Finally:
Write up your core commandments as to why you're performing this brand event integration, no matter how big or small the original project may be. Ask yourself why are we doing this? Is it any good? Does it relate to the core product? Is it really any good? What does it actually deliver for the brand? What will the audience think? If you can honestly answer these questions, you might just be onto a winner for you and the client.
Words by Bradley Thompson