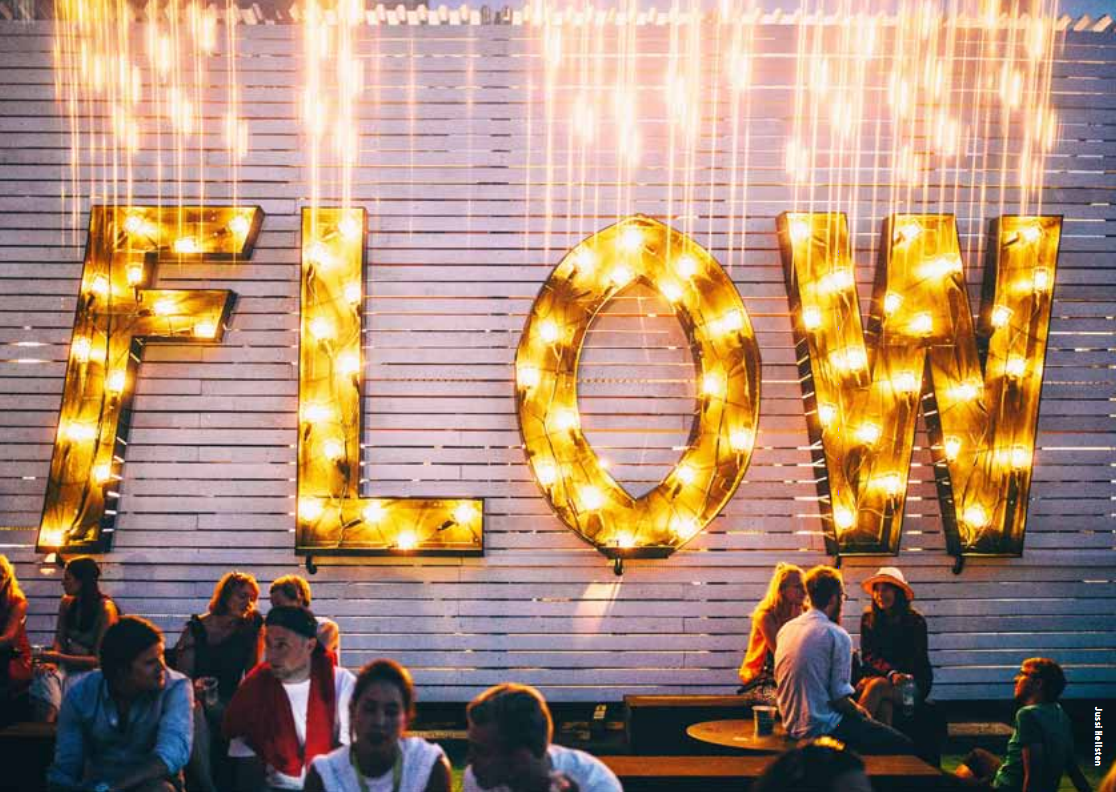 FINLAND: After 2014's Flow festival, US-based financial magazine Forbes called the festival's food 'pioneering'. In 2015, Flow will further develop its culinary offerings, inviting ten new restaurants to join. In total, around thirty food vendors will be feeding festival guests around the site – manifested in both popular street food stalls and a variety of unique conceptual restaurants.
Flow will also introduce a range of speciality bars, including an extensive selection of healthy and non-alcoholic options.
Some of the confirmed food & drink vendors include Powau, who make fresh and healthy raw juices, PUR, who provides smoothies and raw cakes, and newcomer Ahorita with its wholesome Mexican flavours. Another debutante at Flow is Farang, renowned for its South East Asian dishes. At Flow the restaurant's offerings will come as street food versions composed by local celebrity chef Tomi Björck.
Also present will be Alfons' Pizza, who only use organically produced raw ingredients, as well as El Ceviche Guero, sushi slingers Käpylän Majakka, the Vietnamese Lie Mi, more Mexican flavours courtesy of Chalupa, the vegetarian restaurant Soi Soi, Latin tastes with Japanese and Korean spices from Tres Bones, Grotesk's convincing burgers, Tasty Dogs with its hot dogs combining Spanish and Asian tastes, as well as Twisted Street Kitchen's hot Thai dishes with a twist, Taco Bot's modern Mexican kitchen, and the festival area's very own Lämpö.
Desserts, coffee and tea are available from Brooklyn Cafe & Brklyn Bakery, Kahvila Sävy, Good Life Coffee and Paulig – a line-up familiar from last year.
The main criteria for the selection is quality, together with how interesting and topical the concept is. Additional priority is given to those who use clean, organic and locally produced Finnish ingredients, with the further stipulation that every food vendor needs to provide vegetarian options. Flow aims to attenuate the environmental impact of producing meat, and emphasises that quality vegetarian food is tasty and varied.
The menus will be announced later in the summer, with more additions to the Flow restaurant repertoire expected before August.
Flow Festival's confirmed partners for 2015 are the main partner Lapin Kulta, media partners Basso, Clear Channel, Helsingin Sanomat / Nyt, and partners American Express, Bright Finland, H&M, Paulig, Stop Teltat, Sun Effects, University of Arts Helsinki and Yellow Tail.
For more information, check out Flow's official website.