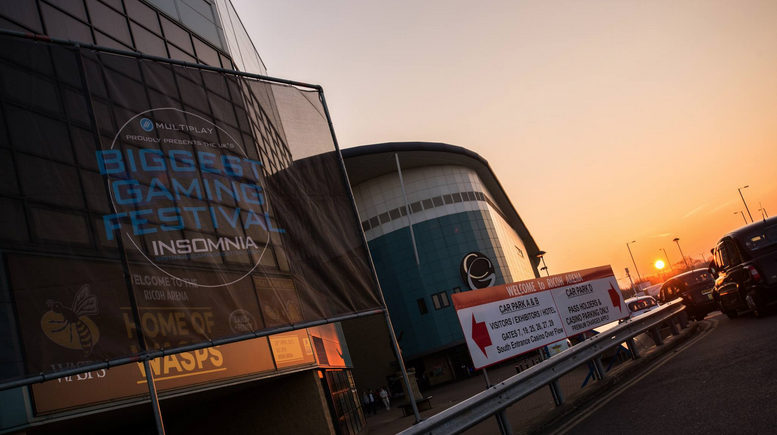 UK: Multiplay, organiser of the UK's largest gaming festival Insomnia, has announced the initial line-up of its upcoming Insomnia55 festival, taking place August 28 – 31 at the Ricoh Arena, Coventry.
With billions of views and tens of millions of subscribers, The Yogscast group will be heading to the UK's home of eSports and gaming culture, Insomnia55. Well-known names from the crew such as Lewis, Sjin, Duncan, Sips, Hannah, Martyn, Hat Films and Turps will be sharing some of their unique insight into gaming culture across the event's three live days.
Hugely popular online content creators including Syndicate and The Diamond Minecraft return after attending previous Insomnia festivals, while first-person shooter enthusiast Ali-A attends for the first time this year. Also returning are The Sidemen, Kwebbelkop, Slogoman, and The Gaming Lemon and Jelly.
At Insomnia55 there will be more live Lets Plays, more exhibition booth gaming, and more interactive gaming content than any Insomnia event to-date. Other regular returning features include the 24hr BYOC (Bring Your Own Computer / Console) LAN areas, the Minecraft zone, panel talks, the Indie Zone, the Retro Zone, the Tabletop Gaming Zone, and the burgeoning Retail Zone.
"We are thrilled to have so many online stars attending Insomnia55. Ever since introducing this aspect of the show we have seen thousands of young gamers discover their passion for live gaming events, and it is a very rewarding experience being able to bring creators and fans together in our weekend-long live festival experience," said Craig Fletcher, Founder and CEO of Multiplay. He continued, "We pride ourselves on delivering more content, more personalities, more showcases and more esports tournaments than anyone across Europe, and Insomnia55 is no exception."
"Attending Insomnia as a Special Guest is an amazing experience. Multiplay are incredibly accommodating and good to work with, and the opportunity to see thousands of fans in a festival environment is something you just can't get anywhere else in the UK," said Josh "Zerkaa" Zerker, member of The Sidemen. "This is my third time attending Insomnia with the rest of the Sidemen crew and we always have a great time, and can't wait to show all our fans what we've got in store for Insomnia55."
For more information, please visit the Insomnia Gaming Festival's official website.