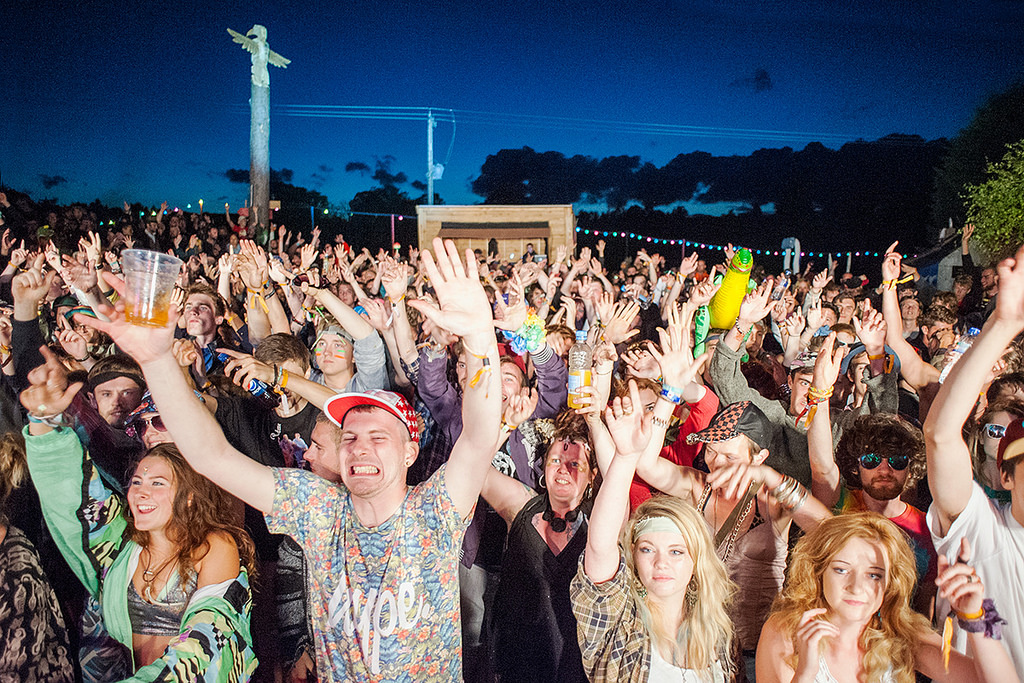 UK: Nozstock has just announced its vibrant and diverse collection of arts, theatre, performance, workshops and food and drink highlights taking place this summer, as the festival enters its 17th year in July.
Set on a working farm in Herefordshire, Nozstock embraces a vast range of sounds and styles, flowing from family-friendly festival by day to electrifying party by night.
By day, the Bantam of the Opera will be filled with a weekend of strange occurrences, theatre, circus acts, poetry, puppetry and magic. Puppet masters The Fetch return for the fifth consecutive time, along with the psychedelic spectacle of Hummadruz and the poetic sparring of Nozslam.
When the sun goes down over the farm, the bright lights of The Velveteen Valley will sparkle with two nights of decadence and delight. Aurora Blaze has produced two bespoke sci-fi themed performances based around Star Wars and Men in Black, and will share the bill with Chris Lynam, Allure Cabaret, Beyond Pages, Owen Niblock, Florence Fontaine, Oh! Carolina, Ursula Dares, Vicky Lee and Iris West.
The Enchanted Glade Kids Area is a friendly environment for both parents and little ones alike. The area offers spell-binding stories, sculptures and entertainment, as well as a bunch of physical hands-on fun including rocket building, climbing frames, swing boats, drama games, hula hooping, and more.
Interactive musings take a fresh twist this year with a new 'secret' area harking to the dark surrealism of Twin Peaks, imploring attendees to seek out the mythical Black Lodge. Whether there will be a dancing, backwards-talking dwarf or evil doppelgänger of oneself inside remains to be seen. For those who would rather chill than seek out the extra-dimensional bastion of unadulterated evil, there will be suppliers of delicious cocktails and tasty home-cooked food onsite in the form of the The Chicken Cow Cafe. This vortex of fun will also see visitors space-hopping, 'drag' racing, Elvis-spotting, laser-dancing, gambling on 'alien-sh*t bingo' and learning the many wonders of our solar system.
There will also be pop-up performances around the festival site, an audiovisual sanctuary in the form of the Head to Wrong Directions Cinema, a folk jam, Yeleni Healing Zone, textile workshops and craft areasm and a rousing finale to the whole weekend with a spectacular fireworks display.
When it comes to food, Nozstock's focus is on locally sourced produce. Happy Herefords return with their burger goodness, plus there'll be wood-fired artisan pizzas, flavourful veggie and vegan treats, flagship fish and chips, burritos, paella, noodles, hog roast, curries, crepes, fresh doughnuts, organic ice cream, a plethora of breakfast loveliness from croissants to your full English fix, plus strong coffee, stronger tea and an array of ways to start the day.
Nozstock The Hidden Valley has nine stages and is set around a ramshackle Tudor farmhouse. The Orchard Stage is set on the side of the gently sloping valley; alongside the farmhouse is The Garden Stage, which provides a more eclectic line-up, turning electronic by sundown, whilst a converted cowshed, The Cubicles, pushes out sub-thumping bass to the early hours. The Dingle hosts much of Nozstock's alternative art activities: a theatre, cinema, pop-up workshops, secret venues, circus, poetic encounters and a dedicated kids area.
Nozstock is truly home-grown and hand-made – quite literally in fact, with a sizeable group of grass-roots supporters helping to create the themed environment each summer, painting signs by hand and building original artworks from scratch.
For more information, please visit Nozstock's official website.
Header photo credit: Richard Aldred