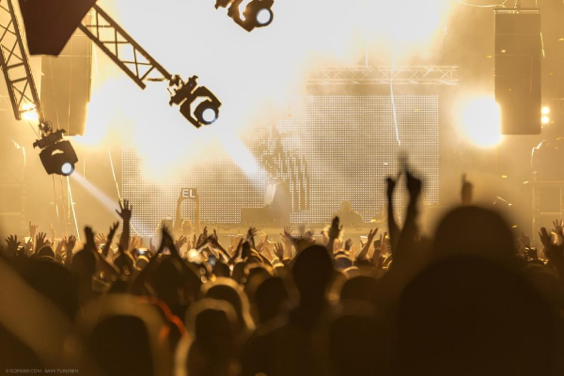 FINLAND: Based outside Turku, Finnish loudspeaker manufacturer Aura Audio Oy is using the magic of Powersoft's M-Force's electromagnetic conversion principle to power its XD30 subwoofer, pressed into action at the recent high profile Colors dance festival at Kaapelitehdas, the former cable factory in Helsinki.
Aura Audio's Managing Director, Mika Isotalo, explained that they worked closely with rental company AMJ Turku Audio Oy, who equipped both the main and second stages with Aura's premier sound reinforcement systems.
M-Force first captured AA's imagination at its launch during Prolight+Sound 2013 in Frankfurt. "We started working with it immediately, so that by Frankfurt this year we were able to present our own M-Force product, the XD30 subwoofer," said Isotalo. At the same time the X-series amplifiers had been introduced.
M-Force comprises an innovative transducer based on a patented moving magnet linear motor structure, offering supposedly unrivalled performance in terms of power handling, electromagnetic conversion, reliability and maximum SPL when compared to a conventional moving coil and cone arrangement.
Driven by the M-Drive amp module, the M-Force motor is the result of years of FEM magnetic and mechanical simulations, while Powersoft's Differential Pressure Control (DPC) creates further performance enhancing active control.
"As a loudspeaker manufacturer focusing on acoustics and new loading techniques we already had a new patented enclosure design which we had been using with different cone drivers for several years," said Isotalo. "When we saw M-Force we immediately thought it would be good for more compressed loading because of that huge motor strength.
"A single XD30 is able to produce more than 150dB peak SPL in floor and we used four of those in two by two end-fire configuration so we were hitting average of 140dB´s at 10m´s. Low frequency cut off is around 30Hz, but it does go lower than that if necessary."
So far the system has been heard by dance music aficionados at such events as DBTL Festival in Turku, Helsinki Pride and Raumarock Festival in Rauma and others.
"The reaction from pretty much everyone has been one of positive surprise," said Isotalo. "They have all been impressed by the size to SPL, the fast transient response and effortless infra bass."
At the same time Aura Audio purchased their first Powersoft X8 amplifiers this year, specifically to drive the top end of their rig — and they will be offering them to their clients as a primary choice. "X8 represents an unparalleled package of DSP and electronic power, and it sounds very natural and clear," said Isotalo.
At the Colors Festival, the system comprised Aura Audio's A2 line array — with six elements per side and six as a delay line to carry sound over 100m to the back of the hall, powered by the X8, fitted with OEM preset libraries. Further A1 point source cabinets were used as front fills.
Since its humble beginnings in the late 90s, Colors Festival has become one of the largest EDM event in Scandinavia and is an integral part of the EDM music scene in Finland. The Helsinki based festival took place from July 10 – 12 and is part of Colors events, which range from intimate club nights to major festivals. This year, Space Ibiza headlined the festival along with Basement Jaxx. Other leading DJs on the Colors Festival bill included Ferry Corsten, Orkidea, Paul van Dyk, ATB, Camilo Franco, Chicane, Deep Dish and Photographer.
Isotalo is in no doubt as to the advantages the combination of their patented enclosure design loaded with the 30" Powersoft M-Force driver system, brings in setting a new benchmark in SPL versus bass cabinet size.
Finland's nightclub owners are also catching on to the impact this can give their venues.
"We expect to see some new ones using M-Force in the future — both in Finland and beyond," said Isotalo. "I think M-Force opens up new ways to make high power subwoofers, and coupled with DPC and endless power capabilities of Powersoft amps we´re able to make a new reference for high-end subwoofers in both SPL dynamics and sound reproduction accuracy."
Header photo credit: © Gofoxo.com – Sami Turunen