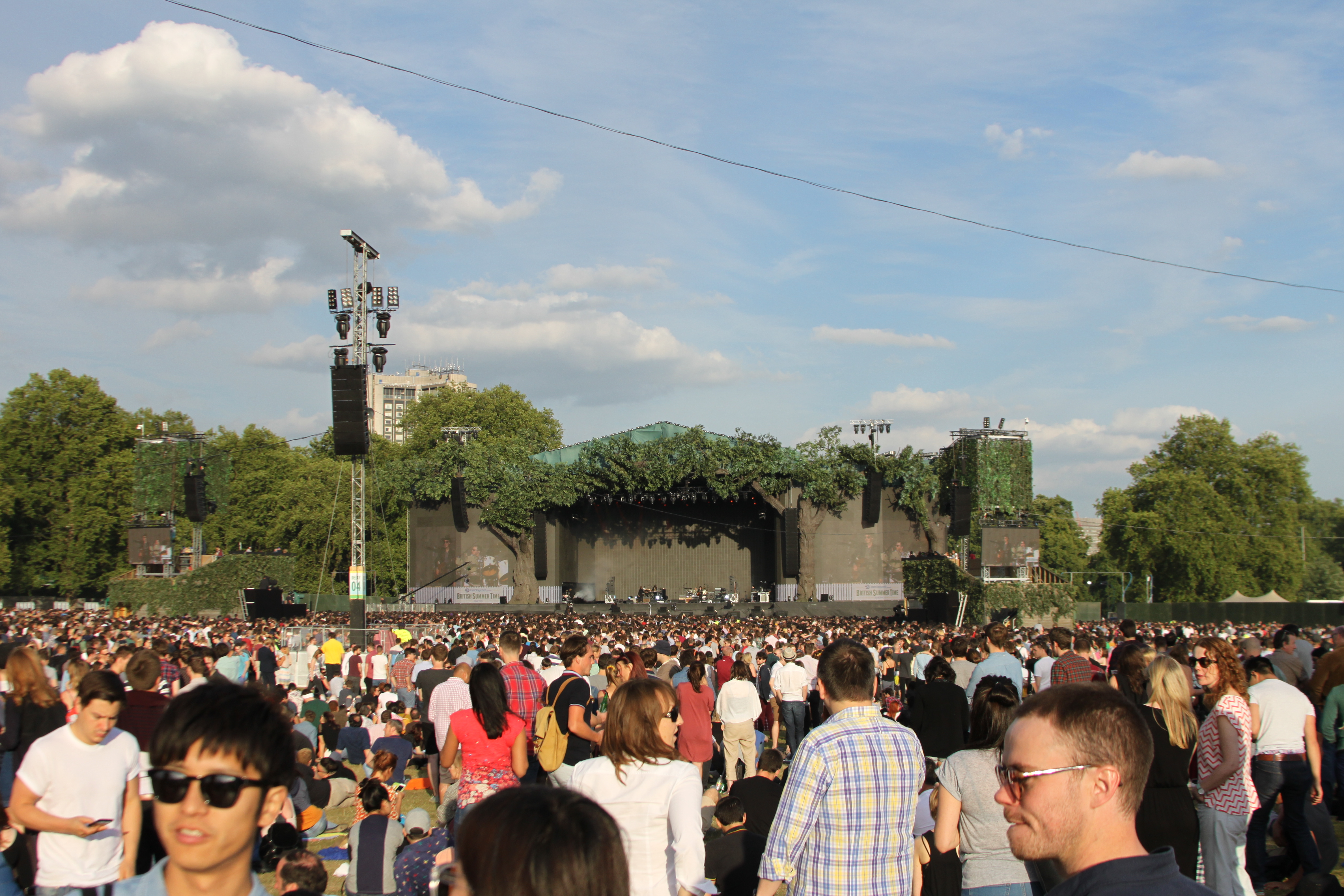 Two rather negative epiphanies dawned on me whilst walking the perimeter of BST Hyde Park. The first was that I'd definitely picked the wrong time to start eating right, what with the litany of amazing eateries onsite – mostly locally sourced. The convenience of being located in central London meant that concessions such as Bad Boy Brownies, who would usually struggle to operate in remote non-metropolitan venues, were able to tempt me into continuing the endless endeavour of making my physique even less impressive.
The second realisation was that, considering my violent hay fever, maybe choosing a career that involves travelling to various fields for several days at a time was a poor decision.
Fortunately my woes were attenuated a little by the aforementioned 360º of delicious food & drink, a roster that included The Craft Cocktail Co., Makatcha, Dog Town, Grill My Cheese, Tongue and Cheek, Crabbieshack, and Born & Raised, amongst many others. Conveniently, each concession came equipped with Barclaycard's cashless contact systems, which worked flawlessly.
Aside from its gastronomic gauntlet, the festival site comprised some remarkable production, much of which came courtesy of Star Events.
Built around a 25m Star Events VerTech platform, Es Devlin's Great Oak Stage design – introduced in 2013 for AEG Live's first British Summer Time – has fast become synonymous with the festival. Adorned with foliage, the stage integrates beautifully with the natural aesthetic of the park. It is unfortunate, admittedly, that the festival restricts the sizeable front section of the crowd to VIP customers, but the relatively thin delay towers and excellent sound quality ensure that lines of sight and clarity of the audio are maintained.
Star Events, which has been working on Hyde Park summer shows since 1999, also supplied a 14m Orbit for the new Barclaycard Stage this year, together with other key elements across the site, including a hospitality VISTA structure, two FOH control towers, delay towers, perimeter gantries and the main entrance arches.
For The Great Oak Stage, the weight and wind loads on Devlin's three trees were addressed with its VerTech roof – supposedly the strongest in the business – supplemented with a truss structural core from Star Events and set fabricators MDM Props, with a similar design providing for the branches.
Combined with 900sqm of 9mm LED screen, Star put 50 tons across the front edge of the stage, accommodating a further 30 tons of British Summer Time production, and with scope for even more.
The company also had to address the need to wrap the extended, angled stage wings with the floor-to-roof screen, not least to feed the VIP area (stage left). There, Star Events has developed its VISTA grandstand system far beyond the typical Hyde Park hospitality finish, providing a quickly acclaimed facility with covered viewing areas, private air conditioned suites – modelled on facilities at The O2 – and a decked roof terrace.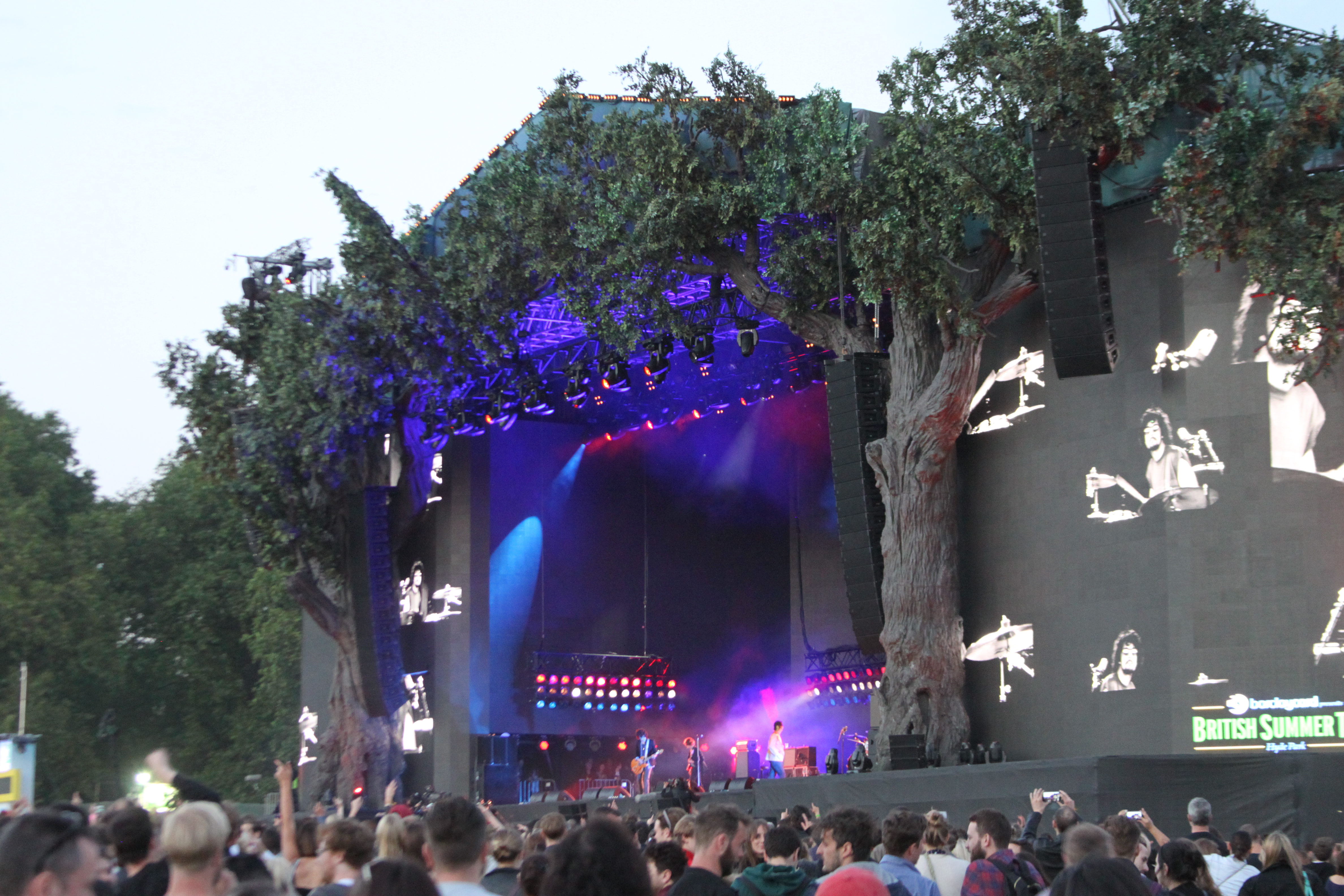 Situated at the north end of the site, to a tight footprint, the Barclaycard Stage married VerTech flat back wall technology to an Orbit platform. Sheals-Barrett told Insights "It's a perfect concept when you don't need a covered changeover area or when space is limited." Star fitted the PA wings with VerTech masts, stage left and right, and supplied dressing detail to the proscenium arch.
The T tower delays were another new item for 2015. Sheals-Barrett said: "We have modified the design to change these from a 7.5sqm @ 1.5m high footprint to a 6m x 2.5m at 500mm high. These improve sightlines amazingly and are really quick to install." For BST, Star Events deploys some 70 trucks, and over 100 crew members with a 12-day build and five day removal.
Other key events coming up in the Star Events calendar include Summer in the City, Manchester, Bestival, the two V Festivals, Neil Diamond, MTV Plymouth and a run of shows at Canary Wharf in East London.
Lighting on The Great Oak Stage for The Who was supplied by PRG, mixed on a Grand MA 2 full size. Set over the main ceiling trusses fixtures included x 42 VL3k, x 68 VL35kw, x24 Martin Atomic c/w Scrollers, x 20 8lite Mole, x 18 4lite Mole 2 x 2, 26 4lite Mole 4×1, and 18 VL2000 Wash. On the floor lighting included drum risers and stage wings with further Martin Atomics and VL35kw. All of this was overseen by Tom Kenny, Lighting Director for The Who.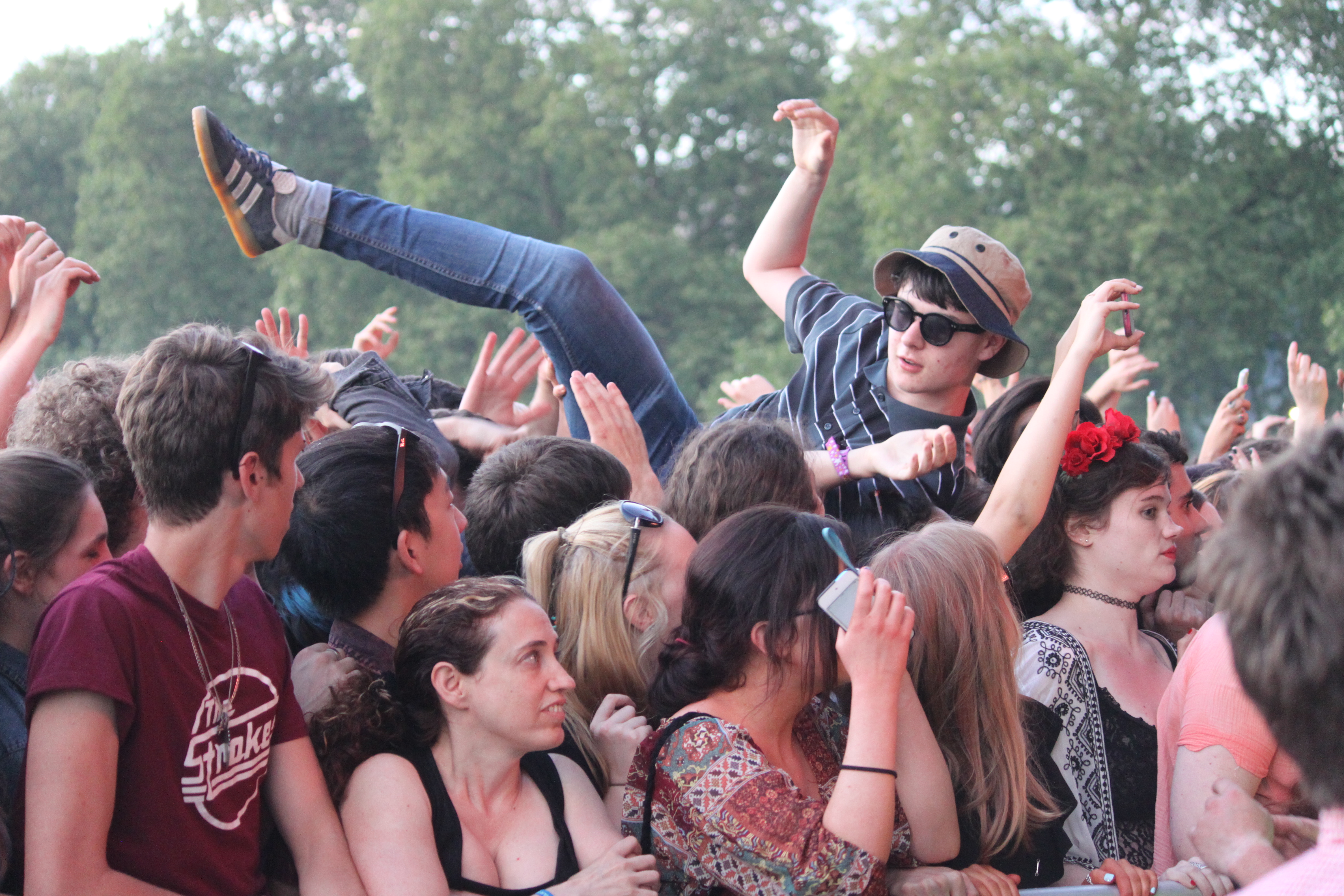 The look of the The Great Oak stage was very much driven by a stage wide video screen by Video Design Limited. "This is a huge commitment of equipment from Video Design," said company CEO Alex Leinster. "Some 900 square metres of LED screen on the main stage supported by a full hi-definition multi-camera package and D3 video servers."
The team Leinster assembled, including himself, have all worked together previously for the Hyde Park concerts, beginning with the Rolling Stones in 2013 when AEG first took control of the Barclaycard Presents British Summer Time Hyde Park.
"Jim King from AEG knows us all and showed no hesitation in engaging Video Design for this year's concerts," added Leinster. "We fully support both content and live video throughout all the performances, with Richard Shipman responsible for media, and Phil Jennings as in house camera director. They are used particularly by the opening acts, but both men are permanently on hand to support artists with their own content material and live directors. If I say so myself it's a very slick operation."
Colour Sound Experiment Limited supplied architectural lighting across the site, including all site lighting towers and a huge amount of LED PAR Floodlights throughout. VIP and guest areas included extensive use of IMS LED Digital festoon, which slowly changed colour. In the bar areas Robe 1200s were deployed and extensive use of LED tape enabling different colour programming from the FOH position, enabling any visiting lighting director to be able to change lighting across the bar fronts and the entire site. To this end a ChamSys MQ60 lighting console was deployed at FOH control. Over the two weeks of BST, Colour Sound Experiment had 22 staff working on site.
Useful Links
AEG Live
Capital Sound
Colour Sound
8th Day Sound
Martin Audio
Optocore
PRG
Star Events
Vanguardia
Video Design