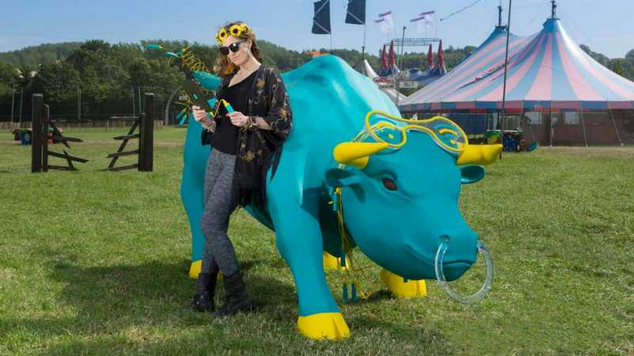 UK: For its 17th year as the official technology and communications partner of Glastonbury, EE once again created a bespoke 4G network onsite and offered free phone charging services to revellers. Glastonbury attendees downloaded eight terabytes worth of data via EE's powerful 4G network – the equivalent of more than two million Lionel Richie songs.
The most iconic element of EE's activation this year came in the form of the '4GEE Charging Bull' – an innovative new charging solution and double-speed 4G WiFi solution in one. Those onsite who spotted the festival-themed Charging Bull were able to plug in their EE Power Bar – a portable mobile phone charger – for a quick power top up on the go.
EE also kept festivalgoers connected with two Power Bar Exchange points on site this year, which met the digital demands of this year's festivalgoers by offering Power Bar swaps. The EE Power Bar – an easy to use portable phone charger and queue-busting alternative to traditional charging – enabled users to charge their phone on the go with the bar and then, once it ran out of juice, simply swap it for a fully charged one at the designated Exchange sites. Average queuing time at the Exchange sites was kept at two minutes per swap, which meant the audience had more time to enjoy the music and entertainment on offer at the festival.
Uploads from Worthy Farm more than doubled this year, with the data equivalent of three million images uploaded on social networks in 2015. EE's official Glastonbury app saw over three million launches as festivalgoers logged on to check set times, create their personal line-ups, drop location pins and listen to Deezer clips of the weekend's artists.
For more information on EE's partnership with the Glastonbury Festival, please click here.