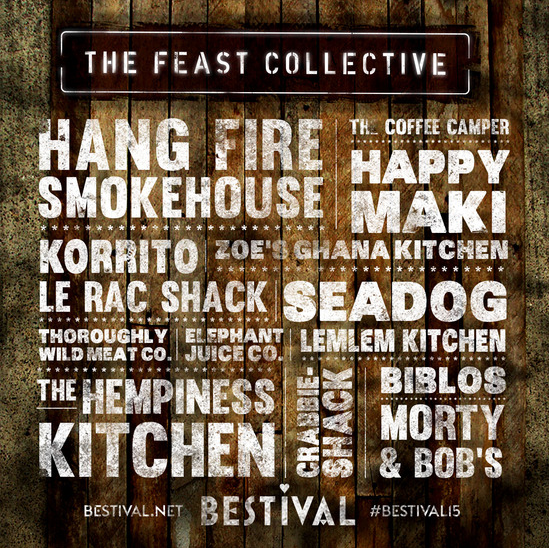 UK: Featuring artisan food producers, street food slingers and the very chicest of chefs, Bestival's Feast Collective will this year feature hosts Samantha Evans and Shauna Guinn, also known as the Hang Fire Smokehouse, who will not only be taking charge of culinary proceedings but also elevating authentic southern state American BBQ to the next level, using sublime British produce.
The gastronomical gauntlet will also comprise the self-explanatory Coffee Camper, truly sustainable sushi from Happy Maki, home spun Ghanaian cuisine courtesy of Zoe's Ghana Kitchen, Korean BBQ purveyors Korrito and Le Rac Shack, Seadog, Makatcha, Thoroughly Wild Meat Co., Biblos, Lemlem Kitchen, Elephant Juice, Morty & Bob's, Crabbieshack, and The Hempiness Kitchen amongst others.
Commenting on the Feast Collective's myriad culinary delights Bestival Creative Crew's own food whiz, Gemma Thorogood, said: "We've spent time and a lot of eating and seeking out these food monsters for the awesome Feast Collective at Bestival 2015. With nutty satays from Indonesia, cheesy goodness from the French Alps, Afro-tacos from Ethiopia and healthy salads from the Hempiness Kitchen you can tuck in to some truly adventurous and quality food. And the Hang Fire Smokehouse ladies will be spinning their wheels of BBQ steel until the early hours, so you can come by for a midnight snack too!"
Samantha & Shauna from the Hang Fire Smokehouse commented: "We're thrilled and honoured to be asked to host this year's amazing Feast Collective at Bestival. Expect award-winning BBQ, a honky-tonk hoedown, a dosey doe or two, and thigh-slappin' good times!"
For more information on Bestival, check out its official website.