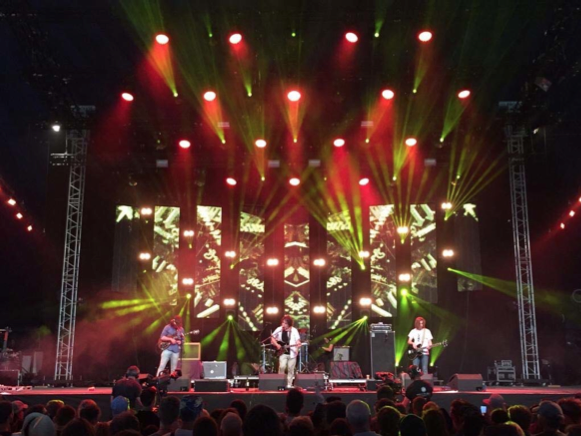 UK: Green Hippo were once again invited down to Worthy Farm in Somerset by their compatriots at Bryte Design to join the John Peel Stage production team for this year's Glastonbury Festival.
This was the first Glastonbury visit for Hippotizer V4 and Green Hippo were very pleased with the results. For the production on the John Peel Stage, Hippotizer V4 drove video on nine vertical columns of LED, supplied by Vortex Hire along with their Hippotizer V4 Karst.
"After our recent investment into Hippotizer V4 we were excited to test drive our Karst Server at Glastonbury on the John Peel stage," said Matt Gourd of Vortex Hire. "Knowing that many of the acts would be broadcast live, we needed a stable media server solution to show content on our custom stealth LED screen setup. The LED strips were used as an eye-catching backdrop to this year's bands / artists and was received well by all."
For the 8th year running, Bryte Design had been brought in to create a flexible stage design of lighting and video. The challenge was to create a setup that suited both the live crowd and the close-cut camera shots. Working closely with Bryte Designs Mike Smith, Simon Harris implemented the system in a way that allowed lighting control from a console, VJ control from MIDI devices, or a combination of both.
Using Hippotizer's award winning VideoMapper component Harris created a total of 33 maps, allowing the lighting console to creatively switch or chase between different video maps from the lighting console in sync with lighting chases across the Imax Lighting-supplied lighting rig.
"When busking on a festival stage such as the John Peel the most important thing in my mind that I need to provide is options multiplied by options," said Green Hippo's Simon Harris. "We have such a diverse selection of acts on this stage and many of them don't come with video in the forefront of their mind because of their stature. A real-time media server, allowing changes on the fly, is the ultimate tool in this situation and Hippotizer V4 excelled throughout the weekend, providing even the least video experienced LD's somewhere to dip their creative brushes live from their desk of choice."
Hippotizer V4 introduces many innovative new components that were deployed throughout pre-programming and during the festival:
OutputManager allowed the John Peel team to utilise the Hippotizer Karst's second output as a local preview monitor consisting of the live BBC feed, a separate feed from the stage for bands wanting to use their own control system via the Hippotizer and finally a separate mix employing the same VideoMap being used on stage. This allowed touring LDs to preview and test content before sending it to screen. The final preview was especially useful for testing logos and making discrete decisions on the compatibility with the design, which was distributed to artists several weeks in advance but was not always considered by the busy incoming acts until arrival.
MultiController allows for multiple control devices, both input and output, supporting ArtNet, MIDI, OSC & TCP / IP. This was especially useful this year as VJ's Harris along with Kate Perring of VER wanted to utilise both a Behringer BCF2000 (for its motorised faders) and Novation Zero SL MKII for maximum control of levels, VideoMaps and effects.
The revised HippoSnapper component was essential for one act that brought images used to produce drapes for the band's backdrop. Hi-resolution images for printing were supplied but these were over 2000 pixels wider than the column of LED they were to be displayed upon. The problem was solved by adding the HippoSnapper component and essentially 'flattening' the entire composition into a single 544×304 image (the total number of pixels on stage including gaps) and the Karst was able to fulfil the requirements of the band's LD without issue.
A first for the John Peel Stage this year was a pre-programming suite back-stage with a Grand MA2 lighting console, provided by Ambersphere Solutions and a Hippotizer V4 AMBA, provided by Green Hippo. Pre-visualisation with MA 3D for lights and Hippotizer V4's Visualiser for video allowed incoming bands to fully prepare their show in isolation away from FOH.
"The John Peel Stage this year was a huge success with more incoming LD's with bands than ever before," said Cate Carter of Bryte Design. "Over the years we've streamlined our setup to be as welcoming and accommodating as possible and this year I feel we exceeded our own expectations. Running Hippotizer V4 for the first time on our stage couldn't have been more successful making use of all the new features time and time again. With so many quick turnarounds, the ability to preview content was fantastic and reduced stress for those who hadn't had the chance to prepare for their show as much as they would like to have done!"
For more information on Green Hippo, check out its official website.