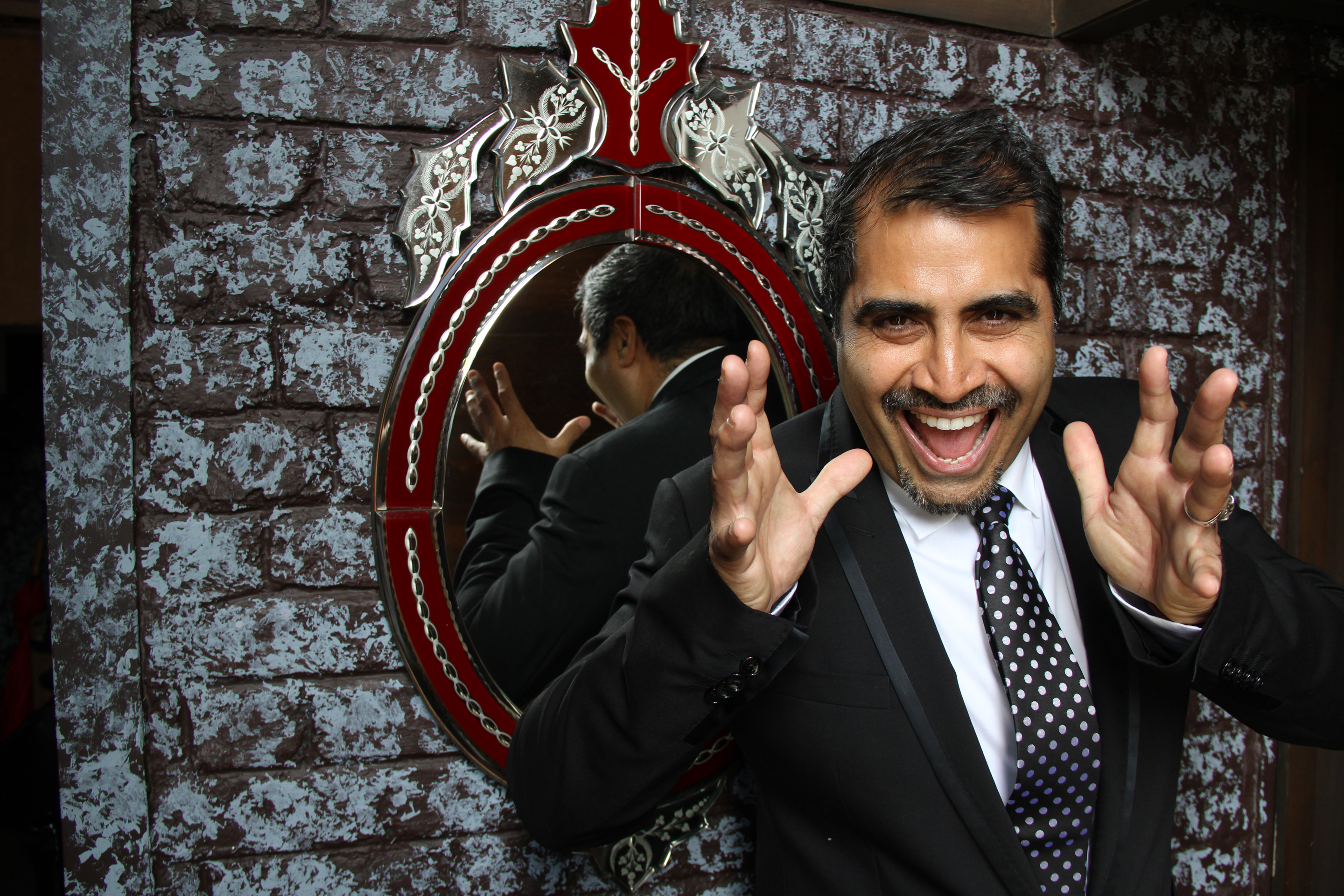 With a background in advertising, intellectual property, feature films, music promotion, event and talent management, sports marketing, wedding management and literature, it's safe to say that Shailendra Singh has his fingers (pictured) in an inordinate amount of pies. As the Joint Managing Director of Percept – India's largest and only entertainment, media and communications conglomerate – he is ensuring that the Indian youth have as many outlets as possible for self-expression.
Most relevant of Singh's many titles is 'The Inceptor' of Sunburn Festival, the hyper-successful EDM titan that as far back as the forgotten era of 2013 had claimed its place as the most successful dance music festival in Asia. Since 2007 it has grown from a 10,000-capacity gamble to an absolute certainty, now attracting 150,000 four-to-the-floor aficionados to Goa every year for the parenthetical holiday stretch of December 27 – 30. Its avoidance of Christmas and New Year's isn't accidental; Singh knew that detracting from the local economy – rather than enhancing it – would cripple the event before it had legs.
Through its plethora of national and international incarnations, plus its extensive experiential programming, Sunburn has effectively transcended the reductive moniker of 'music festival', as Singh attested.
"Sunburn is a lifestyle product rather than just an event," he said. "We're running a marathon in which we want to inculcate the entire culture surrounding music. Since our inception in 2007 we've consciously dedicated 50% of the programme and the venue space to experiences, including: painting areas, tarot card readings, astrology, educational and artistic installations, a flea market, a massage centre, volleyball, table tennis, basketball, a rock-climbing wall, an art gallery and so forth.
"We also have a conference centre dedicated to educating and inspiring upcoming artists. I feel if you're not doing this to teach the next generation and leave a legacy then you're a fool. If you just want to make money there are far less complicated ways to do so than through dance music."
Also of high importance to the Sunburn team is sourcing local, fresh cuisine in each of its respective locales. "We have a very dedicated initiative to ensure that each respective Sunburn Festival exclusively sells local, fresh cuisine," said Singh.
"I wholeheartedly believe that if you've travelling to a place you want to eat the food of the land, and furthermore in India if you take a one-hour flight in any direction you will encounter totally different culture and cuisine."
Aside from its cornerstone events, Sunburn is this year embarking on an innovative synergetic project with Tomorrowland. Entitled 'Unite: The Mirror to Tomorrowland', the initiative will comprise a three-way live-stream between the Belgian behemoth and ticketed arena shows in Mumbai and Mexico City. The former, predictably put on by Percept, will offer a window, or I guess a mirror, into the second day of Tomorrowland and vice versa. Tickets are priced at $16 – relatively affordable compared to a weekend ticket and flight to Belgium – and will include effects and pyrotechnics synchronised with Tomorrowland.
The significance of this – aside from redefining the very concept of a live music event – is foreplay, apparently. "Unite sets you up for the main Sunburn event. It lets you know what's coming," said Singh.
"It's good foreplay. Life is about foreplay. Sometimes it comes in digital forms, sometimes in physical. This is digital. Enjoy it."
This year-round Sunburn striptease – to continue the salacious metaphor – will also manifest itself in a free charity show with Hardwell this year. The 100,000 capacity show will aim to break the Guinness World Record for the largest guest list, and all proceeds will go towards the United Welfare Trust and Magic Bus in order to educate three thousand kids.
"Just to be clear," said Singh. "The education we will provide to these kids is not just for for a year or two, but for the entire course of their schooling. Online we will have a mechanism in place so that we can track each child's progress. We don't want to just cut a cheque and forget about them."
Percept and Sunburn's support of the Indian youth isn't exclusively epitomised in their shows and philanthropic projects. A sizeable contingent of Sunburn Festival's line-up comprises homegrown Indian talent. "Because India has only had independence for 60 years there's still a lack of self-belief in Indian kids. Plus the audiences are still, on the whole, a little more mesmerised by the Western DJs. However we're getting there. Indian DJs aren't yet securing top billing but I hope they will in the next few years. All it takes is for that one breakthrough. This generation is made up of dreamers, and now there are more ways of gaining exposure than ever."
Keeping attendees safe is obviously a proviso for any organiser, especially so in a country as complex (not to mention hot) as India. Surprisingly, the inextricable interrelationship of drugs and dance music endemic in many Western countries isn't present in Indian culture. Apparently they're actually capable of having fun sober, which I'm reserving judgment on until I see it.
Still, despite its audience's apparent willingness to abstain from harmful chemicals, Sunburn dedicates between 30 – 35% of its advertising budget to disseminating information on its zero tolerance drug policy, which is also physically signposted onsite and enforced through both its overt security forces and undercover marshals.
Sunburn's emphasis on spectacular production, its broadly EDM remit and colossal international renown has naturally prompted comparisons to Tomorrowland. Although Singh is a vocal admirer of his Belgian analogues, he considers the comparison inaccurate. "For the first five years of Sunburn I didn't travel to a single festival; I actually hadn't been to a festival, period.
"I was travelling all over the world but I made a conscious effort to ensure the DNA of Sunburn was completely pure and uninfluenced by other events. The comparison to Tomorrowland is inevitable, but I wouldn't compare them; we do our own shit. The thing that has always differentiated Sunburn from other festivals across the world is that we have our own story and our own soul."
Vital to the soul of Sunburn, aside from its idyllic locations, homegrown talent & cuisine, multi-disciplinary art and sport offerings and general atmosphere, is that the core production team has remained unchanged since the festival's birth. "There are many heartbeats that make Sunburn what it is," said Singh. "We put a lot of love into Sunburn, and the fans, the journalists and the DJs can feel it. We're intent on putting on top-notch production and hospitality setups together.
"Ask any DJ or producer who has performed at Sunburn and they'll tell you the same thing: our production, and the way we welcome our artists as both organisers and a crowd, is unparalleled. Our fans are the craziest in the world."
For Sunburn's second stage – dubbed The Cubezoid – Singh and his team enlisted the help of UK-based staging company Darkroom. "The fans have actually voted The Cubezoid – not the Main Stage – to be their favourite, three years in a row.
"Apart from The Cubezoid, all of the 13 stages are constructed by our in-house team at Percept. Percept does more than just live music events; I personally managed a wedding for 23,000 guests across seven days. We're used to size. Still, it feels like an against all odds scenario because we don't automate the production process – no cranes, no bulldozers. It's all bamboo scaffolding, manual labour. And what we create is amazing, even without considering that."
In The True Story of Sunburn – a written history of the festival authored by Singh – he admits that India is a 'Chalta Hai' society, meaning if a formula for success is discovered then it is repeated, rerun and replicated ceaselessly. Singh and his team deviate from this supposed norm, each year working on not only transforming the event itself, but also exploring new ways to turn Sunburn into a perpetual lifestyle brand.
On January 1 2016, when we're all celebrating that arbitrary point of half-arsed renewal and resolution in a miasma of alcohol and probable melancholy, Sunburn will enter its 10th anniversary year. Whereas most festivals would celebrate this milestone with a secret set or letting a single balloon go, Singh is intent on 365 [and a quarter] days of celebration. What this will entail is yet to be announced – possibly a series of techno sets live-streamed from Titan, Saturn's largest moon. Singh didn't confirm or deny that this will be the case, but if that gets announced then you heard it here first.
In summation of Sunburn's philosophy, Singh condenses it into three words: 'Live. Love. Dance', which although platitudinous enough to be found on my mother's kitchen wall, also concisely conveys the pure joy that Sunburn brings to an increasingly large international audience.
"I believe dance music unites people from different classes and countries," he said. "It has true power to create social change. Since dance music is mostly instrumental it has an increased level of power to unite people through pure, raw energy. Language isn't a barrier. If the energy is pure and nice, people are going to consume it. Our experiences are all about helping people meet new friends, get inspired, and play as hard as they work."
For more information on Shailendra Singh, check out his official website.