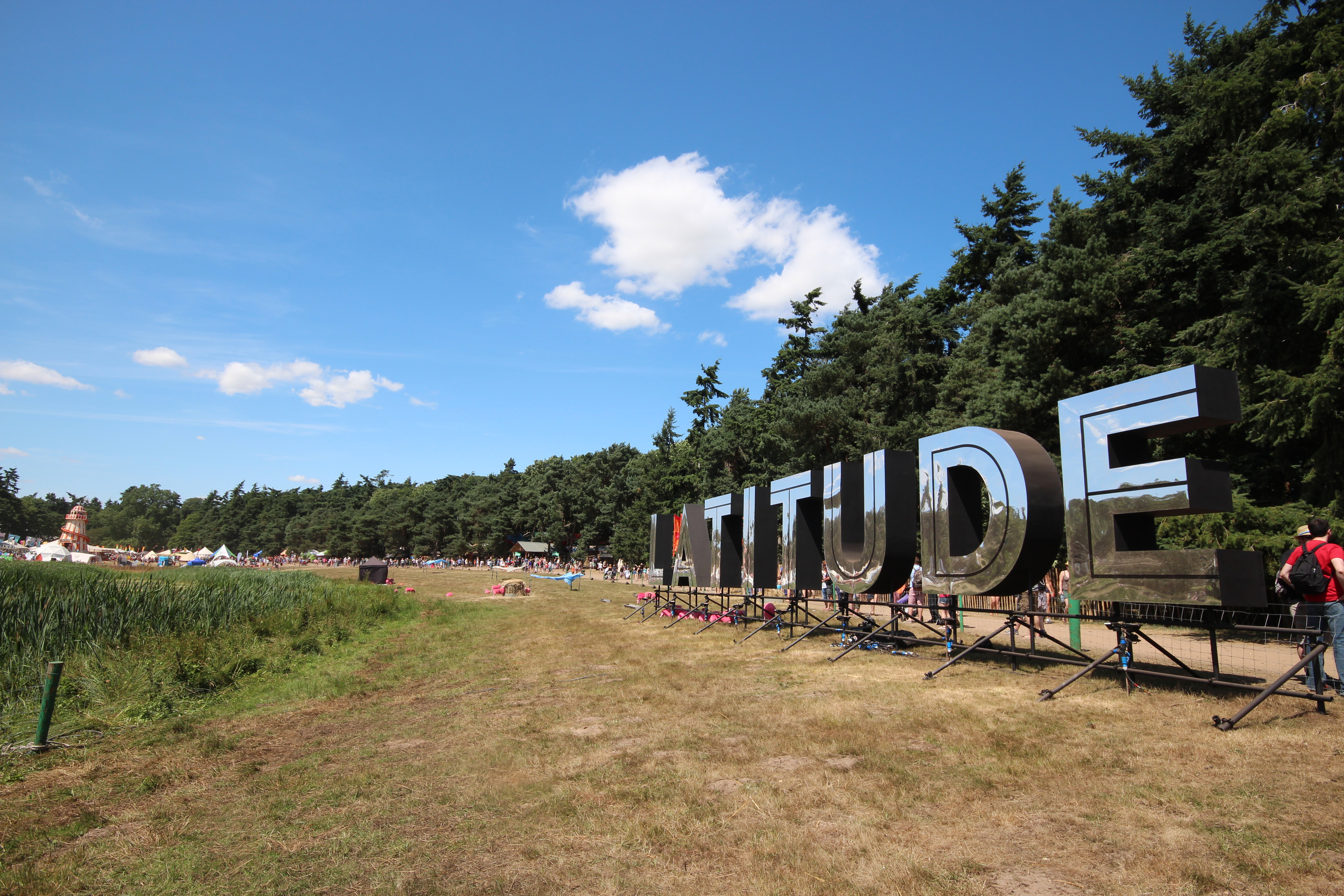 35,000 revellers ventured down to the remote and idyllic Henham Park for Latitude's illustrious tenth anniversary last weekend, and it seemed like at least 60% of them were under the age of twelve. Sober footing was an absolute necessity in the pitch black of the post-sunset woodlands, as a misstep in any direction would land your foot on the larynx of a wayward infant. The eclecticism of Latitude's demographic was outmatched by that of its programming – including but not limited to: music, film, comedy, literature, poetry, lake swimming, massages, canoe rides, kids' activities, bingo, and secret sets from Thom Yorke and Ed Sheeran.
Never before have I witnessed a festival so family friendly, and by contrast, wreckhead hostile.
Neil Mackay of Charge Candy could attest to this, having to deal with the tanked-up hordes of Scotland's T in the Park the weekend prior. They were onsite to provide their two-tiered phone charging options to those whose phone batteries had passed on unceremoniously into The Great Beyond. The purchase of a portable charger was one of said options, with the other consisting of leaving one's beloved smartphone with the Charge Candy team like an electronic nursery.
Aside from choice, the key differences that separates Charge Candy from its competitors is experience, according to Mackay: "Charge Candy has been around since 2009, around the time of the smartphone boom. I dare say we've been at more festivals than the competition in that time, especially UK events.
"This year we'll be at Reading & Leeds, Cambridge Folk Festival, Kendal Calling, Boardmasters, BoomTown, Bestival and Creamfields. So far we've done T in the Park, Latitude, and the Isle of Wight Festival."
As a man whose entire universe dissolves at the first sign of hunger, it was pleasant to see how much credence was given to fine cuisine at Latitude. The highlight of this glutton's dining experience was a hot dog from Gourmet Griffin.
Serving locally sourced British produce from their converted 1966 Bedford van, the two founders – who possess Food Science degrees and have spent their entire professional careers in the food industry – endeavour to ensure their food is as British, ethical and high-quality as possible. I opted for one smothered in truffle-infused mac n' cheese, and sort of blacked out whilst eating it. Needless to say it was a preternaturally excellent hot dog.
On my way to the welfare tent to track down some much needed suncream, I discovered that Bla Bla Car were onsite to spread the Good News of their ridesharing initiative.
Alice Ackermann from Bla Bla Car was kind enough to endure a five-minute conversation with my insufferable self to discuss what the service can offer to the festival industry. Turns out it's a lot.
Founded in 2006 by Frederic Mazzella, Bla Bla Car allows for the organisation of rideshares with fellow festivalgoers – offsetting the carbon footprint of the event, reducing the financial burden of travel, and maybe facilitating a few new friendships in the process.
As the official ridesharing partner of Festival Republic, Bla Bla Car offered a cheaper, more ethical and social way of reaching the festival than traditional means of travel. The process is mutually beneficial, as Ackermann asserted: "As a driver, if you have to make a long distance journey it's going to cost a lot in petrol," she said. "If you take on passengers then you can totally cover that. For the passenger, it's about 80% cheaper than train travel. From Manchester to London, for example, it'll cost about £15 with Bla Bla Car."
Bla Bla Car's value, according to Ackermann, isn't exclusively financial in nature. "What we find is that once you use the service for the first time you kind of become addicted. It's a social experience; people swap CDs and make new friends. It treats the journey as an end in itself, rather than just means to an end. It especially works well for those who come to festivals by themselves for whatever reason. You can potentially meet a group that you'll spend the whole weekend with. The fun starts on the journey."
Due to the inexorable forward march of entropy, Sustainability will always be a pertinent issue to festivals. Bla Bla Car, by reducing the number of cars on the road, is one of the strongest hopes we have for preventing an ecological apocalypse. That is if a handful of tightly packed strangers can agree to stick with a particular radio station.
As the official ridesharing partner of Festival Republic, you can also expect to see Bla Bla Car at Reading & Leeds later this summer, and they're open to working with other events.
After reaching the Chill Welfare tent and smothering myself in suncream like an incandescent, bipedal mollusc, I spoke with the community interest company's Service Delivery Director Michelle O'Loughlin about all the positive things they do for festivalgoers.
Although in its infancy, having been set up in April of this year, O'Loughlin and her co-director have accumulated around seven years of experience in the field of festival-based welfare.
Despite the repressive, illogical, draconian, prohibitionist, anti-fun stance of Theresa May and her reptilian cohorts – who are almost definitely reading this like they do all of our other communications – O'Loughlin claims that Chill Welfare has received no resistance from public health authorities or the police.
"We're seeing a greater realisation of how beneficial welfare can be to festivals," said O'Loughlin. "We accept that people will use substances at events like these, and so we treat it as a public health issue rather than a moral one. We neither condone nor condemn drug use, but treat it as an inevitability and act accordingly.
"Harm prevention has tangible logistical benefits too; we take a lot of the load off of medical tents. If we weren't onsite then medical would have to deal with a lot of people who aren't experiencing medical emergencies, but would still take up space and require supervision. Also I think generally people realise that partnership is a good thing. Ultimately we're about preventing deaths; I don't see how anyone could argue with that."
The ancillary offerings of Chill Welfare include the dissemination of vital information on safe drug use – manifested recently in the 'Crush. Dab. Wait.' initiative co-promoted by The Loop – and also on general health issues such as stress, safe sex and so forth. Water, suncream and aftersun are offered for pasty dweebs such as myself, and free condoms are available for true players and ugly optimists alike.
The Chill Welfare tent itself comprised two areas: a chill out zone and crisis room. The former is a comfortable, open space for those who need a timeout from the incessant stimuli endemic to any festival environment, and the latter includes 10 designated bed bays and trained staff to deal with more urgent cases.
Chill Welfare's 2015 festival roster includes Creamfields, Wildlife, EDC, BoomTown, BBC Radio 1's Big Weekend and Electric Picnic.
As the for the state of festival welfare at large, O'Loughlin had the following to say: "What I would like to see is welfare becoming a legal requirement at festivals, the exact capacity of which would be determined by how many attendees the respective event has. I'd also like to see the same thing at nightclubs. The truth is, we only see a very small fraction of drug users at festivals; most people enjoy their substances responsibly and have a good time. But we need to be there for those that make mistakes."
Charge Candy
Gourmet Griffin
Bla Bla Car
Chill Welfare
More of our piccies from Latitude