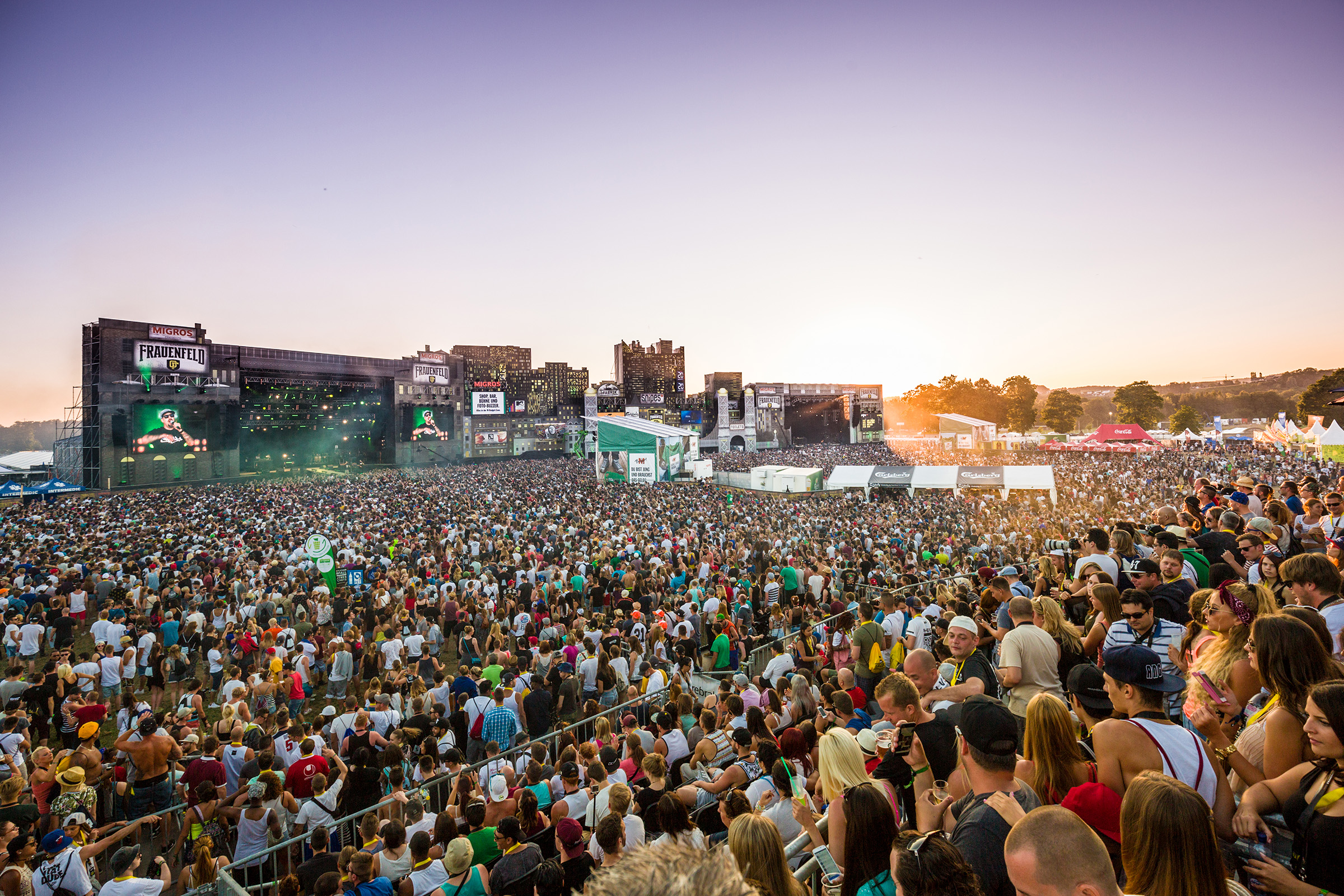 SWITZERLAND: Martin Audio's premier PA systems were utilised across three stages at Openair Frauenfeld – Europe's self-proclaimed biggest hip-hop festival that took place from July 9 – 11. Crowds of up to 130,000 attending the Swiss festival were treated to performances from hip-hop luminaries such as Kendrick Lamar, Danny Brown and Freddie Gibbs.
Each of the three stages came equipped exclusively with Martin Audio components by Stagelight AG Showtechnik Switzerland, a long time user of Martin Audio systems, as part of a complete technical infrastructure that included lighting, video, audio and power. All Martin Audio components were sourced from their own inventory with the exception of the main stage, where Berlin based Complete Audio – the first company to invest in the British manufacturer's new generation MLA series – supplied this award winning system.
Stagelight's audio project manager, Michael Dünki, confirmed that the premier stage featured hangs of 12 MLA + 1 MLD Downfill on each side of the stage, plus 24 MLX for the low end in a broadside cardioid array, which was particularly appreciated by the TV and radio production teams. "With this set-up we could easily reach the permitted maximum SPL of 100dBA (Leq 60) over the full coverage length of 90m, and registered 0dB decrease between the loudest point in front of the stage and the FOH position," said Dünki.
Meanwhile, the B-Stage was equipped with eight Martin Audio W8L Longbows plus two W8LC Compact line arrays on each hang, with 28 WSX subwoofers for LF extension.
The C-Stage, known as 'La Fabrik', was a cross between a live sound stage and a club, set in two huge tents. Here Stagelight installed 16 Martin Audio W8LM Mini line arrays with nine WS218X subs in one tent, which was open on two sides. Meanwhile, in the closed Club tent 10 of the company's flown, high output XD12's, and six WS218X proved ideal for this set-up. "In these locations it was also important to install the subs in a cardioid array, because otherwise the live stage would have disrupted the lounge-feeling on the other side and vice-versa," added Dünki.
With Martin Audio LE1500 and LE1200 provided for floor monitoring as well as W8C's for side-fills and WS218X subs for drum-fill and side-fill on the feature stage, allowed the all-star line-up to shine, which included: Nicki Minaj, A$AP Rocky, Cypress Hill, Caspar, Deichkind, The Roots, Jason Derulo, Ludacris, Die Antwoord, Marsimoto, Pusha T and Tinie Tempah.
The audio planning for the two main stages was undertaken by Michael Dünki and Benjamin Riggenbach, while Complete Audio's Niels Uhthoff oversaw set-up of the MLA and MLX system.
Stagelight own the biggest Martin Audio fleet of any rental company in Switzerland — and since the Swiss summer festival season represents a large part of the company's work roster, they frequently need to draw on all of those resources. In addition to Openair Frauenfeld, these events include Blues'n'Jazz Rapperswil (35,000 visitors); Openair Lumnezia (20,000 visitors); Heitere Openair (35,000 visitors) and Summerdays Festival (20,000 visitors).
All Martin Audio loudspeakers are supplied to the Swiss market via their territorial distributor, Go Wild AG.
For more about Martin Audio, check out its official website.