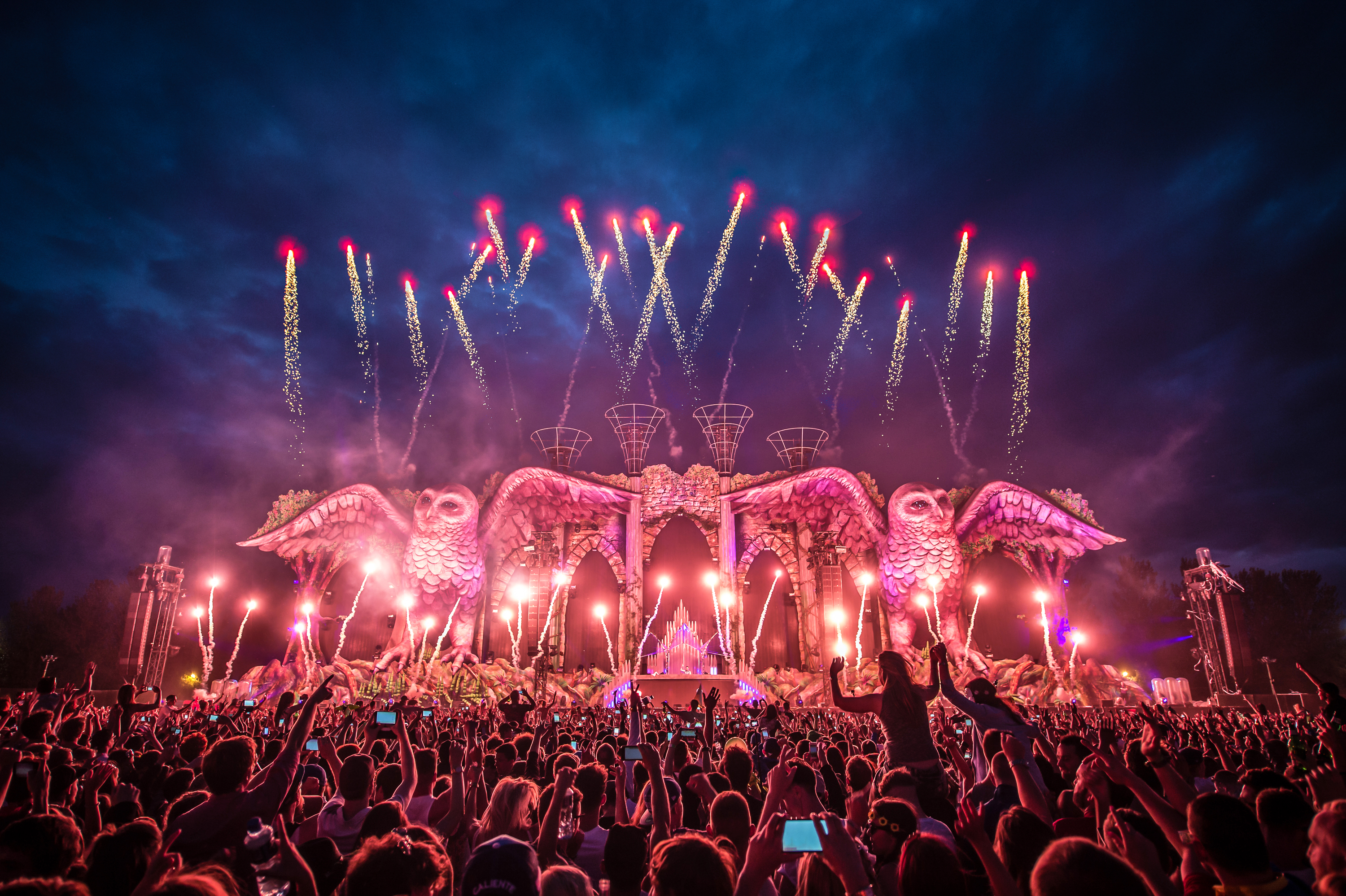 UK: Over 35,000 revellers flocked to Milton Keynes National Bowl on Saturday July 11 to be a part of the Electric Daisy Carnival, the British edition of the phenomenally successful dance music event brand that has been taking America by storm since the late '90s. Hosted in the UK for the third time, this year's bill featured sets from EDM stars Tiësto, Paul van Dyk, Hardwell, Ferry Corsten and Steve Aoki.
Towering over Milton Keynes at around 28 metres tall and nearly 100 metres wide, the sheer expanse of the kineticCATHEDRAL main stage was complemented by its ostentatious aesthetics.
The kinetic energy-themed sensory feast – with giant owls bookending the stage, larger-than-life art installations and a diverse range of special effects including around 3,000 pyrotechnic sequences – gave British 'ravers' a flavour of the stunning panoramic scenery that American audiences have been experiencing in recent years.
EDC was originated in the US by Los Angeles-based production company Insomniac, which recently announced plans to expand the Electric Daisy Carnival experience to Brazil and Japan. Insomniac's main players on the ground at the UK show were production director Alyxzander Bear and festival experience director Conor Bowes, while production manager Neil McDonald and project manager Jen-e Jones handled the local aspects on behalf of promoter Festival Republic.
McDonald said: "With respect to the acts, this is one of the few events that you can confidently say is more about the audience and the spectacle than anything else. It's one of the hottest events out there right now.
"EDC's approach to creativity is more familiar to America and Europe than the UK. I don't think the UK had previously seen a dance event with such a creative drive to it and, of course, that impacts tremendously on the design of the stages and the site, and the whole approach to the event.
"Here at Milton Keynes, they've borrowed from a model that has been a tremendous success in America, drawing 135,000 people a day in Las Vegas [where Insomniac presented the largest stage in the world]. In consultancy with Stageco's team, Insomniac worked out how that Stageco structure would accommodate all of the scenic elements, such as the owls. What we've done here is to effectively mimic what they've achieved in America, using as much European-based production as was feasible, although it still entailed six containers of equipment coming over from the States."
Led by Wies Baaten, Stageco's crew of 12 arrived onsite three days before the show to unload 17 trailers of equipment and begin the stage build, with assistance from 12 local climbers and 10 stagehands from Showstars.
"Having worked on EDC's Las Vegas edition, the Milton Keynes stage has been quite easy to build, particularly because the climate allows us to work during the day, which isn't the case in Vegas," commented Paul Van Belle, Stageco's head of technicians at the event. "It's a very beautiful structure and what I particularly like is the absence of skins – it's completely open. So it's all about our black steel, the scaffolding and decking, although we also assist with other aspects of the set such as Jora Entertainment's cladding, the video screens, the DJ booth with its scaffolding, PRG's stage lighting and Britannia Row's PA hangs.
"Our first concern is the base structure – if you don't do it properly, especially with a stage design like this, you'll run into serious trouble. These days, we work with a theodolite that helps us to ensure we are completely level. It's very time consuming but essential.
"The only significant issue for us is time pressure – to have the grids up in the air, ready for production after the second day, and then have the entire structure completed within three days. It's a bit of a push but we get there. Until our structure is in place, everyone is just waiting around."
In the middle of a busy summer, Neil McDonald particularly looked forward to working at Milton Keynes Bowl this year. "From my perspective as a production manager, it's the best green field site to work on in the UK," he said. "But it is also great for the audience because it was purpose designed to meet all the criteria."
After the event, McDonald voiced his personal appreciation of Stageco's vital contributions, which also included the supply and build of the FOH control structure, and four delay / spot towers. "This has been the most seamless show I've worked on in a long time. There was a long pre-production period of nearly a year that involved a lot of communication and detailed organisation, to the point that when we got on-site, although we expected a few nips and tucks, everything came in and went up just as it looked on paper. That's Stageco's strength. I'm glad to report that it was remarkably uneventful backstage!"
Pasquale Rotella, the founder and CEO of Insomniac, was equally happy. He said: "This year's EDC UK has been an amazing celebration of music, art and individuality. The festival has truly found a home across the Atlantic."
For more information, visit Stageco's official website.
Header photo credit: Bennett Sell-Kline