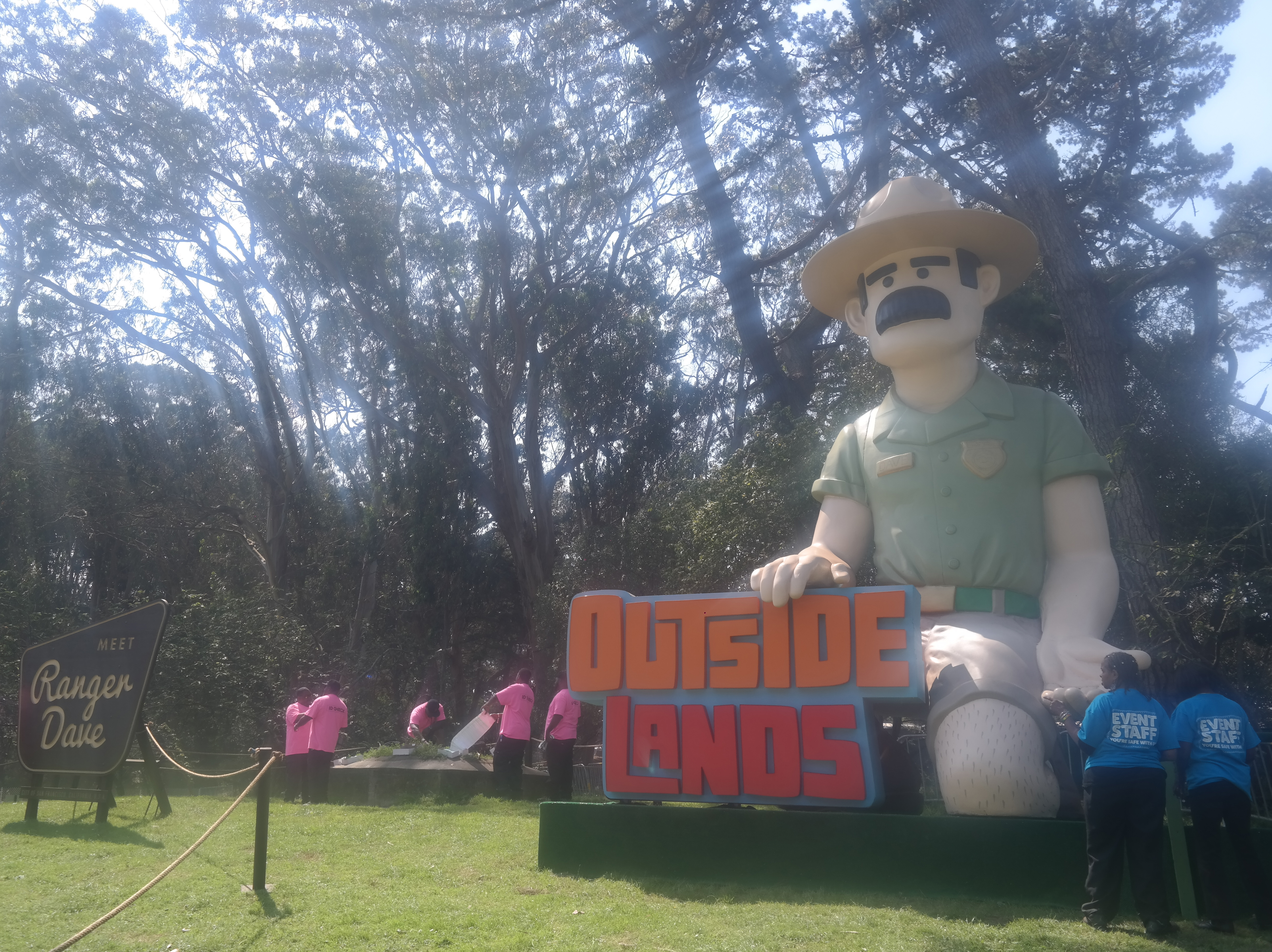 Apologies in advance if this feature is less than articulate, but I'm still in the midst of jet lag induced delirium and the murk of post-San Francisco depression. Returning to the purgatorial ruins of Stockport has been a difficult transition from the Instagram-filtered, hardbody-abundant utopia of Californ-i-aye.
Outside Lands was an amazing time, and not just by virtue of being in the most beautiful city I've ever been to. With a line-up that included Kendrick Lamar, D'Angelo & The Vanguard, St. Vincent, Giraffage, and Amon Tobin, only the cynical and tasteless could have had anything approaching a bad time. Actually, Outside Lands were even courteous enough to book Axwell and Ingrosso for the latter camp.
Outside Lands' organisational elements were also exemplary, supplemented by a range of super helpful, well-integrated activations and collaborations with innovative suppliers.
Handling both the entire site's access control and the cashless system for the self-explanatory Wine Lands area was the global RFID company Intellitix. Intellitix's RFID-enabled wristbands allowed festivalgoers to stock up on OSL's temporary virtual currency, called 'Bison Bucks', either via onsite top-up stations or through the Outside Lands mobile app. Those topping up in advance to the tune of $75 were awarded an extra $5 to spend on a grape-based intoxicant of their choice. When adding Bison Bucks to one's account for the first time, there was even an option to 'Enable Auto Top-Up', a feature that automatically added $25 to an attendee's account when it dropped below $5. Any remaining surplus was refunded post-event (minus a $3.50 fee).
Insights spoke with Serge Grimaux, CEO and 'Head Pilot' of Intellitix, about the company's exact involvement in Outside Lands.
"In the Wine Lands this year we have deployed a new generation of hardware that is completely wireless, with which we can deploy 100 point of sales within an hour. It is very convenient for festival organisers and relatively cheap to set up. Of course you have to pick the perfect location to do it but 80% of what we do can be done with this. It's a great step forward for us."
Since 2011, Intellitix has activated over 15 million RFID tags at events including Coachella, Bonnaroo, Tomorrowland, Lollapalooza, Way Out West, The PGA Irish Open, UEFA Champions Festival, and Electric Zoo.
According to Grimaux, what separates Intellitix from its competitors – both RFID-based and otherwise – is more than just experience: "I know it's going to sound pompous, and I'm sorry for it," he said. "But we have a tendency to do things and then others replicate, which I've been seeing since the first time I had a green light on a panel for access control in 2010.
"What makes us different is that we deliver. We were at Tomorrowland two weeks ago, and we had over 800 point of sales, 175 top-ups, 150 customer care stations, 102 portals, and 70 handheld, all simultaneously working flawlessly for the whole event, which is basically 4 or 5 days when you count the people that come on the Thursday and leave on the Monday.
"We're known as RFID because we were the first one to really push this new protocol of communication, but Intellitix is really an innovation company and we have a few new innovations that we started this year."
One such innovation is called Instaband – wristbands that are printed on-demand when festivalgoers arrive onsite. In venues with the option to reserve seats, attendees can see their seat row and number, plus their name on the band. Instaband is compatible with all ticketing retailers' e-tickets can also be used for cashless payments, and comes with social media integration for added customisation.
Another important trait of Intellitix's is its closed loop system, as Grimaux explained: "I will never run a festival in which I have to depend on the outside world. Communication channels sometimes break down and that's why we created our system to be immune to that. Even within our closed loop, if somebody cut a cable that connects that closed loop onsite or an antenna drops or anything, everything that we do always has the capacity to automatically go offline and continue to work. You wouldn't even know if our portals are offline or online. We know, we fix it, we call the network company or we fix a cable, same for the cashless services, so being closed loop for us guarantees us total control.
Secondly, we have access to incredibly rich data because we have everything and we're not trading with third parties."
Also onsite at Outside Lands was a unique collaborative activation from Toyota and VH1's Save the Music Foundation. Jim Baudino, Engagement Marketing Manager at Toyota Motor Sales, was on hand to elucidate the nature of the partnership.
"Education has been an area of focus for Toyota for quite some time, and when we have the opportunity to support one of our passion points, we seize it," said Baudino. "VH1 Save the Music seemed like a natural, yet innovative fit. They're leaders who have paved the way in music education, and their mission aligns perfectly with Toyota's goal to improve communities across the country. What better way to do so than to connect people with what they're passionate about in a genuine and relevant way while advancing the quality of education in school systems?"
The companies' joint activation at Outside Lands consisted of a life-size, customised 'Whispering Willow' tree that was designed to demonstrate the impact music has on people's lives. Attendees were invited to write down what music means to them on a piece of paper and affix it to the branches of the tree.
Baudino said: "The Whispering Willow was designed to bridge the in-person experience of music with an online experience. With that goal in mind, we're asking festivalgoers to write what music means to them on a leaf, hang the leaf on the tree, snap a photo, and share it socially with the hashtag #ToyotaGiving. For each social media post, Toyota is donating $1 to the VH1 Save The Music Foundation."
The Whispering Willow tree was also on the festival grounds at Lollapalooza, and will be onsite at Nocturnal Wonderland, Voodoo Music + Arts Experience and an additional festival, which is still being determined. By the end of the five-festival campaign, Toyota will make a donation to VH1 Save the Music to restore or implement a musical instrument program for an entire school.
As for the reasoning behind targeting the festival market in this way, Baudino attested that "We've found that our brand activations at music festivals not only allow us to create a memorable experience, but they also really strike a chord with millennials.
"Each consumer engages with us in different ways, but the one constant is that consumers care about what brands stand for and the causes they support. As a brand, you want that authentic connection that you get when people are having transformative moments in their lives. And those moments just happen to be prominent at music festivals. You also have to acknowledge that philanthropy is an extension of many consumers' lives. Incorporating a charitable component is a way of showing that we have likeminded goals, which is very important to us. Toyota selects charities that we can connect with emotionally, and organisations that align with the events we sponsor.
"We're just as big of a music fan as consumers are, and we're constantly searching for ways to make a difference. We created the #ToyotaGiving hashtag to provide people with a unique opportunity to share something meaningful while supporting a relevant cause. Outside Lands is just the perfect vehicle to do that. Our goal is to build a relationship with other music fans through genuine interaction and participation – and that's something we're hoping to accomplish through our Whispering Willow tree activation."