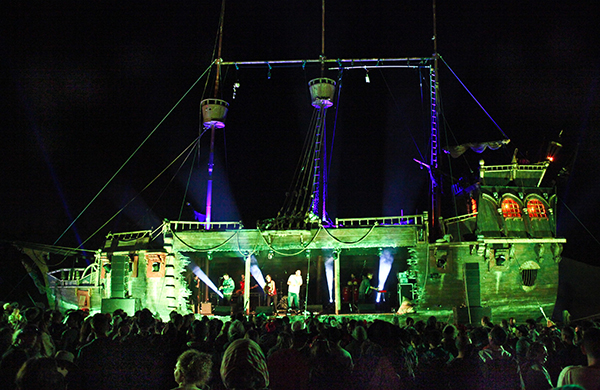 UK: Utopium Lighting lit up 10 stages at this year's BoomTown Fair, which took place at Matterley Estate in Hampshire from August 13 – 16.
This is the 5th year running that Utopium has been called upon to supply its lighting and rigging for the creatively themed BoomTown Fair, which is well known for its imaginatively themed cityscape. Utopium provided festival lighting and rigging to ten stages, including the expanded Lion's Den stage, The Town Centre, The Old Mines, The Jolly Dodger, Crazy Calamities Saloon, and The Hidden Woods, as well as providing lighting for all the woodland areas.
Utopium provided a range of its LED fixtures to support the organiser's ethos of reducing energy use to minimise the festivals carbon footprint. This year the Lion's Den stage was re-located to a larger area and Utopium was called upon to supply all the lighting control, dimming, distribution, trussing, and rigging, as well as lighting fixtures that included SGM P-5s, Color Kinetics Colour Reach, IPIX BB4s, Martin Quantum Profiles, Chauvet Q-Wash 419z, SGM X-5 strobes, along with Clay Paky Mythos' and Chauvet Legend 230 SR Beams.
In addition to lighting, control, trussing, and rigging for the ten stages, Utopium was also tasked with creating the window lighting, individually controlled for each of the windows over the vast town centre set.
BoomTown Fair hosted 50,000 people in its fantasy town. The carefully crafted city was split up into nine different districts, each with their own theme, feel, and eclectic mix of music, circus, and street theatre.
Will Howie, lighting designer for Utopium commented: "BoomTown Fair is a great independent festival and is rapidly expanding year on year. This has to be the most creative and inventive live event site that we work on. This year we installed lighting and rigging throughout the different districts, and worked hard to ensure that each instillation was in keeping with the style of the stage and the district it sits within."
This year's BoomTown Festival witnessed the introduction of a new 'House in the Woods' stage and the immense nine story high Bang Hai Palace, as well as performances from Stephen Marley, Barrington Levy, and Goldie Lookin Chain.
For more information on Utopium, check out its official website.