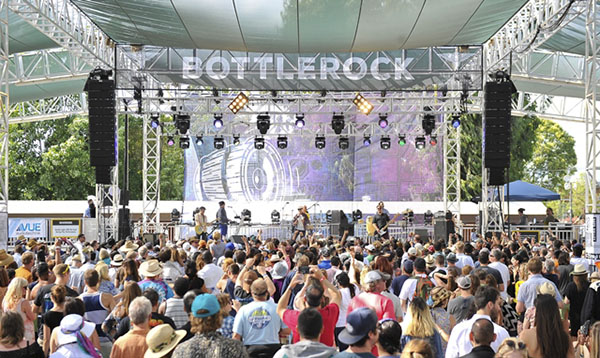 USA: For the third straight year, BottleRock Festival in Napa Valley, CA, welcomed more than 100,000 music, food, and wine enthusiasts to a unique gathering of top musical acts, celebrity chefs, and master sommeliers.
The 2015 lineup of more than 70 acts featured Robert Plant, Snoop Dogg, Michael Franti & Spearhead, Public Enemy, No Doubt, and Imagine Dragons performing on five different stages.
One of those stages — the Miner Family Winery Stage — featured an exclusive lineup of Vue Audiotechnik products including al-Class Line Array Systems for mains, h-Class subwoofers, side-fills and stage monitors, and V Series System Engines for amplification. The immense undertaking of complete technical production for BottleRock from staging to sound to video & lighting was provided by Delicate Productions, with Jason Alt, president of Delicate Productions, and George Edwards, GM of San Francisco facility of Delicate Productions at the reigns.
Fans of acts performing on the Miner Family Winery Stage — which included Los Lobos, AER, Xavier Rudd, Napa Crossroads featuring David Pack, Grizfolk, and Lettuce — were treated to high-performance audio produced by Vue's al-Class line array systems paired with Vue's V Series Systems Engines for amplification and networked dsp.
Each side of the main PA was outfitted with ten al-8 High Output Line Array cabinets hung over four al-4 Subcompact Line Array cabinets used for front and down-fill. Additional front-fill was provided by four stacks of two al-4s arrayed along the stagelip. The al-8 employs dual 8-inch woofers, four 4-inch Kevlar/Neodymium mid-frequency drivers and dual 1-inch high-frequency compression drivers, while the al-4s each house dual 4-inch Kevlar/Neodymium woofers and one HF compression driver. The high-frequency elements for both models utilise Vue's proprietary Truextent beryllium driver technology, which reduces mechanical breakup while improving linearity and high-frequency extension.
Audio engineers manning the desk for acts on the Miner Family Winery Stage were impressed with the results. Tib Csabai has been mixing FOH for 15 years, the last year and a half for alt-rock act Grizfolk. "Given this band and my personal taste," Csabai said, "I want what's coming out of the PA system to be about as flat and representative as what's coming from the console. Good coverage is important too, but a neutral-sounding PA is key. If I want it to rock a little harder, have more edge, or have it be smoother when I'm mixing jazz, I like to be able to control that."
"The guys in Grizfolk do a lot of harmonies so the vocal range needs to be on top," continued Csabai. "I didn't have any issues getting the vocals up on top of the band. Two areas where PA systems tend to be trouble for me are the high-mid area (2 to 4 kHz tends to be kind of stabby), and then there's usually some funny business going on in the low-mids, which doesn't sound right. I found myself not having to make corrections to those areas on the Vue PA because it was so smooth. I'll definitely be happy to see this PA again."
"I mixed on the Vue system tonight and it sounded great," agrees Mark Allsbaugh, FOH Engineer, Lettuce. "I loved it. The Vue system was nice, clean, and rich. I had a good experience mixing the show and I look forward to the next time I can mix on a Vue system."
As Deanne Franklin, FOH Engineer for Napa Crossroads at the festival, with an impressive list of bands she's mixed since 1982 (Tom Waits, David Byrne, Sonic Youth, and The Breeders), revealed, "It's really important to have a PA that's powerful, meaty, yet clear everywhere, without mud. My first impression of the Vue al-Series was the clarity. Sometimes that clarity can be almost unforgiving. I've only mixed on this system once but I felt that it was more forgiving, that it had more 'meat' to it. The midrange sounds really sweet. I enjoyed mixing on it and I would mix on it again."
Sebastian Poux of a Freelance Engineer supplied by Delicate Productions was systems and FOH Engineer for the Miner Stage. "The angles are easily moved once the cabinets are rigged together, the system actually rigged pretty fast." he observed. "I am very sensitive to high frequencies. I like a well-tuned PA right out of the box, a PA that is very round at the edges – and I can hear that out of the Vue al-Class."
The combination of twenty al-8s and eight al-4s elements in the main hangs, another eight al-4s on the stage lip for front fills, twelve powered hs-28 Dual 18-inch ACM Subwoofer Systems arrayed on the ground in front of the stage, and Vue V6 and V4 System Engines boasting a 96 kHz sample rate, 64-bit digital processing and ultra-premium converters provided the PA system with plenty of headroom. "The first thing I noticed," explained Aaron Gittleman FOH Engineer, AER, "was the full dynamic range and power. I had my master fader at half and actually even my sub-masters too. Usually when I walk into a festival situation I have to push, push and push those faders but with the Vue system here, I had all I needed. I actually ended up backing faders down. It was awesome!"
Vue Audiotechnik gear was also used for the stage monitor system, which included four h-12N High Definition Systems as side-fills stacked atop of a single hs-28 subwoofer and a dozen hm-212 High Output Stage Monitors. The drum raiser had two hs-25 subwoofers with a single hm-212 on top. Adam Deitch, Drummer for Lettuce and Break Science, found the hm-212 to be "crispy clear with just the right amount of thump. It felt like a record on stage. I had a great night." Chris Bargie, Monitor Engineer for Lettuce added, "The monitors sounded really great, and the guys were very happy and if the guys are happy, I am happy."
Following a successful sold-out weekend, BottleRock Festival announced that a limited quantity of tickets is already on sale for next year.
For more information on Vue Audiotechnik, check outs its official website.