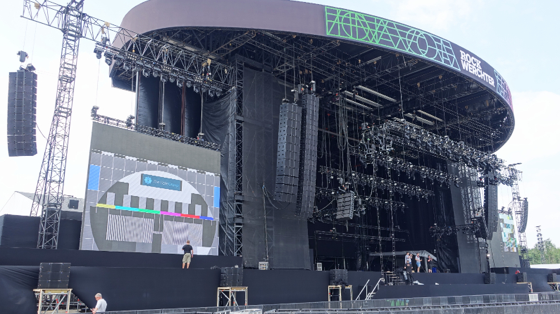 GERMANY: The 2015 Rock Werchter festival marked the 15th year that Adamson loudspeakers reinforced all 80 bands performing on the three festival stages. PRG EML Productions once again supplied all the lighting, video, sound and rigging equipment as well as crew for the festival.
"We are incredibly proud to have worked with Rock Werchter for as many years as we have," said Brock Adamson, owner of Adamson Systems Engineering. "It's a privilege to be part of a team that puts on such an extraordinary event."
Rock Werchter, held in the village of Werchter, Belgium, is billed as the world's largest music festival. The festival hosts more than 149,000 individual attendees – 88,000 guests a day – over the course of four days.
"We have worked with Adamson since we started using line arrays in 2000 and they have been tremendous partners for us – they are second to none," added head of sound for PRG EML Patrick Demoustier
The main stage at Rock Werchter is an outdoor area capable of hosting up to 70,000 fans. Once again a number of high-profile bands graced the stage including The Chemical Brothers, Mumford & Sons, Pharrell Williams, Lenny Kravitz and Muse.
For reinforcement, PRG EML provided a main left-right PA made up of 24 Adamson E15 line arrays each with outfill covered by two more line arrays, this time consisting of 12 E15 enclosures. Eight stacks of three E12 boxes were placed along the stage for frontfill.
Low end was bolstered by two E219 subwoofer arrays – 12 enclosures each – hung to the left and right of the main arrays. Two stacks of 12 EML S318 (left-right) and a centre stack of six EML S318 subs reinforced the bass from the ground level.
Two sets of delays ensured that all of the fans would have the same musical experience. The first delay line was a left-centre-right set up consisting of three sets of 12 EML arrays. The second delay line was made of two Adamson Y18 arrays, 12 enclosures each.
"Most engineers are very familiar with Adamson line array and are quite happy with the system," said Demoustier. "The E15 has fantastic horizontal dispersion with even better LF than the Y-Axis, and I have been a tremendous fan of the Y-Axis since the beginning."
Y18 line arrays took the spotlight at The Barn and kluB C stages. Both of the venues are enclosed performance areas with The Barn capable of hosting 15,000 and kluB C more than 10,000.
The Barn is reinforced with two Y18 arrays made up of 12 enclosures each. Hard hitting bass is delivered compliments of 28 Adamson T21 subwoofers. Frontfill is supported by four stacks of three Adamson S10 enclosures. PRG EML covered the areas further from the stage with two sets of delays, delay line 1 was made up of two S10 arrays features eight S10 enclosures each. The second delay was also S10 line arrays, this time seven per side.
"The S10 has the size, weight and footprint that you expect from a modern small line array, with the sound and the output power of a larger array system," added Demoustier. "The S10 has so much detail, it's incredible. They did a wonderful job at The Barn and kluB C."
Demoustier specified the same left-right arrays for kluB C – left right hangs of 12 Y18 enclosures. Two more arrays of eight provided delay coverage. Adamson SpekTrix and EML EMT loudspeakers took care of frontfill with an assortment of subs augmenting low end.
"It was another extremely successful event," said Demoustier. "I'm looking forward to working with Adamson again next year."