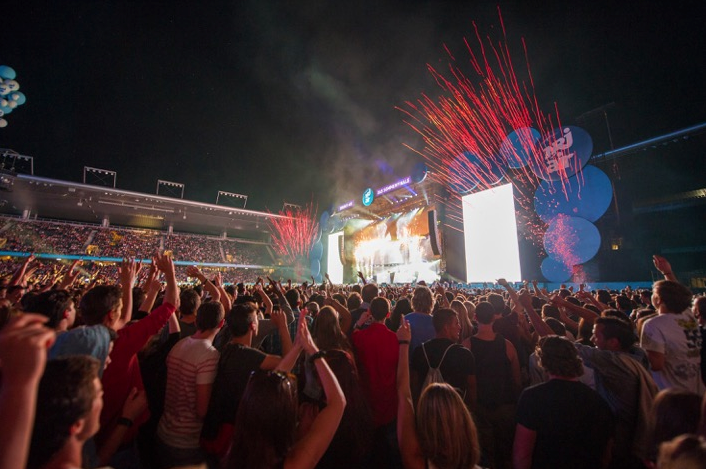 SWITZERLAND: Stageco was the supplier of staging and other temporary structures at Energy Air, the annual event that has become regarded as the grand finale for the summer music festival season in Switzerland.
Organised on behalf of radio station NRJ, the second Energy Air concert at Berne's Stade de Suisse on Saturday September 5 attracted 40,000 fans with a five hour line-up of artists that included Robin Thicke, Hurts, Kygo and Remady & Manu-L along with 14 other national and international acts.
Working closely with technical production co-ordinator Marco Güntensperger of Bullitt Productions, Stageco operations director Tom Bilsen managed the project for the leading staging provider, with Patrik Martens in charge of an onsite crew of 14 supervisors.
Having played a successful role in Energy Air's first outdoor event at the stadium last summer, Stageco returned to build a four-tower roof for the stage, with an additional fifth tower reinforcing it with a super-truss to help increase the rigging capacity. Measuring 61m wide and 24m deep with 17m height clearance, the roof coped with an extremely heavy weight loading of 59.6 tons of which video was a major part – the stage header was a video screen that alone weighed 1.5 tons.
Two delay towers, a B-stage with an integrated elevator and a catwalk – whose tunnel provided access to the B-stage – were also built by Stageco, along with a 24m x 14m VIP platform in the grandstand which was built using the company's scaffolding system.
The set was decorated with 17 blue discs, again provided by Stageco, with the stage wings reinforced to accommodate additional wind loads. Sixteen of the discs were constructed from circular truss and then covered in fabric by another supplier. The remaining circle – the one in the centre of the header – was custom-designed from wood to cover the video screen and was painted onsite to match the rest of the colour scheme.
In total, Stageco brought in 17 trailer loads of equipment, completed the build in four days and loaded out in a further two days. Tom Bilsen said: "It was great to work with Marco on such an impressive event, and this was a slightly unusual job for us in that after we build our structures, we normally hand them over in a bare state to production so that other companies can complete the decoration, but on this we pretty much finished the whole thing."
Entrance to the concert was free to winners of radio competitions and associated promotions. Energy director Dani Büchi was more than satisfied with the outcome, saying: "It was a terrific summer finale. I am thrilled and proud. That was probably the best event in the history of Energy."