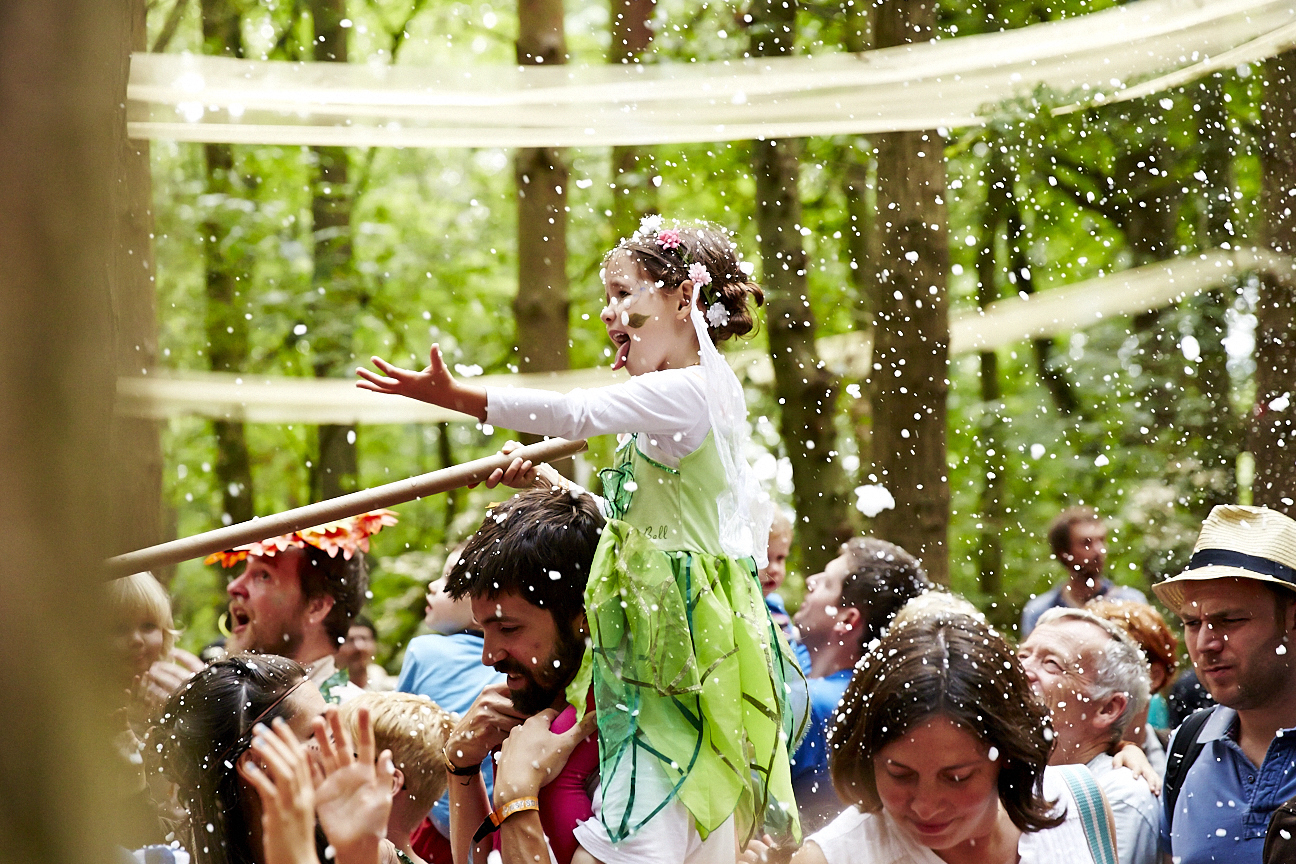 BRAZIL: Rowan Hoban and Sarah Bird, Directors of Wild Rumpus – who produce immersive, outdoor large scale family arts events in natural landscapes – set up Just So Festival in 2009 to create a spellbinding weekend where families could see world class outdoor arts and create memories to be treasured all year round. Their mantra is "if we don't give you goosebumps we are not doing it right".
This annual, intimate, weekend-long camping festival for children and their families is now critically acclaimed as one of the best events in the UK for families and provides a spellbinding outdoor adventure like no other, showcasing the best art, music, literature, comedy and theatre for families in a wondrous landscape of woodland clearings, rolling parkland, arboreal amphitheatres and lakeside spots in the Rode Hall Estate, Cheshire.
Wild Rumpus have announced a new collaboration with producers in Sao Paulo to bring the Just So Festival to a Brazilian audience in October 2016 to mark National Children's Day in Brazil and in the year where the eyes of the world will be on this Olympic host nation.
Just So captured the attention of Brazilian arts producers Maria Gama and Isabela Hadler Coudry who are based in Campinas and keen to replicate the best practice demonstrated for a weekend camping arts festival solely dedicated to families. Following two years of talks and a site visit from the Brazilian team to Just So Festival this August, Sarah and Rowan are visiting Brazil this month and say "we are very excited to be working internationally for the first time and that following lengthy planning Just So Brazil is now coming to fruition.
"Maria and Isabela's passion and enthusiasm for the project reminds us of ourselves, and we share many similar values around access and sustainability and a core belief that families deserve the very best programming and that the arts can change the way families see the world around them. We hope in future to set up a cultural exchange taking some of our British artists to Just So Brazil and vice versa. As well as attending lots of arts events and doing a site visit to where the festival will be held, we'll also be visiting the Ministry of Culture in Brazil and the British Consulate. We can't wait to learn more about Brazilian culture and festivals."
Isabela Hadler Coudry, who will be the Director of the Brazilian Festival, says she was wowed by visiting the Just So Festival this year and has taken much inspiration back with her. "When we found it we all fell in love with Just So: the chance of provide a surprising and inspiring environment outdoors to engage families together in the arts in a more relaxed way and with freedom to interact – how could anyone not love that? The chance to bring this to Brazil is a dream."
Katrina Michel, Chief Executive of Marketing Cheshire, said: "It's great news for Cheshire that this unique event has gained international recognition, it really demonstrates the strength of our creative arts scene and a fantastic showcase for an innovative and inspiring event."
Culture Minister Ed Vaizey said: "It's fantastic news that Wild Rumpus will be taking the Just So Festival to Brazil at a time when the global spotlight is firmly fixed on this exciting country for the Olympics next year. It's a wonderful opportunity to showcase the diversity of the UK's cultural exports and creativity to the whole world."