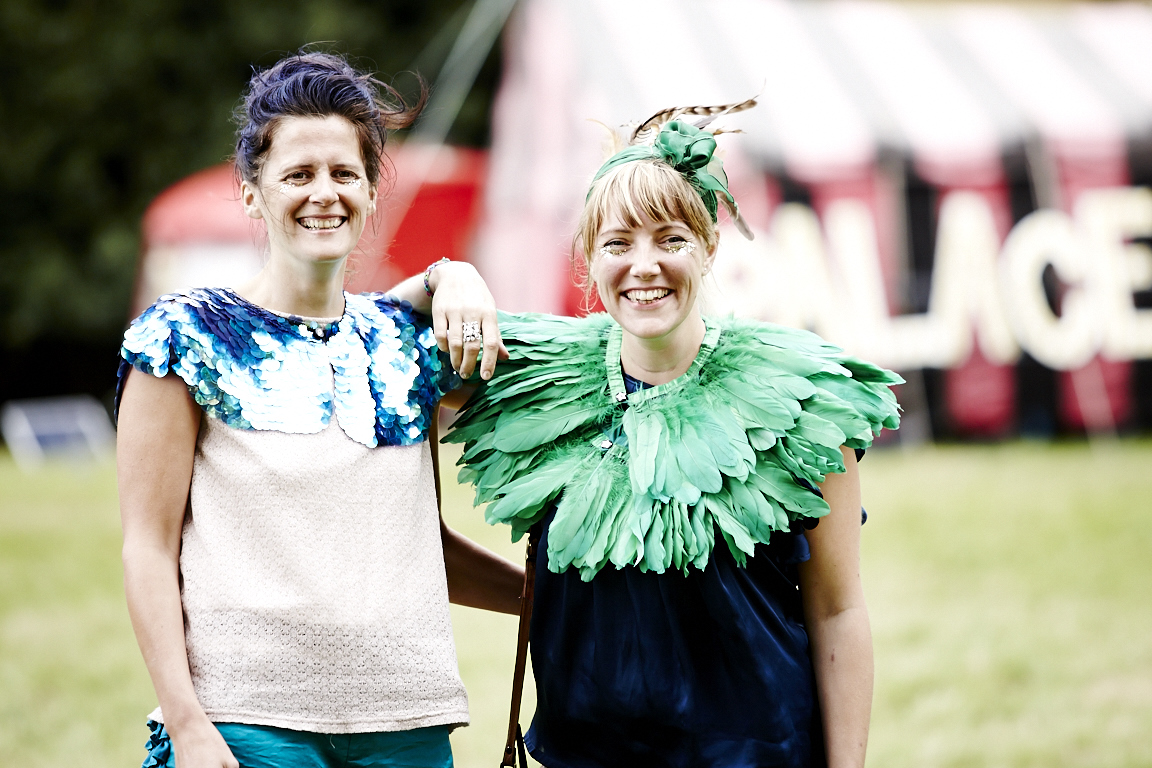 Rowan Hoban set up Just So Festival with fellow Wild Rumpus Director Sarah Bird in 2009 due to a perceived absence in the market of really excellent, non-tokenistic arts programming for families at greenfield festivals. Fast forward six years and not only is Just So a sell-out every year but Wild Rumpus (producers of the Just So Festival) are commissioned to produce outdoor events for families across the country each year due to real demand from family audiences in the UK for immersive outdoor arts experiences.
Wild Rumpus set up and manage the Northern Festivals network, working with nine festivals across the north of England and this year co-commissioning work with Glastonbury to wow family audiences across the country. Quality family arts programming in the UK at festivals has never been more in demand and Just So has attracted international attention with the first Just So Brazil taking place in 2016.
We set up Just So Festival six years ago, in part, as a selfish act. With seven children between the two families, we had had our share of stressful trips to the theatre, galleries and concert halls, with our often wild and boisterous families. Wouldn't it be amazing, we thought, if those incredible live goosebump moments, that you only really find with the highest quality theatre, circus, dance or storytelling, were found more often in the woods and fields of the UK's music festivals.

Excellent outdoor work certainly existed, often with families at the heart of their audiences and development, with organisations such as ISAN (International Street Arts Network) increasing the volume and quality of amazing, spellbinding outdoor work that tours to outdoor venues in the UK. Too often, however, we were seeing this work on the concrete streets of Greenwich, Winchester or Kendal, and rarely at greenfield festivals. Parents taking refuge in the 'family area' of so many music festivals have traditionally found low-quality programming, often provided by local groups at no cost to the festival. We've all had our ears on sticks, trying to hear who was playing on the nearest stage, while our children were engaged in the most mundane cutting and sticking. It didn't need to be like that.
Just So Festival was built on the premise that, if the balance of a programming budget shifted on its very foundations, particularly towards some properly high quality work for families, pretty amazing things could happen. Imagine if just some of those tens, often hundreds of thousands of pounds spent on headline acts were channelled towards building an incredible environment for families to explore together, investing seriously in visual design so that your audiences step into a quite extraordinary world, and then knocking their socks off with both large scale spectacles of circus, theatre, dance and art, and smaller, more intimate interventions, that mean families gather memories that will last forever. Six years later, we sell out each year to our committed family audience.
In 2014, determined to raise the bar of family programming across greenfield festivals in the North of England, we set up the Northern Festivals Network, joining forces with Kendal Calling and Ramsbottom Festival, enabled through support from the Arts Council Strategic Touring Fund. In 2015 the network has grown to eight festivals. The variety of award-winning festivals represented in the Northern Festivals Network illustrates the growing number of families that attend both large and small festivals regularly.
As Sarah Bird, director of Just So Festival said: "We believe that the family arts programming should be just as inspiring and engaging as what's on the main stage. Not only that but it's a great opportunity to engage families who don't necessarily think that the arts are for them, surprising them with aerial theatre, magnificent light installations, immersive walkabout."
"In this way," David Agnew, Director of Ramsbottom Festival, continued. "We're looking to push the boundaries of what people think of as standard family arts programming. Highlighting high quality artists putting on work which will absorb a whole family."
At Wild Rumpus, our repertoire has extended beyond a traditional festival format, with other large scale events aimed firmly at the family market exploring different ways to immerse families in the stories that we tell. In May, 8,000 people took a leap of faith and entering the mysterious Lost Carnival in a country park in Bury, where we embedded a powerful narrative in a highly stylised festival environment. Many of the families attended were already deeply invested in the story, as a result of teasers and a series of podcasts in the weeks leading up to the carnival. In August, a curious treasure hunt through the streets of Manchester took the ethos of a wild natural landscape into the city, and we gathered thousands for an anarchic waterfight in the city centre as part of City Co's Dig the City event.
One of the most powerful things we have learned is that given the right environment, with the highest quality outdoor arts programming, the enthusiasm and verve that a family audience can bring to your event creates something quite unique. As we stand on our footlights stage on festival Sunday, a menagerie of thousands of families dressed as frogs, foxes, owls, stags, lions and fish march in, wearing their hearts on their sleeves, chanting with all their might in the hope their tribe might win this year's tournament. The investment that our family audience make in our event is testament to the investment that we make in them. We put our all into trying to create the most perfect weekend for families, with all that entails, and they pay us back in spades.
By continually raising the bar in the programming that we offer to families, so their levels of expectation grow higher. No longer content with cutting and sticking in a corner, families are seeing, and expecting, to be surprised and mesmerised at festivals. Families want to go on grand adventures, to be surprised and enthralled by the stories they are drawn into, and only the most curious of characters, the most spectacular of shows, the most spellbinding of storytellers, the most imaginative of workshops will take them on those journeys. High quality family programming means taking a leap of faith and directing programming budget to pieces of work that are unlikely to reap immediate ticket sales. By taking the long view, however, you can turn your festival into a place where families book tickets before any programming is announced, because they know that it is a place where amazing adventures happen.