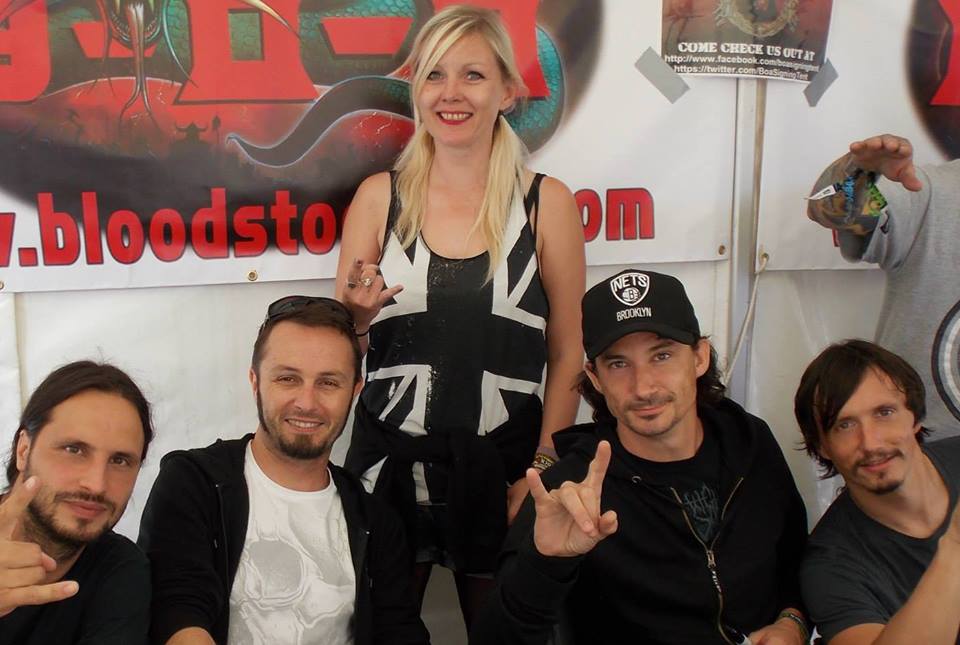 Fox James graduated with a First Class Honours in Festival and Event Management after a career spanning almost 25 years in media, most notably working in European Finance & Operations for MTV. Following this were stints at Polygram, Virgin Media, and Twenty Twenty Television, an award winning ITV show with Dermot O'Murnaghan entitled 'The Big Story', and forays into marketing with companies such as HP:ICM, who were in the top two of the marketing league table spanning the 1990s. Production and Management work at The Shaftesbury Theatre merged with working on the TV show 'My Family' at Pinewood Studios.
Thanks to this, time was also spent across multiple large-scale worldwide film distribution companies before taking a complete about-turn and setting up her own accountancy business. Writing was always a passion, so a move into music press began as a creative outlet six years ago, writing for numerous heavy metal websites leading to her own successful website, a prime-time radio show on TBFM and securing organiser roles at UK festivals, UK Tech Fest and MammothFest.
The rise of the rock and metal festival over the last 10 years is obvious, even more so when you work in press. You can't log on to social media in 2015 without at least a weekly invite to a newly-created festival that's popped up in the UK. And the inbox is heaving with new options across the globe on an almost daily basis. So how do you lay a foundation for success in this saturated environment?
Often these new festivals are one-day Metropolitan affairs, but over the last few years a slew of new festivals providing accommodation have appeared. Sonisphere in Stevenage, Wildfire in Scotland, Ramblin' Man Fair in Kent and Beermageddon in Stoke, for example.
The first issue that immediately springs to mind is whether the fans can cope with such an influx, whether this rate of increase can or should be maintained, and whether it will have a knock on impact on the already established festivals. The second consideration, is a wonder as to whether music festivals should have an official regulatory body. Not just to protect the festival, but to protect fans from festivals who have big ideas but no clue how to deliver them, the now defunct Alt-Fest being a prime example.
The Alt-Fest debacle had wide reaching impact on thousands of festivalgoers who were left out of pocket when it was announced last minute that the festival wasn't taking place and ticket buyers flights and accommodation costs were lost. Thanks to a variety of factors, fans were even left wondering whether they would even receive a ticket refund. Long term, will those festivalgoers lose enough faith in 'New Kids On The Block' in the UK? Sonisphere was a substantial contender in their early days, but a lack of communication and a last minute cancellation in 2012 and a subsequent cancellation in 2013 left even more festivalgoers wondering whether they can place their faith in new UK festivals. Social media unease and lack of ticket sales for both startups and established festivals is testament to this.
[Sonisphere has since clarified that 'We think it is really important that the event only runs when it has a line-up that sets it apart from the competition whilst also carrying a ticket price that allows us to offer real value for money to the music fans.' – ed.]
Challenges facing new metal and rock festivals are many. But they aren't insurmountable. The demand is still there if you tap into the right sources, with the right foundations. Temples Festival in Bristol is a prime example of a new inner city success, having set up only two years ago and selling out tickets for both the inaugural event and the eagerly anticipated follow up in 2015, despite some minor criticisms about access from fans.
MammothFest in Brighton also makes a reappearance in 2015 after a year out – taking stock of their previous costly errors and putting plans in place to ensure they were not made again. Weekend tickets for the event have sold out, even though it has tripled in size.
So what factors are incredibly important for UK newcomers?
Of course the main priorities differ substantially depending on whether a festival intends to be a one day city event in an already established music venue or a three or four day rural camping event, so I'll concentrate on the metropolitans because they are vaster in quantity than camping events.
Cash in hand
This may seem blindingly obvious, but if you are just starting out, the ability to secure a venue and guarantee payments to bands is the first priority. Regardless of how many tickets you may or may not sell.
This is often where 'beginners' fall down. More often than not, a festival organiser believes his or her line-up is the best line-up ever and consequently is willing with blind faith to guarantee bands and venues they will fill it to the brim, hoping that enough cash will be raised by ticket sales to cover their base costs.
More often than not, this does not happen. The main point here is do not attempt to create a festival if you cannot afford it.
If you have the faith in your ability to create a repeatedly successful festival, find backers that agree with you if you don't have the personal funds. Be prepared to create a business plan. Be prepared to treat it as a professional undertaking. If no backers are prepared to join forces with you, you need to look again at why only you believe it viable.
That would make it a vanity project, and as such, not a financially viable affair.
Research
The shrinking youth market is something every festival regardless of size needs to factor into decision making. I would hazard a guess that the only festival that has all its bases covered until the end of time is Glastonbury, but that isn't a rock and metal festival, and as such does not face the same hurdles.
The area and accessibility is paramount. Does anyone wish to travel by two trains, a bus, and then walk for half an hour only to have to leave before the headline act because the last train home is at 10.30pm? No, they don't. Research your location. Metal and rock fans are the pickiest of creatures when it comes to travelling anywhere, unless they are lugging a tent.
Does your chosen location already have a scene? What gigs at your chosen venue pulls the biggest crowds? Are the incumbent crowd open-minded enough to try something new? Have you picked a date where it clashes with a well established gig? You can't rely solely on a Facebook event 'Yes' promise unless a ticket sale accompanies that 'Yes'. Approximately 10 – 15% of 'Yes' responses to smaller metal and rock events actually show up.
The bands. You might have chosen 'your' favourites, but how well do these bands engage with their fans? Do they have a loyal fan base? Are they reliable? Are they troublesome? Have you seen them perform live? Have they been arguing publicly and seem on the edge of splitting up? All these factors – and more – should be on a new organisers list to research.
Contracts
When you decide you want to hold an all day or even multi-day festival, get your venue contract in writing. Get your bands contracted – including rider and accommodation if any – and get your staff or volunteers contracted.
This is supposed to be a fun time for fans, however your festival is a business and should be treated as such. If you want to be taken seriously, act seriously. Ensuring simple things like advancing the bands is an absolute necessity, not a rushed message on Facebook with possible omissions.
The same goes with licences. If in any doubt at all, get it in writing that your venue pays its PRS and PPL dues to protect your artists. Ensure your venue has insurance, ensure you have insurance – especially Public Liability – and ensure your equipment is covered. Business Interruption Insurance is also an option for larger events which will cover you completely for situations completely outside of your control such as the venue becoming unusable – check the policy for exactly what situations are covered – and will ensure you are not left out of pocket if your event has to be cancelled.
Budget
Again, a somewhat blindingly obvious statement but a large volume of start up festivals I have spoken to over the years don't bother even creating one.
A budget is a handy thing. It's a very informative thing. If you know how to read it and analyse the variances and trends. If you don't, why haven't you researched the basics? You can't run a business without knowing its budget, projected income and expenses. A highly underestimated financial tool that should be used. Often forgotten is that any income earned is taxable personal income by law unless you have a Limited Company where different rules apply. If you don't account for it, and get caught, a fine could ensue leaving you in sprawling debt before festival #2 even begins. There are plenty of free available basic budgets via Excel Online.
Press
Press is sometimes difficult to achieve, for new events especially. As I mentioned earlier, metal and rock press are continually inundated with requests. It seems that for every new band, or new metal festival, a new metal and rock PR agency springs forth. Press have to wade through hundreds of emails so your PR plan is imperative if you want to get the word out to a diverse ticket-buying audience.
❖ Make your subject line count
❖ Don't send a 1000 word essay
❖ Use Mailchimp to track your success and change it as necessary
❖ Set up a Google notification for mentions of your festival
❖ Give online press plenty – and I mean plenty – of advance warning to enable them to come to the event.
❖ Never attempt to charge Press an entry fee. And I mean, never.
❖ If you have a telephone number – call them and introduce yourself. Being polite and friendly counts for a lot.
❖ Work with other festival promoters, share and share posters alike. There is room for many, but stepping on the toes of established events by attempting to book similar in close locations is not only frowned upon, it's downright stupid. Work 'with' the competition, not against them. Scratching backs is something the metal industry does well.
❖ Share the press you receive. And thank them publicly.
Before creating an event, find out whether press are actually interested in attending, or covering your news. If you are holding an event that they don't believe will interest anyone, because their readership dislikes your booked artists, or clashes with a festival they attend every year without fail, you're already on a downward spiral.
Advertising & Social Media
Facebook and Twitter are your friends. However they can just as quickly be turned into your worst enemy. A long-time metal 'festival organiser' recently discovered that to his detriment when he was insulted off JustGiving thanks to his prior brushes with failed festivals.
Keep your festival page devoid of personal drama. It might seem cool to blow your top at a band who let you down but consider the longer term impact on your brand. There's a big difference in being a promoter who shares multiple events per month and a festival organiser with one main regular event every year, the two are totally different beasts. A promoter can have a bad gig and recover with a better gig, a festival organiser has one shot per year to get it right, or risk the event collapsing into obscurity.
Not only does a festival organiser use social media and press, they also prepare posters and flyers. Hence the original statement of #1. Have cash in hand, and #4, have a budget. Depending on your capacity, you need a substantial offline reach to engage with people who may not be online when you make announcements, hell, some people don't even 'have' Facebook accounts or will perhaps check them irregularly.
A popular and cheaper choice for smaller festivals is to use the Facebook sponsored posts app. Never scrimp on advertising is the main point here. It's all well and good pimping your new venture to your friends and asking them to share but if you want your event to stand a better chance of success you need to ensure your reach is adequate. In that vein, again capacity and projected income dependant, consider paying for a short professional PR campaign. Press are also more likely to pick up news releases from established reputable contacts in the murky world of media.
A back up plan!
Emerging artists aren't always the most reliable of creatures which makes it difficult to remain calm until the festival sets have all been completed. However, knowing this in advance is a risk assessment in itself. Contact a handful of bands and ask if they'd be prepared to be on stand-by at very short notice if required. With this said, treating the artists with respect by offering them an 'emergency' fee to accompany it if they are called upon to play would be the right thing to do.
Bear in mind if you decide to not bother with replacements, you may get a backlash from paying ticket holders who feel like they have not got their money's worth. You can be damaging your own reputation by not planning ahead. For a startup, and especially a single one day event your first impression to fans really does count. Your first impression to the venue also matters. If they are angered by false promises and shoddy organisation, they may not agree to repeat the process the following year.
Instruments and equipment are often overlooked. Say for example you have a Sponsor agreeing to provide your backline – and they fail to deliver it on time. Or perhaps the headline act agreed to provide it, but failed to read the requirements properly. Pre plan for eventualities such as this. No backline, no gig. Reputation damaged.
Sponsors
Brand new events don't often garner a high level of buy in from large sponsors. However, that isn't to say sponsorship is impossible. Search out smaller quality independent brands to begin with, and look to partner with specific websites that match your niche metal audience. As your reputation, attendance, and press coverage grows, so will your ability to source larger sponsorship.
Ensure you treat your sponsors with respect. Don't just tweet once, they are sponsoring you for a reason. To gain exposure. Therefore plan what exposure you are offering them, and fulfil it with bells on.
To survive at the absolute most basic level requires thorough research, absolute commitment to promotion and social media and a willingness to learn from mistakes. Damnation Festival this year have cut tickets by 1000 to stop the sardine-like crush that was starting to annoy the hell out of fans. The fans spoke – the festival responded.
Metal fans are pernickity, and they are fiercely loyal and extremely frustrating in equal measure, with a somewhat pack mentality depending on what 'genre' appeals to them most. A brightly lit room wouldn't be the perfect situation for a Black Metal gig, the same as terrible mic mixes would heartily annoy the living daylights out of Symphonic metal fans, that said, you can pretty much throw a Grind fan into a box and press play on 'My First Radio' as long as it's loud enough.
The basics are therefore thus: If you plan on creating a new inner city festival, consider all these factors rather than rushing headlong into what could be a seriously expensive and soul-destroying solo mistake. Especially when saturation point for new non-camping festivals is reaching maximum level.