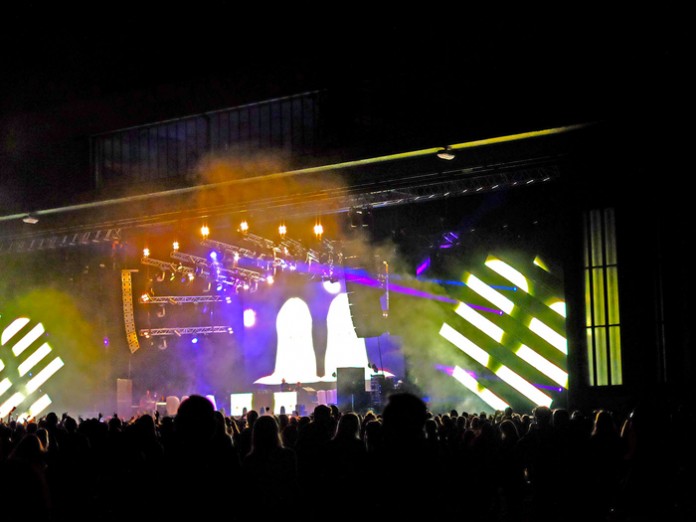 GERMANY: West London based lighting and visuals specialist Colour Sound Experiment was asked to supply lighting, LED screens and crew for the Perry's Stage at the first Lollapalooza Festival in Berlin.
Perry's stage, named after Perry Farrell – the lead singer of Jane's Addiction who started the Lolla phenomena in 1991 – is now synonymous with the best of dance beats and sounds. This year's headliners included Fatboy Slim.
Colour Sound's crew of seven was led by Kester McClure. Onsite, they all worked very closely with Festival Republic production managers Spike Beecham and Kevin Sutherland, and in fact it was their third gig this summer working with this same production team who are "Fantastic, really on the ball all the time and ensure that any technical support – plant, riggers, extra generators, etc. – is on hand exactly when you need it," as stated by Kester.
The stage was located just inside the main Hangar at Templehof – with the audience on the outside of the building, and so flying was possible, and a German rigging team installed a mother grid from which Colour Sound then sub hung their main rig, the overhead elements of which were based on Fatboy Slim's design by Steven Abbiss.
This comprised 11 trusses, nine running upstage / downstage as 'fingers', with two side trusses.
In a large expanse of 10 metres wide by five high, 100 panels of Colour Sound's proprietary BT 7mm pitch LED screen was hung on another upstage truss and the same screen was also used to clad the front of the DJ booth.
There were two diagonally hung side stage screens – hanging below the side trusses – made up from the medium resolution BT-12 product, both in four metre wide by one metre high strips, each consuming 60 panels – so 120 in total.
Out in the arena, each of eight PA delay towers was also rigged with 16 panels of BT-20 screen plus two Clay Paky Sharpies.
Back to the stage, and 20 x Sharpies per side and 40 active Sunstrips in total were all rigged above and below the side screens.
The overhead rig included 20 x CP Alpha Spot 1500s, 20 x 4-lite Moles and 20 Atomic 3K strobes, all spread out across the nine fingers. There were 26 x Robe Pointes up in the rig and on the floor and 42 Robe LEDWash 600s in both positions – floor and overhead.
On the floor to the sides were four La Novalight Nova Flowers – the new 2.5K units for some super-bright multi-beam effects. All of this came to life with some truly stratospheric atmospheric conditions produced by eight strategically placed Jem ZR44s and a Jem Roadie heavy fogger.
To ensure that everyone's operating styles were accommodated, Colour Sound provided three options of lighting console: a grandMA full size, a ChamSys MQ60 with a Wing, and an Avolites Tiger Touch requested by Abbiss to run FatBoy Slim's show.
Colour Sound set up a WYSIWYG visualisation suite side-stage to allow guest LDs as much programming time and opportunities as possible in an extremely tight schedule. This was a very welcome facility.
Video control was via a Hippotizer media server and also a laptop running Resolume that could be accessed via any of the consoles which were all running on a network. The video playback was looked after by Justin Beardsell from Meno TV.
Also joining Kester on the Colour Sound crew were Joe Beardmore, who co-ordinated the WYSIWYG facilities and networking; Jon Curtis, who looked after FOH and the guest LDs, lighting tech Aamir Riaz and dimmer and motor tech Ed Blackwell. Colour Sound's Stu Barr and Simon Robertson tech'd both lighting and video.
Kester commented: "It was a fairly epic amount of kit to install and tech in a short time – including trussing, lighting and video – and took some great teamwork but everyone was happy with the results."
He explained that the biggest challenge was getting a consistent power feed to the delay tower screens and then running signal out around that area. The festival was apparently utilising all the yellowjacket cable ramp available in Germany, no digging could be done on the runway, and some of the towers were over 40 metres apart.
Ed Blackwell also had a few brain-teasing equations to work through in creating a video map that worked across all the different screens, some at 45 degrees, some in the round and across the DJ booth, all of which had to synch with the main screen onstage.
The biggest crowd for Perry's stage over the two days was Fatboy Slim on the Saturday night, closely followed by Kygo who played on Sunday afternoon in the fabulous autumn sunshine against a multi-colour backdrop of flying kites.